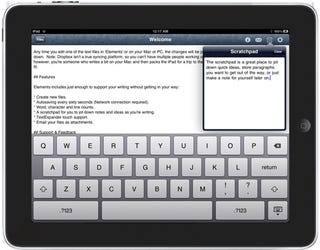 Elements: Dropbox is our favorite way to keep files synced across multiple machines, bar none, but its apps sadly don't do text editing. The universal app Elements fills that role, letting you cleanly edit text and quietly keep it in sync.
There have been a few Dropbox-enabled text editors for the iPad, but none quite reflected the simplicity and polish of the Dropbox syncing itself, something that happens with blissful reliability and speed. Elements in the best yet.
It's is a fairly barebones text editor, focusing on one document at a time, but it has some features that make it a joy. First and foremost is the Dropbox syncing itself, which happens when you open the app, or every 30 seconds otherwise. If you're offline, it'll sync the next time you've got a WiFi connection. The app creates an "Elements" folder in your Dropbox, which means that you'll need to be sure to save text files you want to edit on the go into that folder specifically, but otherwise the syncing worked flawlessly (and supports access to file versions via the Dropbox website, if you accidentally save over your opus).
Elements: A Dropbox-Syncing Text Editor For iPads and iPhones
Elements also has support for TextExpander, an app that lets you create shortcuts for phrases you type with annoying regularity. You can pretty up your text with some fonts, sizes, colors, and a file info icon shows word, line, and character count and the date on which the file was last modified. Another unique feature is Scratchpad-a little window, accessed by tapping an icon, for jotting down quick ideas that don't quite fit into a bigger document.
The iPhone app strips all the extra stuff away and leaves you with just plain old text editing.
The universal app is $5, a tick more expensive than some of the alternatives, but for those who already rely on Dropbox to keep files accessible on the go and have always wished they could edit those files on the go, it works beautifully.

Sound Prism: A radical visual music making tool, Sound Prism does all the harmonizing for you, so even music noobs can make some beautiful music. It doesn't have many features to speak of—there's no recording your tunes,for example—but it's fresh enough for musically-inclined (or I guess the uninclined trying to get inclined?) to check out. $4

iSink U: Rosa, sink this app's battleship:
There's something incredibly satisfying about watching a torpedo shoot from your battleship and crash into your opponent's submarine with a booming sound. There's something even more satisfying about watching this happen from the safety of your iPad.

iSinkU is an iPad version of the good ol' Battleship game we've played for years. It's got incredible graphics, fitting sound effects, and logical controls. My only qualm with the game is that it's sometimes fickle when I'm trying to aim a shot, requiring me to drag the target icon instead of just tapping the spot where it should go.
One dollar.

The Photo Cookbook: Mouthwatering enough to warrant inclusion in the latest iPad TV spot, The Photo Cookbook not only shows you its recipes' finished products all nicely photographed, but each step in their preparation, too. For someone like me who needs to check YouTube for a refresher every few months when he tackles a grilled cheese, this is a godsend. The recipes can sometimes tend toward the foo-foo or overly simple, but for chefs with modest ambition, it's wonderful. $5