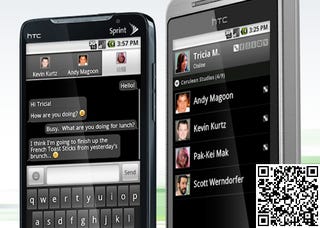 Trillian Beta: The decently popular desktop IM client Trillian now has its own Android app. Whitson from Lifehacker says:
The first and best thing about Trillian, at least if you're a desktop user, is that all you need to do is sign in with your Astra account to get all your accounts, custom names, and avatars in your phone's IM client. Furthermore, Trillian already has photo sharing built-in, as well as the ability to push notifications of new IMs to your email if Trillian is suspended
Trillian supports AIM, Gtalk, Facebook, Yahoo, IRC, and a whole lot of others. It also gives users tabbed chats and support for landscape mode.
Sprint Football Live: Sprint has revamped its Mobile Football offerings (since Verizon now has exclusive NFL mobile rights) with Sprint Football Live. Sadly, the app doesn't boradcast live NFL games, but it will show live college football games! You can follow the game action in its "Game Center" which gives live stats, play-by-play and scoring summaries for each game. The app will also give you the spread and over/under for each football game, if you're into that. Sprint customers only.
GetGlue: It's one of those "check-in"-type apps but built for homebodies and couch potatoes rather than world travelers and bar hoppers. Why? Because instead of checking into different locations, GetGlue lets you check-in to whatever TV show, music, movie, and book you're watching, listening or reading at the moment. You can see what your friends are doing as well so you can compare, you know, life experiences. If you're a bigtime user, you can score points and "stickers". I...kind of like this idea.
Tumblr: It's Tumblr for your Android phone. The simple blogging tool gets simpler, pretty much. Like the iPhone version, Kat says with Tumblr on Android you can:
Post text, photos, links, video and audio to a Tumblr feed, as well as read subscribed Tumblrs within the app. At the moment, it sounds as though Tumblr hasn't included the same Twitter support that's included in the iPhone version.
Who doesn't blog these days? Android 2.1+
Cosmopolitan Sex Position of the Day: Because frankly, your sex life just isn't challenging enough. Cosmo wants to spice up your naked life a bit by suggesting a new sex position a day. Adam Frucci, inventor of the Froochbone, says:
Cosmo's new Sex Position of the Day iPhone/Android app is just what it sounds like: a new, questionable sex position every day for you and your partner to try out. Sure, there are probably only a dozen or two legit, reasonable sex positions, but the other 340 are fine too, I'm sure.
There's a carnal challenge rating that measures difficulty. Hopefully you won't pull a muscle trying a new position tonight. $2.99
Flash 10.1: He's got the whole internet in his hands. He's got flash videos and flash games in his hands. He's got the whole internet in his hands. Flash 10.1 is out of beta for the Nexus One. And that means you "officially" have the whole internet in your hands. Unlike that other phone.