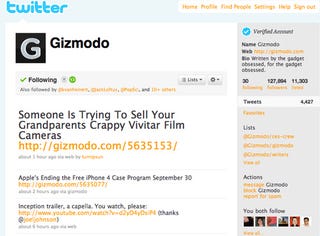 Did you know that we have a Twitter account? It's all verified and was even named as one of the top ten most influential media Twitter accounts. It's worth following for some great links and the occasional chuckle.
We realize that you may be hesitant about becoming a Twitter follower because you fear a flood of spam, but you should know that we only post the most interesting stories and breaking news on our Twitter feed. So go on and give that follow button a click.
PS: If you're looking to follow individual Gizmodo writers on Twitter, you can find the appropriate links under our names on the masthead.