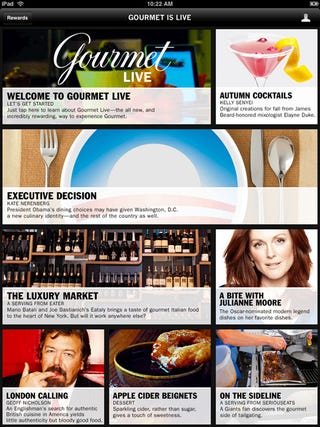 Gourmet Live: It's food week at Gizmodo, and to help us celebrate, Gourmet cut the ribbon on their swanky new iPad app (okay, that's not exactly how things went.) Here's what I had to say:
Gourmet was one of the more heartbreaking causalities of the Condé Nast's purge last fall. But now the beloved food mag is back as Gourmet Live, a beautiful iPad app that's filled with great foodie content, new and old.

Unlike many of the big name iPad magazines that simply mirror the print version's content, Gourmet Live is something else entirely, an attempt to give a popular print magazine a life after death in digital-only form. For the most part, they've succeeded beautifully.

Gourmet Live includes articles, recipes, videos and more, presented in an attractive, clean grid with bold photos. Much of the content is new-including articles plucked from new partners Eater and SeriousEats-though some has been dug up from Gourmet's extensive print archive, dating back to 1941. Pieces that launched with the app include a look at Obama's White House menu, a profile of New York's new mega-markte, Eataly (from Eater), and a guide to fall cocktails.

The app has a somewhat daunting "rewards" component, allowing users to unlock new content by linking the app with their Facebook or Twitter accounts. Aside from that, Gourmet Live, which is free, for now, and doesn't have any ads, is light on the bells and whistles that have come to define other iPad magazines. Most of the time that's a good thing, though at one point I found myself wishing for some more explicit navigation after I stumbled upon a hidden (and mouthwatering) Fall Recipes section and couldn't figure out how to get back to the main screen.

But all in all, Gourmet Live is a great new take on an old food-lovers' favorite, and one that could well prove that there's life after print death.
It's free, and yummy, so check it out.

Writer: Most apps appear in the App Store with little fanfare. Information Architects' Writer arrived with a manifesto. And it shows: Writer, which was designed to be the perfect writing app for the iPad, has a strong sense of purpose. It's minimalist to the point of being slight and dismisses things that many would consider features, like autocorrect and cut and paste, as "distractions." Still, it's a clean app that succeeds in its aim to keep you focused on your text, and I'm sure many easily-excitable writers will find it indispensable. $5.

Foosball Hero: A few of these foosball apps for the iPad had crossed my path, and I had always thought, "foosball? On the iPad? That sounds about as fun as trying to play soccer underwater." But Foosball Hero came along looking all gorgeous and I was forced to try it out. I'm glad I did! The game's graphics are great, but even more impressive are the physics, which make for a foosball experience that's about as faithful as the original as you can get when you're playing it on a centimeter-thin touchscreen tablet. And only $2!

Minimal Folio: The iPad is a gorgeous device that's capable of some gorgeous presentations. But it kind of breaks the spell when someone's showing you something and they send you flying back to the main screen of the Photo app with an accidental double tap. Minimal Folio is an elegant way to show off photos and video without letting any unsightly behind the scenes stuff pop up in between. You can arrange your media into rows and columns and swipe up and down or sideways between both. If you find yourself using your iPad to show people things in even any vaguely professional context, Minimal Folio is a must buy. $3

The Secret of Monkey Island, Special Edition: Jesus, our resident Monkey Island expert, was bananas about Monkey Island 2 on the iPad, with its immersive, transparent control scheme. Now, the O.G., The Secret of Monkey Island, is back in the App Store outfitted with the same great controls as the sequel. $5

VLC Media Player: Apple deigned to let VLC, the play-whatever-you-throw-at-it Swiss Army Knife media player, into the App Store. Hooray! But don't start dreaming your big no-more-transcoding dreams just yet—performance isn't too pretty. It could well get better with updates, but in the meantime, consult Lifehacker's excellent guide for squeezing the most out of the app. Free.