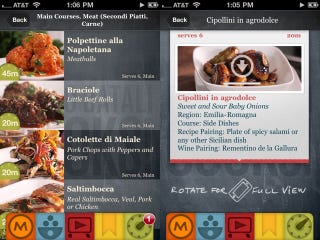 Mario Batali Cooks!: It just wouldn't be Food Week without celebrity superchef Mario Batali stopping by, now would it? Thankfully, he released his first official iPhone app, Mario Batali Cooks!, earlier this week, offering a nice collection of signature recipes with video, images, shopping lists and built-in timers to keep you on track. And that's just the tip of the iceberg lettuce—there's also a nice glossary of cooking terms, advice on food and wine pairings and more. Keep in mind that this is Mario Batali, so some of the recipes are a bit fancy, but overall it's a very nice package that won't disappoint fans. $5

NYT Scoop:
NYT's snazzy Scoop app gives you, well, the scoop on what to do in New York. Where to eat, where to shop, where to visit. It's pretty grand. But a new coffee section called the Filter, curated by Times diner Oliver Strand, will make sure you always know where to get a decent cup of Joe, wherever you are in the city. And that's priceless. Free.

Awareness: The Headphone App: A smart looking app with a smart aim: to make sure your headphones don't keep you from hearing important stuff. Like the horn of a car that's about to hit you. Basically, Awareness keeps track of the things that are sounding off around you when you're blissfully ignorant in headphone land. If a sound is loud enough, Awareness turns on your iPhone's mic and pipes that audio in on top of your music. I wouldn't take it as carte blanche to start biking around town wearing your Dre Beats, but even if it potentially keeps you out of harms way one time it's worthwhile. $5

Ruler 2: Lemme tell you about Ruler 2:
For a device with a 3" screen, the iPhone has a pretty impressive resume: Phone, map, camera, sketchbook, dedicated Doodle Jump playing machine. And for $1, the newly revamped Ruler 2 app makes it a pretty decent measuring thinger, too.

Ruler 2, an overhauled version of an apparently less-good Ruler 1, offers a simple, functional ruler that you can drag to measure things smaller than the size of your screen. Measuring things that are longer than your iPhone (or your iPad-it's a universal app) isn't quite as precise: you swipe the ruler to extend it a length and then physically move your iPhone, keeping track of where the left side of the screen should be with your finger. It sounds kind of confusing, but a nice how to video that plays when you first launch the app brings you up to speed quickly.

Measurements can be labeled and saved to a folder, so you don't have to mark them down elsewhere, and overall the app has a nice, straightforward design. If you think you'll ever need to measure something small with accuracy, or measure something slightly less small with slightly less accuracy, Ruler 2's worth your dolla.
$1. Get measuring!

Due: Due is a super clean and super quick way to set up timed reminders for yourself. It's far from the only app that does this, but I'm a sucker for apps that do one thing and one thing well, especially if they look nice while they're doing it. $3.

iFlux Capacitor: There are two kinds of people in life: those who think a beautiful Flux Capacitor app that doesn't really do anything is really awesome, and those who think it's really stupid. I belong to the former group. $1

Pickin' Time: Remember that time you wished you had a really cute and engaging app to give your kids that would make vegetables FUN while also teaching them to distinguish their strawberries from their schnozberries? It's here and it's called Pickin' Time, made by the same group behind Twitterific. If your kids are on your iPhone or iPad all the time anyway, you might as well give them something healthy to play with. $2

Gangstar: Miami Vindication: Miami Vindication, the latest title from the Willy Wonka Factory of iPhone games that is GameLoft, is basically I Can't Believe It's Not GTA Vice City. On your iPhone. Which is to say, it's pretty awesome. $7.

Hey Wire: Useful for compulsive texters, and especially for compulsive international texters, Hey Wire gives you a new number and lets you SMS any of your friends, anywhere, for free. It also supports Facebook chat, with more services on the way. It seems a little bit too good to be true, and the app did seem a little bit janky from time to time, but generally it works, and it's free. Free!