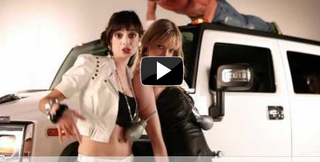 You know that feeling when you're at bar or a party, and then all of a sudden there's just a whole lot more hair gel and sleeveless t-shirts than when you got there? This sums that up pretty perfectly.
The rest of the best top comedy videos from this week can be found over at Splitsider, including a sucky Valentine's Day, an awesome Big Momma parody, and one miserable bear.
Other highlights from the week in comedy:
- We looked at 26 roles that Bill Murray almost played but didn't, for various reasons.
- We talked about the potential in Steve Carell's Office replacement.
- The excellent Portlandia got picked up for a second season.
- The first annual Comedy Awards announced its nominations.
- Rachel Dratch got herself a book deal.
- South by Southwest announced a virtually lady-free comedy lineup. They then released a statement saying that they tried, and are still trying, to get more women on board.
- We looked back at MTV's seminal sketch show The State.
- The Office hired a former model to be the newest worker in Scranton.
Splitsider is a website about comedy and the people who create it. It covers movies, TV shows, web videos, books and any other format that exists to make you laugh.