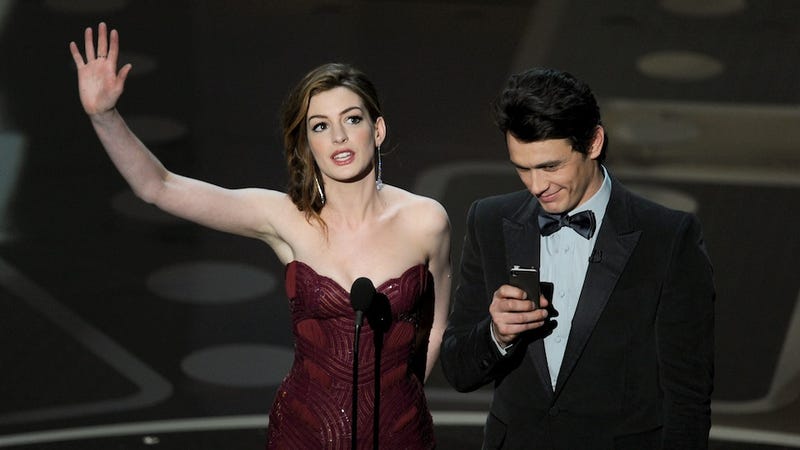 Probably-stoned Oscars host James Franco and his giggly, unbearable sidekick Anne Hathaway: mediocre. But whilst bombing, Franco couldn't keep his mitts off his iPhone—he first appeared on stage gleefully gripping it. So what's he doing with the thing?
Well, besides sending out "I can't believe I'm here either" self-shots and other social media documentation—what else was he up to? Fiddling with his jailbreak settings? Sexting Judy Dench? Is there a SeamlessWeb-esque app for pot? There's a good chance the phone wasn't even turned on and he had no idea.
Although he did capture some pretty fantastic stuff! Oprah! Billy Crystal! A photo of himself sitting in a chair with a light shining in his face! But we still want to know—what was he doing the rest of the time with his phone? What was on his mind? Anything?
You chimed in, and here are our favorite possibilities:
"Google: Who is Anne Hathaway" - AgentRockstar
"Look how it follows my finger" - AgentRockstar
"He was obviously receiving pictures of Brett Favre's dick because seriously, who isn't?" - richardsonad
"Maybe the phone is where his cues were coming from: "act more stoned." - DomCasual
"Shooting a video of what the Oscars ceremony looked like, since it's going to be the last time he'll ever see it from that point of view ever again." - phenderson10
"Dude, this thing has a built in mirror! Man, I am gorgeous!" - xwsxlogan
And our pick for Most Hilarious Comment Possible, courtesy of TetraGenesis: "Anne Hathaway was classy, funny, and gorgeous! What are you talking about, 'unbearable'?"
Keep 'em coming, guys!
Photo: Kevin Winter/Getty