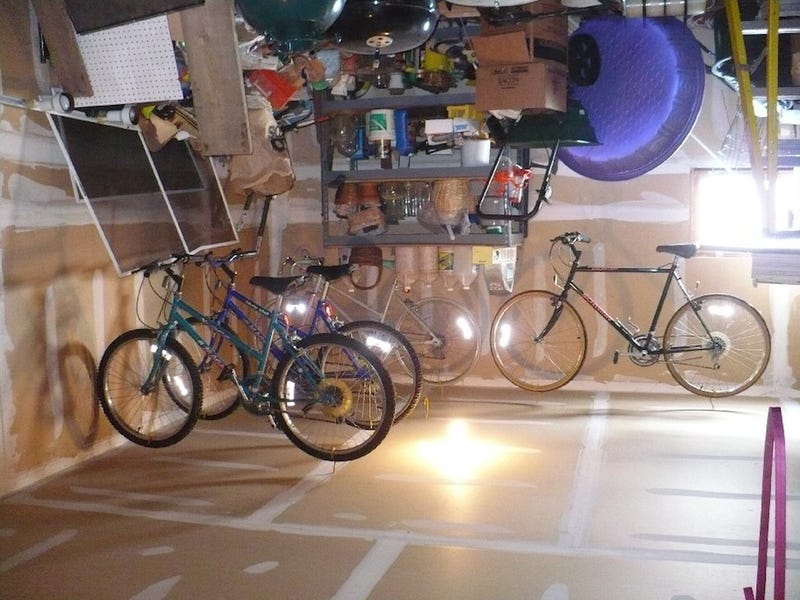 I took several interesting upside-down shots of ceiling lights in my house that ended up looking like gazebos on a frozen lake or alien spaceships. Then I opened the garage door and saw these bikes hanging from the ceiling and thought "duh".
Panasonic DMC-LZ7: F2.8, 1/30 sec, ISO 640, flash on
- Bruce Wenner
Shot with a Canon T2i using a Sigma 17-70mm Lens set on F/4 with built in flash ISO 100 exposure 1/200 focal length 70mm.
This is a Alice in wonderland shot of my Cornish Rex cat begging for a piece of toast. My friend held the piece of toast while I shot the photo.
- Chase Prefontaine
I shot this photograph with a Nikon D300s with a Nikkor 35mm 1:1.8.
I also used an IR760 filter. It was shot at F/7.1 for 25 seconds with and ISO of 250. The inspiration
for this photograph can to me because whenever I see trees in winter I always think the leafless
branches look like lightning or brain synapses. I used the IR filter in order to have the tree be white,
as if it's giving off light, like a synapse firing or lightning cracking.
- Pete Ruokis
I'm Alev Takil, and I'm doing study abroad in Italy. I shot this picture at Como, with a Nikon D300 with a 18-200mm lens and 200ISO.
I was just walking around and I saw this building and the tree's reflection on the water, and because the building and the nature around it looked so perfect in the reflection, I took an upside down picture of the upside down reflection. So, now the picture of this reflection actually looks like an everyday photo of a building and and its surroundings -but distorted, and unreal.
- Alev Takil
Here is my submission for the upside down contest.
Camera: Canon 50D
Lens: Canon 18-200mm
ISO: 400
Story: This self portrait was meant to illustrate how turned upside down my life has been of late....
- Jenny Naima Wilson
I have a feeling that most of the photos were going to be of some landscape viewed off the reflection of a lake. Which is fine, they make amazing photos, but I wanted to do something different. I struggled for a while trying to decide what to take a picture of. In the end I let the force guide me. The orb is a blown glass float, that I spent way to much money learning how to make. I lit it from the back with a bike light to make it glow. Then I balanced Luke on top of it. Shot with a Canon T2i, 18-55mm lens (set at 45mm), ISO 200, f/16, 1.3 sec exposure.
- Ben Hugeback
CAMERA SETTINGS
Camera: Nikon D3000
F-Stop: f/4
Exposure Time: 1/30 sec.
ISO: ISO-1100
Exposure Bias: 0 step
Focal Length: 55mm
Max Aperture: 4
Flash Mode: No flash, compulsory
35mm Focal Length: 82
STORY
Me and my friends have a thing we do when we hang out called Random Destinationless Driving. When we just want to get out of our houses, we call for an RDD, and just drive around to vent and get away from things. So, last night, me and my friends decided we were going to drive 2 hours to Orlando just to walk along Downtown Disney (even though everything was closed). I guess just being somewhere in Disney made everyone relaxed, and have fun. The photo is of the Cirque Du Soleil building which houses the permanent Cirque show "La Nouba". Their building is unique in it's architecture, and looking at it from an upside down point of view made it look even more amazing. The photo was taken on 2/24/2011 at 12:29am.
- James Francosky
My image is looking up at the Hell Gate bridge from underneath. The reason it is called the Hell Gate is because it bridges the most turbulent moving water in the NYC area. It was the scene of the deadliest NYC disaster until 9/11, the General Slocum Disaster. I was riding my bike around scouting locations for a portrait of myself, part of photograher Dmitry Gudov's #bikenyc portrait series. I looked up with the photo challenge in mind and spotted this view. I hope you enjoy it.
I took the photo with my iPhone4. Focal length 3.85mm, f/2.8, exposure 1/815. Have a great day.
- Ryan Cain
Was waiting on a friend to finish up in the ER and had to take a smoke (they make us go offsite for that). Just happened to have my camera in the truck in anticipation of getting a shuttle Discovery "final flight" pic later in the day. Water in the Banana River Lagoon doesn't normally stay this smooth for very long so I managed to snap this one literally seconds before the wind spoiled the reflection.
Looking south from a boat launch with a pier on either side. Camera body is an inch above the water (using live view).
Nikon D5000 in auto, Nikkor AF-S VR 16-85mm @ 16mm f11 ISO 200 and flipped with PS elements.
- Paul Hamrick
Equipment: Motorola Droid, Froyo.
App: "Retro Camera" using the "Little Orange Box" setting
Explanation: I just bought my Canon 60d a few days ago and have been giving photography in general a much closer look (I'm a TV producer and dabble in videography).
I decided my Android phone pictures were all terribly boring now, so I got the Retro Camera app to jazz things up a bit. But I hadn't yet used it. The day before the contest was announced, I was ready to take the DC Metro home when I stared at the train arrival board in horror: 13 frickin' minutes until the next train. Bored, I started messing around with Retro Camera. I found that if I turned the camera 90 degrees with the tunnel in the corner, it made the Metro stop look like something out of Star Wars. I saw your photo contest the next day and decided to turn things 180 degrees, and use a different kind of camera setting. Now it looks like something out of a Kubrick film, and more importantly, altogether different from what it actually is: An architecturally boring space that houses a system that breaks down far too often, and makes you wait 13 minutes for a rush hour train. Yay DC! You try real hard!
- Larry Contratti
As I was walking around my school, I noticed how cool the patch of snow looked. I turned my camera upside down and took the pretty picture.
Camera: Canon Rebel T2i
Lens: EF-S 18-55mm 3.5/5.6
Aperture: 3.5
Focal Length: 21mm
ISO: 800
Shutter Speed: 1/500
- Jeffrey Perkins
My dad bought me this old tripod at an auction. He used to be a photographer MANY years ago. He was showing me last week how you could undo part of it to hang the camera upside down. So when I seen the new shooting challenge I had to give it a shot and this is my first entry.
I picked this picture because of how pure the sky looks. It almost makes the picture look like I removed the sky portion using software. I tried to get pretty low w/o losing any of the shot I wanted. I chose this location because it had several hanging items that look unnatural when shown upside down. It kind of gives me the same feeling I had as a kid….that is, just before I fell over…
Camera- Canon EOS T1i
Shot settings:
Shutter Speed- 1/10
Aperture- 4.5
ISO- 100
Lens- EF-S18-55mm f/3.5-56 IS
Focal Length- 18.0mm
Tripod is an old(not sure how old) Star-D professional
- Nick Cunningham
My buddy Rob was working hard under my sink, so I decided to make myself useful, hang upside down next to him, and take some pictures :D
He is soldering some new valves on the pipes under my bathroom sink. It's a good thing I was there to take some pictures or no one may have ever known he actually did anything!
- Tim Gomez
After finally having a semi-nice day in Boston I set out thinking I could create a semi-optical illusion with some of the numerous shoes on wires in the area. These hang in Brookline, and so I head out, positioned myself underneath the tree branches, lent backwards and tried to capture the photograph before my iphone automatically switched orientation. After a few shots, this one came out well enough. No editing, or post production needed.
- William Palin
2011/02/26 09:06:45
Nikon D90
VR 18-55mm F/3.5-5.6G
20mm ISO 200
1/250s - F/16
This heavily-travelled road south of Nashville, TN suddenly sprouted a Road Closed sign. I just knew that someone would not take notice of the sign with less than desirable consequences.
- Win Barker
Taken with a Canon S90, 1/125 second exposure at f/4.0, ISO 125.
This is a mossy, gnarly tree on the Washington State capitol grounds, with a fresh layer of snow.
- Brian Hall
This is a picture of a couple of cargo cranes in the Port of Olympia, WA. No matter which way is up, the airy jumble of towers, cabins, and open stairs always looks like Escher dreamed it up. Inverted, with the cables looping skyward, edges into the surreal.
Camera: Canon 90
Exposure time: 1/500 second
F number: f/4.5
ISO: 125
- Kathy Scott
When I saw your latest shooting challenge I immediately thought of my 5-year old Beagle. He spends a good majority of his life upside down. Why? I'm not sure. I remember being a kid and looking at the house upside down and wondering what it would be like to walk around on the ceiling. Pondering the various levels of difficulty as I traversed from room to room. I wonder if my dog is thinking the same thing. Either way, here is the shot. I had my Rebel SLR packed away so I had to shoot this with my Sony DSC-T900. Shot at f/3.5, 1/8 sec, ISO 1600.
Thanks for the opportunity and enjoy the shot!
- Ben Rogers
Minnetrista, MN
02-26-2011
Camera: Canon PowerShot SD1400IS
Shutter: 1/30
Aperture: f/2.8
Focal Length: 5mm
ISO: 125
No Flash
I wanted to photograph something that naturally moves in an up or down direction (like objects falling, shadows, balloons, etc.) so I could attempt to capture them from an alien angle. I think my final decision to use the candle flame had something to do with the fact that I've been freezing all week and I was really attracted to the warm glow of it.
- Emily Wells
This is my first entry in your shooting challenges, and I am competing against my husband (another first time entrant). He regularly reads the challenges, and this week he wanted to give it a go himself. So I thought, why not me, too?
We are looking at buying a nice camera so borrowed a friend's for the weekend to play with. Camera details:
Canon EOS Kiss X2
65mm lens
ISO 400
I took this photo on our weekend away at the beach. In normal view, the branches of the tree were pointing down and seemed kinda sad. But I liked how when viewed upside down, they seemed more uplifting - stretching to the sky. I didn't really meant to shoot in monochrome - my husband just handed the camera to me in that setting. However, I think it works well, and makes the river in the background look like the sky.
- Erica Carey
Hi There
I've been thinking of buying a camera for a while now (inspired by your challenges) and borrowed a friend's Canon EOS 450D (or Kiss X2) for the weekend to see whether or not I enjoy photography. 991 shots and several tutorials later I took this one using an EF-S55-250mm f/4-5.6 IS lens at 84mm, at f5.8 and left the rest on auto. I think the monochrome ones came out best and I particularly liked this one because its almost looks natural except for the guy standing upside down. FYI, this is Hot Water Beach, New Zealand.
PS. My wife grabbed the camera for a few moments and decided that she wanted to try her hand at upside down shots. In the spirit of competition we thought it best we let you guys decide which of us is the better photographer!
- Tom Carey
Equipment: Nikon D80, Nikkor 24mm/f2.8D, ISO 200, @f/11 with a tripod.
Story: I was actually going down to the Hong Kong Victoria Harbor planning to try out some HDR photography. But when I saw the Chinese lantern display doorway nearby the harbor, I thought it'd fit this challenge quite well. Cropped and removed some background lights in Photoshop.
This is my first attempt for the Photo Challenge, hope you like it =)
- Chendi Liao
Date: 24-02-2011 21:04:35
Camera Model: Canon EOS 350D Digital
Lens: Canon EFS 18-55mm
Flash: used
Focal Length: 18mm
Focal Length in 35mm Film: 29.7mm
CCD Width: 22.2
Exposure Time: 0.0167s (1/60)
Aperture: 4.97
F Number: f/5.6
White Balance: Auto
Metering Mode: Matrix
ISO: 800
Shutter Speed: 5.91
Exposure BIAS: -1
Me and a friend of mine (he's the person in the picture)
drank too much, made pancakes, watched a movie on
his Macbook Air and then we remembered the Gizmodo
contest, so I made an upside down picture of the mess
we made. The day after I thought that the picture might
have a chance in this contest, so here's my mail.
- Lennart Knikker
A few friends and I decided to head up to Niagara Falls and check them out in winter mode. This shot was taken from the American side immediately next to the falls. Upside down this picture takes many forms, it depends on the viewers perspective and what your eye focuses on first.
Exposure: 1/1250s
Aperture: F/5.0
ISO 100
Focal Length: 61mm
Exposure Bias: +1/3 EV
Manual White Balance
- Sam Ryan
Today I went sight seeing at Lotus Pond, Kaoshiung, Taiwan. Around this pond there are many different temples to see. I found a park bench. I decided to be silly and laid upside down, so my head was dangling off of it. (I got some wierd looks! )
I started taking random shots, and began playing with the TV settings. Trust me it was hard to hold the camera still! I had to sit up a couple of times because I had a head rush, but in the end, I found a way to prop my head on ground with my camera. I was still enough to take this picture I am submitting. I used a Canon T1i slr to take this picture. The lense is the standard one it came with, nothing fancy (18-55mm).
The reason why I love this picture is because the reflection in the water could actually look like city lights and the mountains and temples are just reflections in the water. Looking at it just boggles my mind and I love it!
- Stacey Ho
Camera - Leica M9
Lens - Noctilux .95
ISO - 160
SHUTTER - 1/2000
F.Stop -F4
I took this shot in an alley off of Melrose Ave, in Los Angeles. I thought this was cool how the reflection of the landscape and the man walking looked? Kinda looks like a painting?
Thanks for looking at my picture. I hope that this picture will help inspire children and adults all over the world to get out and explore their creative talents!
- James Hale
My shot is tall not wide but I did 2 versions of the wallpaper to make it work. Let me know if there's something else I can do to make it work better. :)
For 2 years now I have been taking lessons and photographing the folks at the Detroit Flyhouse and we love playing upside-down on trapeze's, silks, and lyras more than anything! When I photograph the members and students, I like to find fun angles to shoot them from since it's not your typical portrait and laying on my back or crouching down to the floor has created a lot of amazing images. For this contest, I asked Micha, the head of the Flyhouse to play above me as I lay on the ground and shoot her many contorted and crazy moves. This one just said it all! She's cool as a cucumber even with her arms torqued all the way around the wrong way and the wood ceiling contrasts her wonderfully!
I used a Canon 50D with Tamron 17-50mm 2.8 lens
F/ 2.8 ISO 800 SS: 1/50
- Cheryl Willard
1/1250 sec f 1.8 iso 400
Taken on the first day of owning my Nikon D90 with a 50mm lens in Oerlikon in Zurich Switzerland of a figurine that looks down into the pool of a fountain and the passers by normally look down onto him
- Carl Moller
I took this picture with my HTC EVO with the Retro camera app. I was just laying down in the upstairs of my house and i looked up and saw the trees and figured it would make a good picture. I think i took this picture with every type of Retro camera until i found one i liked.
- Dan Jarvis
I really wanted to take a picture of kids hanging upside down from a tree
branch, since it was snowing, that idea didn't work. So I make some things
upside down so they be right side up after the picture was taken
- Kay Owens
Fujifilm s100fs : 1/400" : F5.3 : ISO100 : 101.5mm
A quiet Sunday morning on (or is it under?) the Eau Gallie river.
- Mike Case
Camera: Canon Rebel XS
Lens: EF-S 18-55mm f/3.5-5.6 IS
ISO: 300
I read the description of the Upside Down Shooting Challenge earlier in the week and kept it filed in the back of my mind until I had an opportunity to try it out. After lunch, my husband and I took a walk to Deep Run Park. Here, I took a few macro shots of the nature around me. After looking closely at so much around us, I decided to open my eyes and look at bigger pictures. This fountain was the perfect subject. Looking at it upside, It reminds me of an ominous rain cloud, especially with the ring in the water.
I used the railing on a pier to help stablize the camera and set the ISO to 300 to soften the water. Other than that, it was just a matter of point and shoot.
- Amanda Jaeger
Here I was using a Canon 60D with a Sigma lens.
ISO 100
18mm
f/7.1
1/125
Gravity forms ice as water drips from edges and then freezes. I tried to capture what ice might look like if it did not follow gravity. Luckily in the north there is plenty of ice this time of year. While taking the picture it was 20F out.
- Joshua Young
Was visiting Chicago this weekend and of course every visitor should see the Bean. I took a variety of shots from outside the Bean but my favorite was this one walking underneath it and shooting straingt up., getting the multiple reflections. The gray sky added to the mysterious colorless nature of the photo. Used a simple Nikon Coolpix P5000 point and shoot camera at it's widest zoom setting.
- Al Kuolas
I love golf and love photography. So I decided to combine the two! I have taken a picture at this level before but right side up. Turning the logo upside down making it look right side up made my head disoriented.
Nikon d90
F-stop f/9
ISO-1600
- Jason Pawlik
Equipment is a Nikon D90 handheld with 80-400mm Tokina AT-X lens at 185mm focal length.
Shutter priority mode:
Aperture: f8
Shutter: 1/640 seconds
ISO 400
Auto settings for exposure, white balance set for overcast.
PLAY BALL! Sunday marked opening day for Spring Training here in Arizona. I thought to myself, what a better way to capture a unique image. It was wholly unnatural to hold the camera upside down and then to press the shutter release with the thumb finger rather than the index finger. In this image, the Kansas City Royals catcher tosses the ball back towards the pitcher at the start of the 2nd inning as the Texas Rangers in the dugout look on.
- Cory Newkirk
Shooting Summary
Canon 60D 18-55mm IS
Aperture f11
Shutter speed 1/125
ISO 100
Went out for a day looking for there perfect shot to submit. The weather was sunny for a change so decided to climb a nearby mountain to get a good scenic shot. Had no luck as it became hazy. Was about to give up when I spotted the golden arch driving home and thought it would be perfect to give an unusual twist to a well known symbol. Some colour correct and adjustments done in PS.
- Ciaran McNally
This challenge was diffiult to come up with an interesting shot. I went to the ice caves with local Photo Club and came up with this shot.
It has a top and bottom making it an interesting nature pic. I shot it with a Canon EOS Rebel T1i TV 1/80 AV 22.00ISO of 200 at 10:43 AM as the morning sun passed by the lower opening shining through the ice. It was very slippery to walk on. The picture is flipped to create the look of the ice blasting out of the ground and the floor looks like clouds where the sun over exposed the ice a bit.
- Jennifer Bartels
This is one of our cats — Bones — intensely focused on his arch nemesis, The Terrible Red Dot. I risked life and limb having my husband focus the laser so close to my face, as Bones isn't particularly discerning about what he smashes himself or his paws into in pursuit of The Dot, never mind the danger of having my retinas burned out. Fortunately, it all worked out well. Shot with a Canon EOS Digital Rebel XSi, f/4.5, 1/13 sec exposure, ISO-800.
- Nicole Lombardi
Nikon D5000
Sigma DC 50mm
ISO 200
1/500s
F/11
Longtime listener, first time caller. Part of our New Year's Resolution was to take part in each weekly Shooting Challenge. BOOM! our camera exploded and off to Nikon it went for warranty. We sat around and watched our favorite themes week after week...Bokeh, Black White, and who could forget Time Lapse. DAMN YOU CHEAP PLASTIC FLASH LATCH!
Nevertheless we received our camera today, and gosh darn it we shot upside down!
- Chris Phillips
I wanted to feel like I was standing on the ceiling. I used f4.0 1/15sec. and ISO1600.
- Andrew Vanden Heuvel
I take photographs for a local band, and was backstage before a gig the other night taking photos with a cheap fisheye adapter, when I remembered reading about this weeks challenge. I leapt at what was probably my only chance to get a photo for it, started snapping away, and ended up with this. I took a few shots from a couple of variations on this angle, but this one seemed like the most believable to me.
Canon EOS 550D, 18-55mm lens (with fisheye adapter), ISO 100, F/5, 1/125 second exposure, flash
- Mitch Needham
Camera: Nikon D3000
Lens: 35mm
Aperture: f 5.6
We went to visit my brother and sister in law at their farm in south Louisiana this past weekend. We went fishing for a bit, and my brother in law took the canoe out to untangle some line that got caught up in some brush. When I saw him sitting in the canoe, and the resulting reflection of himself and the trees on the water, I immediately thought of the upside down challenge! So I flipped my camera upside down, and here is the result.
- Sandy G
800 iso
f: 4.5
speed: 1/20
camera: sony a230
I completely forgot about this contest (I definitely wanted to enter a picture) and when i remembered I immediately started shooting. Everything I took was good, but it was just a picture... turned upside-down. To create a better image i felt it necessary to make the viewer experience the feelings of interest and confusion (much akin to feelings caused by the art of M.C. Escher). While sitting in a restaurant contemplating my options, I remembered a story I was told in which a friend of mine flipped a full glass of water over and left it sitting on a table. I wanted to replicate that effect but remove the table so the water would appear to float and fill the viewer with questions of "How?" To add a mysterious effect I decided it would be fun to change the lighting and quickly discovered that it was much harder than I thought (thanks to my family for putting up with my flood lights).
- Dylan Dibliku
I am 17 years old this is my first submition to gizmodo. The photograph is a refration of a peacock sitting on a pool table. i used a small fish bowl with clear water. After sevral trys I finally got the shot I wanted. The Camera is a Canon EOS Rebel T1i. The shuter speed is 2.5. The Apture value was 14.0. The ISO was 200.
- Blair Bartels
Canon 60D
F/3.5
1/8000 exposure
ISO 400
I went to play a quick round of golf at a par 3 course in Greenville, SC. I carried my camera to take random picutres while playing. The golf course lies at the end of a runway of a small airport. When one of the planes was coming in for a landing I set my camea for continuous shot and starting shooting. The plane flew right over my head and I continued to shoot bending over backwards.
- Alejandro Torres
This is a last minute submission, but after trying a handful of other shots and not having anything I really liked, late Sunday night I went out and picked up a new 50-250mm lens. While playing with the new lens, I heard the cat yelling at something in the dining room, I noticed her avidly watching a mosquito curiously hanging from the ceiling by a single leg. Much like the cat, I turned my head at an angle and somewhat imagined the mosquito doing a single-leg "handstand" from the floor, so already having my camera in hand, I grabbed my macro adapter and tried my best to capture that thought, despite standing on the kitchen table and hand-holding a macro shot in a dim room. If my subject hadn't have flown off and been promptly eaten by the cat, I might have gotten a couple better shots! Shot with a Canon T2i, 50-250mm IS lens, and Raynox 250 macro adapter 1/500 sec, f / 5.6 at 60mm, ISO 3200.
- Anthony Mason
- Gretchen Hargrove
Canon T2i w/18-55mm lens
f/5.6
1/250 sec
ISO 200
I knew I wanted to take an upside down picture where the subject looked right-side up. It was an uncharacteristically warm day so my subject (shout out to LT) and I went to a nearby park where families were enjoying the weather. The monkey bars provided a fun shot and interesting perspective.
- Chip Moll
I drive by this pond every day on the way to work and it finally clicked one morning to photograph it for this weeks contest. Problem was, I kept forgetting my camera, or the wind was blowing and causing the pond to be to rippled to get the effect I wanted. Finally my patience payed off and everything fell into place this morning. Shot with my D90 and 50mm 1.8 lens. Rotated and post processed in Lightroom 3.
- Kyle Frantz
Camera: Canon Rebel T1i
I'm at home watching the oscars and pouring my third scotch when it occurs to me I have not entered a photo in the shooting contest! I love the idea of anti gravity. I always wanted to pour a drink with no gravity. This shot makes my fantasy a reality.
- Kris Lo Presto
Camera: Nikon D80
Lens: 70-300mm f/4-5.6 G
Focal Length: 70mm
Shutter: 1/3200 sec
Aperture: f/4
ISO: 800
When I visited the fabulous North Carolina Zoo this weekend, I kept an eye out for upside down shots that would have a surreal feel. We saw these very playful seals swimming around in a tank upside down and I immediately thought it might be perfect for the competition. I loved how flipping the image made it look like the seals were actually flying around in an underwater cave. I had to crank up the ISO since we were in a dark viewing room. I did edit white balance and slight levels in Lightroom 3.3. I also had to use Gimp to edit out some reflections from a spectator's shirt.
- Jason Raitz
I was going to try and turn a fountain lit at night into a chandelier. That was plan A but it wasn't lit and tried a number of photos with minimal success. I went to the same place I shot my first entry for Gizmodo (the shadows contest). It's a water feature on the Stanford campus. You may notice the trash can in the upper right of center.
Nikon D90
VR 18-200mm
ISO 500
30s – F/32
- Robert Bejarano
A quick visit to Singapore gave me the opportunity to take my shots in a location further from home than normal. This was taken in the newly opened Marina Bay area. The lighting was a challenge as it was very strong and I tended to overexpose most shots. The upside down part was easy once I had mastered the art of holding the camera upside down. To me the challenge also needed another element, not just upside down but also that of a different perspective. I took most shots from very close to the ground.
My subjects were also trying to be creative. By posing her subject at the right angle the photographer was trying to show the illusion of the subject holding up the massive Skypark at Marina Bay Sands, a huge surfboard shaped observation deck above the Hotel complex.
I really like the antigravity feel to this shot, of the subjects glued to a roof rather than grounded. From the corner of my eye I could see the passerby about to come into shot and his shirt and trouser colours matched the photographer and subject perfectly.
Shot on a Pentax K200D, at ISO 100, focal length 50mm, F/8, 1/125 sec. No post production clean up.
- Nick Smith
So I was walking through the park this weekend and decided to play with some reflections in puddles. I picked up my camera upside down to look at what I had and realized that these shots need to be displayed upside down. I picked this one because I think the glare at the left reminds me this is actually just a puddle.
As always no post-processing
Canon T1i
EF 17-85mm
ISO 100
33mm
F4.5
1/40 secs
- Nikita Ostrovsky
Shooting Summary: Canon EOS Rebel T2i, 41mm, 1/50 sec at f / 4.0, ISO 3200, EF28-135mm USM lens
Notes: Model was hanging against an interior divider wall, and after many practices was able to pour water from the carafe into the glass. Dying the water red produced the best images as it provided the best focal point/attraction. Took a lot of team-work to execute: someone to assist/brace/support the model, someone to pass the model the carafe and glass, and someone to actually trigger the shutter. Only a crop, minor levels/color balance, and touch ups done in Lightroom and Photoshop. Bottoms up!
- Jerry Duke
Settings:
Canon T1i
Canon 50mm prime lens
Aperture: f/1.4
Focal length: 50mm
ISO: 400
Shutter speed: 1/15s
I missed the bokeh challenge a few week ago since my 50mm f/1.4 lens hadn't arrived yet so I thought I would do a shot that payed homage to both challenges. I placed a martini glass on top of my granite counter top (which reflected the base and stem very nicely), and pulled out a piece of black poster board that had varying hole sizes cut out in front of a lamp without a shade. To get the yellow tint in the light, I mixed some mustard and water in a frosted glass mug and placed it between the light and the poster board behind it.
In Lightroom, I adjusted contrast and yellow highlights a touch and then flipped the picture. I did some experimenting with the angle of rotation and found that placing it off axis a little was a more appealing than turning the shot 180 degrees. Hope you like.
- Giani Waghelstein
Camera specs: Canon T2i, ISO 100, 55mm, f/10, 1/200
Story: As it usually happens, many of my ideas for this challenge fell through: I first wanted to do numbers upside down spelling a word, like us nerds do with calculators (the best I came up with was OIL LESS in my stove display... it just did not work)... I then played with reflections in cars and other shiny surfaces (looooser)... In a last bit of desperation, I tried the monkey bars in a snowy playground with me hanging upside down... (bad bad bad)
At the end, my submission was inspired with the idea of snow and sky looking terribly alike today, so they blend pretty nicely when taking pics upside down. It ended up looking pretty abstract, which I like.
- Diego Jimenez
This photo was taken on Saturday, I was heading north on the Palisades parkway when I spotted a scenic stop. I got out of my car and laid across a rock. I shot with a canon T2i, ISO 6400, F/8, 1/60. The view looked so amazing upside down, almost like a futuristic floating city.
- Tracey Bram
I tried lighter fluid on a brick wall, but it wasn't flammable enough so I used a piece of paper.
Nikon D50
18-55mm f/3.5-5.6
18mm
f/3.5
1/25 sec
ISO 1600
- Quentin Swager