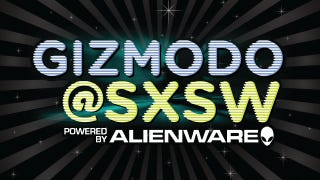 Thanks to the folks at Alienware, we are throwing a SXSW party in Austin, TX. Our soiree is happening this Saturday, March 12, and will feature a DJ, a photo booth, glowing disco ice cubes, a BBQ-themed feast, Brian Lam, a slew of Alienware gaming computers and Dell's new tablet!
Check back next week for all the photographic evidence...and if you're going to be in Austin, send an email with your name and contact information to contests@gawker.com with "Gizmodo SXSW Party" as the subject line by noon EST tomorrow, March 10 for the chance to be selected for the guest list!
Standard contest rules apply. Only open to US residents. Readers may also enter by sending their contact information to Gawker Media, Attn: Gizmodo SXSW Party, 210 Elizabeth Street, Fourth Floor, New York NY 10012. The contest begins on March 9 at 11:59am EST and ends on March 10 at 11:59pm EST. Winner chosen at random.