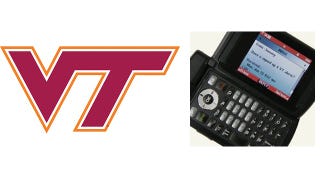 After the 2007 massacre in which Seung Hui-Cho killed 33 people, Virginia Tech has gone to great lengths to improve its campus safety. The University's latest system is designed to alert students and faculty whether they're on campus or online.
In the event of a real emergency, the VT Alert system sends out notifications via the Virginia Tech homepage, through e-mails blasts to all vt.edu accounts, on the electronic message boards in classrooms, on the weather/emergency hotline, over the campus sirens and loudspeakers, on the the university switchboard and with optional phone and desktop alerts. The VT Phone Alerts is subscription-based but allows you to list up to three, ranked additional contact methods. VT Desktop Alerts notifies you via popup on your desktop or laptop computer. [Virginia Tech]
---
You can keep up with Andrew Tarantola, the author of this post, on Twitter, Facebook, or Google+.