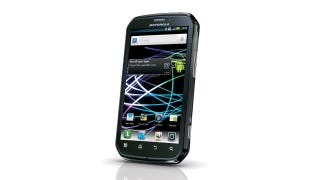 If your top three greatest passions on life are, in no particular order, movies, television and photography, but you still have a flip phone, it's time to chuck it out the window and consider a smartphone named after the very basis of all that awesome visual entertainment—the Sprint Motorola Photon™ 4G. In fact, you can upgrade how you spend your spare time for a price worthy of Dealzmodo; right now you can get your hands on one for only $99.99, only at RadioShack.*
The Photon's 1GHz dual-core processor has all the power you need to browse and download apps from the vast Android Market while multitasking using the apps you already have. Browse movies, television, music videos and more with the pristine viewing quality of a 4.3" qHD display, and make your own with the stunningly powerful 8MP camera and LED flash. Whatever you choose to do with it, don't miss out on an incredible deal.
The world can't wait for your masterpieces any longer. Click here to order your very own Sprint Motorola Photon™ 4G.
* With new 2-year agreement on a select plan with $10/mo. Premium Data add-on. $599.99 unactivated.