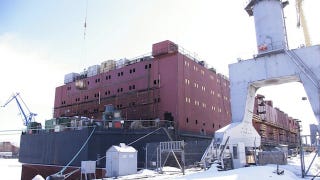 How does a court seize a nuclear plant? Well, that damn Russian floating nuclear plant is cursed. After a series of early setbacks, the plant, Akademik Lomonosov, is now close to completion. Too bad the shipyard building it is going to go bankrupt.
The power plant had been planned to be used in the Arctic Ocean for some years now, but the Court of Arbitration of Saint Petersburg recently seized the floating nuclear power plant due to a request from Rosenergoatom, the state owned company that will operate the plant.
Rosenergoatom wanted the nuclear power plant in state control because United Industrial Corporation, the largest shareholder of Baltiysky Zavod, the shipyard building the plant, has given its stake in the shipyard to a bank as collateral for an unreturned loan. Basically, Rosenergoatom doesn't want another company claiming the shipyard's assets (i.e. the floating power plant) during the inevitable bankruptcy proceedings. AGH NUMBERS!
Get it? No? Whatever. Just know that it's a terribly messy situation with a possibly shady cast of characters and a whole lot of money involved. Which means, this can go on forever. Surprisingly, the plant is still being built and is still set to fire up its first atom in 2012 but we're not sure who's going to end up running the thing. I just can't believe that this FLOATING NUCLEAR POWER PLANT has been taken over by guys in suits. Like we said before, maybe the polar bears can figure it out. [World Nuclear News via ieee spectrum]
---
You can keep up with Casey Chan, the author of this post, on Twitter or Facebook.