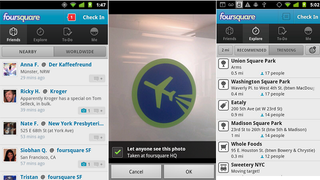 Foursquare's most recent update for the Android has been pushed live (I actually received my update notice while writing this post) and offers a bevy of new features and menu redesigns. Here are some of the highlights.
As soon as you start the app, you'll notice a redesigned title bar with more space between tabs and the Check-In button prominently displayed up top regardless of the tab you're on. The Friends list now also displays attached photos inline, saving you the hassle of having to click through to view it, while Specials has migrated over to the Explore tab and offers deals from partners like Groupon and LivingSocial.
Controlling what you post on Facebook and Twitter, whether it's a check-in, Mayorship, or badge is much easier as these services now have their own settings menu letting you toggle what you share with each. The latest version is available from the Android Marketplace.