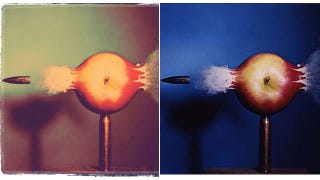 Instagram is great for spicing up plain photographs taken by your iPhone. It has several filters, unlimited uploads and lets you share your photos with social networks like Twitter and Facebook. No wonder it has 200 million hosted images.
But what happens when those plain photographs are replaced with famous images? Check out the gallery above that shows the Instagram version on the left and the original on the right. There's also a few others at Mastergram. Does Instagram improve or diminish the quality of these memorable shots? Let us know what you think. [Via Kottke.org and Mastergram Image from Harold Edgerton - Bullet Through Apple, 1964.]
Robert Frank - Funeral-St. Helena, South Carolina, 1955

Richard Misrach - Hawaii XV, 1978

Mitch Epstein - Amos Coal Power Plant, Raymond City, West Virginia, 2004

Milton Rogovin - Joseph Kemp, Hanna Furnace, Buffalo N.Y., 1978

Sandy Skoglund - Revenge of the Goldfish, 1981.