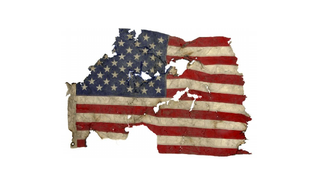 To commemorate the 10th anniversary of 9/11, The Smithsonian is exhibiting its collection of recovered 9/11 items—in the open and close enough to touch (but please don't).
The Smithsonian Institute has assembled a collection of fifty artifacts—fragments of the downed aircraft, the door of an FDNY fire truck destroyed in the collapse, objects recovered from offices, and the American flag above, which was discovered at the Staten Island recovery site—from three 9/11 sites; the WTC, the Pentagon, and Shanksville, Pennsylvania where Flight 93 crashed. Interestingly, they're displayed in the open without protective, Plexiglas cases to separate the visitor from the objects and only a few photos and video clips from the Smithsonian's collection to provide basic context, leaving visitor free to draw their own conclusions about each one. Docents will, of course, be on-hand to answer questions and ensure nobody gets touchy-feely with the relics. The exhibition runs through September 11, 2011. [The Smithsonian via NPR]
---
You can keep up with Andrew Tarantola, the author of this post, on Twitter, Facebook, or Google+.