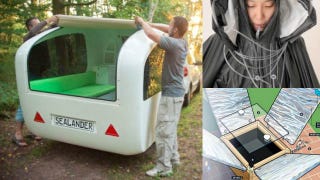 This week on TreeHugger, an awesome camping trailer that turns into a boat, a new folding e-bike design that you can help perfect, raincoats you can drink from, and more!
1. 8 Ways to Save Energy While Working from Home
Hint: Work fewer hours!
2. Amphibious Camping Trailer Morphs From Tent Into Boat
A tent, trailer and boat that can be pulled by a car. Too perfect to be true?
3. Folding Electric Bike Design Sets The Bar On Functional And Beautiful
We love this design for a commuter bike — and it is more than just a concept design!
4. Jacket Collects And Cleans Rainwater, Stores It In Your Pockets
You'll have a new reason to enjoy a walk in the rain with this weird coat.
5. How to Build a DIY Solar Oven (Video)
Weekend warriors, this one is for you.
6. Haitz's Law: Moore's Law for LED Lightbulbs
Soon we'll be saying, "Hey, remember when we thought those screwy CFLs were cool?"
7. Scientists Create Glowing Cats in Fight Against AIDS
Oh, for the love of glowing green kittens!
8. Bogota's Amazing Bus Rapid Transit Keeps Getting Better (Video)
Jealous? You should be.
9. Logitech Creates Solar Keyboard For Macs
For, um, working on your school paper in the park…
10. A Travelling Hotel Suite Shows Guests and Hoteliers How to be Green (Photos)
Just. Plain. Rad.