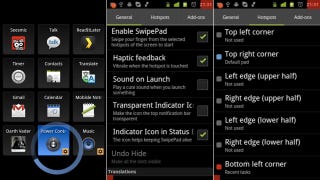 SwipePad: SwipePad is a better app switcher for your Android phone. Instead of holding down the home button to launch your recent apps, SwipePad uses hotspots-corners and edges of your phone's screen-to trigger a new 'pad' (which is sorta like a dashboard of apps). Just drag your finger from a hotspot to the middle of the screen and the app switcher will pop up. It's like adding another layer to your phone. Free
If you want to see all the apps on one page click here.
---
Smozzy: The way Smozzy works is suuuuuper clever. Though the app looks like a normal web browser with a normal navigation bar, the URL you type into the navigation bar actually sends a SMS to Smozzy's servers. The servers read that SMS/URL and then spits out the webpage you're looking for in a full fledged MMS file. It looks like the web, it smells like the web but it's really just a series of pictures. Free
---
Flickr: The app looks like a better version of the iPhone app, you scan photostreams, upload pictures, share photos to other social networks and like the non-existant Instagram app for Android, you can take filterized pictures through the app. Free
---
Hipmunk: Hipmunk is one of the best ways to book a flight on the interwebs. Now they have an Android app! There's features like telling you if a flight has Wi-Fi, listings of plane type and an "Agony" rating which weighs cost and benefits for you. Also, when you find the flight you want, you can finish booking on your phone, e-mail it to someone or do it on your desktop. Free
---
Untappd: The concept: every time you drink a beer, you check it off in Untappd and it'll keep track of how often you've drank it, give you a few details on the beer, see who else is drinking it, let you take a picture and tag your location to it too. It's pretty much like Foursquare but strictly for beer drinkers. There's features like seeing a real time feed of what adult beverages other people are drinking and see what's the most popular micro and macro beers. And of course, you can share to Facebook, Twitter, and Foursquare too.
---
Washington Post: The Washington Post, the venerable paper on DC going ons, finally has an Android app! Like most other newspaper apps, there's all the breaking news, poltiics, sports, business, technology coverage you're used to along with weather forecasts, traffic info and sweet photography. Free
---
Hotmail: You guys exist! In fact, there's a lot more of you than I thought. Anyways, there's a Hotmail Android app. If you use Hotmail, you should get this app for push email, synced calendars, support for multiple Hotmail accounts and more. There's even a widget! Free
---
You can keep up with Casey Chan, the author of this post, on Twitter or Facebook.