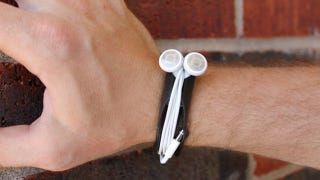 Finally, a Live Strong-style bracelet that does more than serve as a smug fashion accessory!
The Budwrap is a silicone wrist strap that securely stores your ear buds. You just tuck the buds under two integrated flaps, wrap the loose wire around it and insert the jack into a small hole in the band. And, if you aren't a 15-year-old, the Budwrap also conveniently fits an iPhone lengthwise.
This Kickstarter project is getting funded and for the next three days (until the campaign ends) Budwrap is giving away a free, bonus bracelet for donations of $15 or more. [Kickstarter via Craziest Gadgets]
---
You can keep up with Andrew Tarantola, the author of this post, on Twitter, Facebook, or Google+.