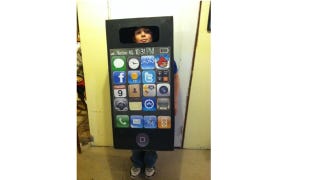 Charles Kinnane's 11 year-old brother dressed as an iPhone. And a next-gen iPhone at that, it appears.
Oh Hellz yeahs. I love this Minecraft Creeper costume from Nick Abbott. It's creative, home-made, and totally cool. Plus it's a creeper, so, kind of scary.
Josh Brodfuehrer sent us this photo of himself and a pal as Deadmau5 and a skinny Tron Guy. (We just assume it's a skinny Jay Maynard. At this point Tron Guy is more famous than the original franchise.) And yes, the music of Deadmau5 is frightening!
Gisgamer is a Web server. Get it? Get it? It's a terrifying pun!
Brian Harris junior shares this Steve Jobs costume photo. Will it be the only Steve Jobs tribute? We can't imagine!
Sockeyesteve sends us this iPhone 4S costume photo. (Dude, check your email).
Rachel Skybetter is the T-Mobile pitch woman, Carley Foulkes. Points for the concept, but come on a Verizon phone? Real commitment would have been breaking your contract early and signing up with T-Mobile just for the sake of the sight gag.
@EEynon says he's dressed up as his favorite web browser. So, wait, that's an Internet Explorer costume? Isn't Internet Explorer everyone's favorite? Oh, wait, never mind it's just the scariest.
This team costume from Mallory Blair and @abrahamd is so deeply nerdy that it pops up at way past cool. What are they, you ask? Why, Max/MSP and Jitter, naturally.