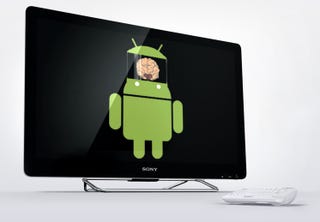 Everyone knows cable sucks, and Google knows they stand to make some coin off it. The WSJ claims Google is up to something pretty wild: it's plotting its own cable network, based atop its own broadband ISP. This is ambitious.
The program, according to "people briefed on [Google's] plans," say the Google Cable service would kick off in Kansas City, where Google has already flaunted its vision of a gigabit fiber bandwidth orgy. And what better to do with that fast, exclusive network than to try to kill the local cable companies? "Google has discussed distributing major TV channels from companies like Walt Disney Co., Time Warner Inc. and Discovery Communications Inc. as part of the video service," the WSJ reports. That would be huge.
Those three companies aren't enough, but if Google could fill in its internet cable offerings with whatever you're used to from traditional cable services—presumably for less money—the likes of Comcast would have every reason to crap their overpriced pants.
Imagine it this way: you sign up for a superfast Google broadband plan. That plan also comes with full HD TV offerings, a Google TV box that integrates oh so nicely. You're streaming Top Chef to the Android gear you own. Google now has its clamps on a much bigger part of your life—far beyond email and search. And it'd be a perfect counter to Apple's murky plans to change television forever, which are unclear but presumably awesome and inevitable.
Will it expand beyond Kansas City? Nobody knows except Google. It seems... insane that it would not. No offense to Kansas City. And again, this is all just peering into the corporate crystal ball. [WSJ]