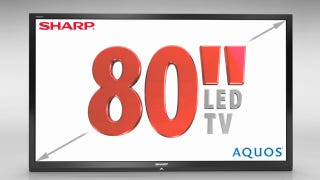 From sports fans to movie buffs to nonstop gamers, Sharp just created the holiday gift that keeps on giving. The Sharp AQUOS 80" class LED TV has more than double the screen area of 55" class TVs and the technology to prevent the lag that would normally be associated with its colossal size. And whether you're searching for a spectacular gift or that final puzzle piece for your home theater, it has everything you need to immerse yourself in your favorite entertainment.
The Sharp AQUOS 80" TV pairs an UltraBrilliant LED system with an LCD panel to produce an unparalleled contrast ratio of 6,000,000:1 so you can watch TV in HD 1080p (1920 x 1080). 10-bit processing seamlessly stitches all those pixels together, minimizing bleeding. It then ices the cake with some 120Hz Fine Motion Advanced technology, making the blur effects of high-speed video a thing of the past.
Switch to gaming mode and the Sharp AQUOS 80" TV engages its Vyper Drive to reduce the lag between your video game console and your TV. You can also show off your video, music, and photos via the dual USB inputs and integrated media player. Wi-Fi comes standard, so you can use apps like Netflix, VUDU, and CinemaNow. And should you ever have an issue with all the power you've unleashed in your living room, just contact the live online customer support from Sharp's exclusive AQUOS Advantage Live services. With the most options in 60" class, 70" class, and now the new 80" class, it's no wonder that Sharp is the leader in the largest screen LED TVs.
For more gigantic technical specifications or information on where to find your own personal Sharp AQUOS 80"class LED TV, click here.