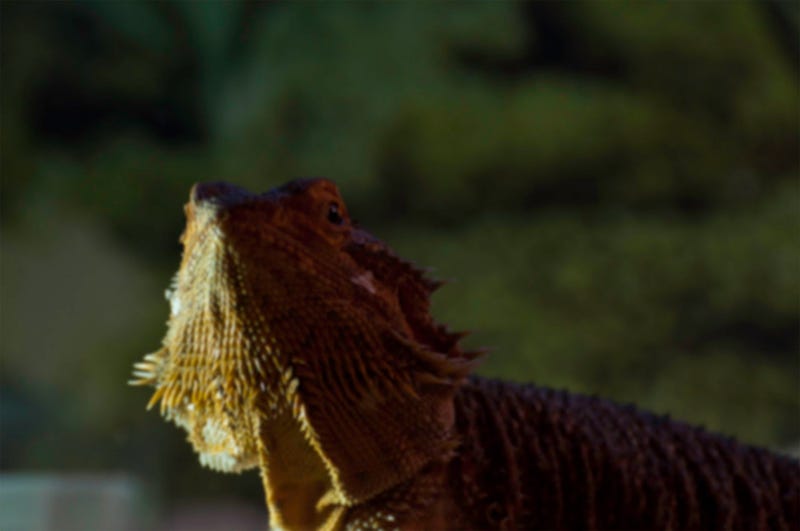 This is Norbert, the bearded dragon. Nikon D90, Nikkor 70-300mm VRII @ 185mm, f/5, 1/200, ISO 400. Used my SB-700 remotely to provide the lighting from the left. I wanted to try to put Norbert into the shoes of the Tiger from the example picture. Rawr!
- Adam Biesenthal

This photo of my friend was taken in Old Town Square in Prague. Not wanting to smear vaseline on my filter on holiday, I achieved the soft focus effect in Photoshop using a faded Gaussian blur layer and applied a mask to the eyes to keep them sharp.
Canon 550d
ISO 500
f/4.6
1/250 sec
EV +.3
-Jeannie Moulton
'Tis the season
Soft Focus seemed like a natural thing to use for Christmas decorations. And what with the malls already decorated for the season, it wasn't hard to find a Christmas scene to experiment with. What was hard was finding decorations that I actually wanted to take a picture of. I knew of this one mall that had a giant two-story tree that they set up every year. Unfortunately, I had forgotten how ugly the tree was and that it was almost to impossible to frame without including the sign for the mall's movie theater. I changed my plan and concentrated on a small area of the tree to get the picture I wanted. The soft focus was achieved in post processing with GIMP. I created a duplicate layer, applied a Gaussian blur to it, increased the brightness, and adjusted the opacity.
I used a Fujifilm s100fs with F3.6, 1/30" exposure, ISO 100, and a focal length of 7mm. I had it set to the Velvia film simulation mode.
-Mike Case
I rent a Diana F+ with a 20mm fisheye prime lens, from a Lomography Embassy store. The Diana is a loving recreation of the legendary 1960s all-plastic cult sensation. Shooting with a shutter speed of 1/60 s, aperture f/16, ISO-400, and using a Lomography Color Negative 120 format film, the result was originally plenty of dreamlike feeling, soft focus, gentle and pleasant colors and naturally strong distortion. After the correction of the fisheye distortion on post-processing with ACDSee Pro, I ended with a cropped version of the analog square capture, to improve the impact of the photograph. The achieved perspective drives me to daydream the beautiful 360 degree view that one can enjoy from the lighthouse. Here, the center of attention is not the sea, or even the lighthouse but rather what encircles it. Charming blues with plastic fantastic lens!
Diana F+
Lomography Color Negative film, 120 format
20mm fisheye prime lens with 180 degree field of view
f/16
1/60 s (maybe)
ISO-400
- Filipe Soares
"Faux-cus"
Nikon D7000
Nikon AF-S DX Nikkor 35mm f/1.8G (52mm equiv.)
1/1000 sec. @ f/1.8, ISO 100
Post-production: Photoshop CS4
I knew exactly what I wanted to do for this challenge, and I was excited that I had just gotten some shiny new gear to make it work (Nikon D7000 + Nikkor 35mm f1.8 lens).
The plan was to produce a shot that was perfectly sharp but *felt* like it was in soft focus. To do this I needed to:
- Isolate the subject by getting in close while ensuring the background was distant
- Shoot with the lens wide open to leverage its beautifully shallow depth of field and produce some extreme bokeh (LOVE this lens!)
- Use the sun as a rim light to overexpose the outline of the subject (this plays well with the post-production technique I wanted to use)
The rest was done in Photoshop:
- Applied an unsharp mask to the image – I wanted the subject to be as sharp as possible (although you have to look at it at high magnification to tell!)
- Duplicated the layer, added a 20-pixel Gaussian blur and set the blending mode to "Overlay". This increases the contrast, blows the highlights and gives the image a dreamy "vaseline on the lens" feel without sacrificing detail.
All I needed now was an actual subject... I would have preferred something colorful like maybe some nice flowers but this time of year in New England the countryside is pretty barren, and with the sun only minutes away from setting I settled for some weeds that had gone to seed on the banks of the Nashua river. Hardly the most fascinating subject but the wispy "hair" of the plant played beautifully against the sun and I knew the resulting halo effect would come out great in the post-production treatment. All in all the result is quite close to what I had envisioned so I'm pretty happy with it… Can't wait to go out and play some more with the new camera – bring on the next shooting challenge!
-Frank Poulin
Canon EOS 5D Mark II, ISO 1000, 1/60s, Lensbaby Soft Focus Optic
Imagine the first shot of a dame in an old black and white movie. So I am visiting my hometown for Thanksgiving and one of my mother's dogs, Yuri, is basically treated like a Hollywood starlet. Marble floors, leopard print bed, chandelier, toys galore, and real jewelry makes my apartment look like a cardboard box. See those flowers behind her? They are gigantic orchids in an enormous vase, and the out of focus cabinet on the left is the biggest Swarovski collection you have ever seen. This Thursday, I know that I am going to eat until I burst, because obviously, the leftovers are going to the princess.
-Daniel Jang
So I saw this little guy at Frank & Sons and I had to have it. He lives on my desk now.
I instantly thought of him when I read this challenge, it seemed so fitting.
I set up a little wooden stool, a bed sheet, some Christmas lights and got to work!
My girlfriend got to witness this a bit after I started,
"I get home from work ..... to what now" - "Honey, please! .........also, we're out of Christmas lights ......."
I used my Canon T2i
ISO - 100
f/11
Shutter speed of 4sec.
-Jason Gonzalez
When I think of soft focus, I think of a dreamland like state. Dreams tend to be foggy and they may include irrational characteristics to them. This light bulb represents an irrational element as it is not plugged into it's source. I created this the other night by hollowing out a lightbulb and replacing the filament with an LED. I installed a switch on the bottom so I can turn on the lightbulb whenever I want. I set my camera on a tripod and snapped a few photos using my infrared transmitter plugged into my iTouch.
Shutter 2.5
Aperture 5.6
ISO Speed 800
Lens EF-S18-135mm f/3.5-5.6 IS
Focal Length 62.0mm
Canon 60D
-Robert Lundskow
Canon 60D, f/11, 1/160, ISO 125. Canon 50mm Compact Macro, Photoshop CS5
Initially, I wanted to use photos of one of the chicks that hatched less than a day ago, but i thought this chicken born with a beak deformity would make for a more interesting portrait (she lives a very normal chicken life, btw). To get the soft focus effect, I applied a Gaussian Blur on a copy of the image layer and took down the opacity to about half. I made a few other color adjustments and added a vignette to lighten the edges give it more of a faded, vintage look.
-Esmer Olvera
Urban Ethereal
For this weeks shooting challenge my brother and I decided to go urban. The subject is a grimy underpass near our home. We wanted to stray away from the common use of the soft focus technique. I.e. portraits and beauty shots. This image demonstrates the technique, while presenting an alternative to what you would normally use soft focus for. The picture has been untouched by photo editing software. We used pantyhose tightly wrapped around the camera lens to obtain the soft focus effect.
Canon 60d, 18-135mm at 18mm, f7.1, 0.8, ISO100
Thanks
-Tyler Bedgood
Pink Beauties
Yuch. That was my first response to this challenge. All I could
imagine was Barbara Stanwyck in "The Big Valley" - yes, I'm that old.
That was when I first noticed the soft focus on female close ups on
TV. I was VERY young (ahem.)
That being said, I decided I would only like this if my picture had
vibrant colors in it. And then I decided that a sharply focused focal
point would make me happier about this as well. Since I'm in Texas, my
vincas are still in bloom - providing that brightly colored subject. I
have to admit, I like the way this came out - despite the soft focus.
Again - thanks for the challenge - always fun!
f/2.8
1/40 sec.
ISO-200
-KarenTarlow
My first entry into the shooting challenge!! I didn't want to use post-production, so I took my DSLR and wrapped saran wrap around my lens - NO touch up work at all. I looked like an idiot, but I walked around with my saran wrap camera and took a bunch of photos around the house. I came across a box FULL of old matchbooks I had picked up from an estate sale a few weekends ago, and it ended up being my favorite. It gave all my shots that nostalgic feel, and since you don't really see matchbooks given out by restaurants and businesses anymore (apparently it went out with the times...), I thought it was pretty neat... Nikon D40, 18-55mm lens, ISO 400, 55mm zoom, f/7.1, 1/40 shutter.
-Anthony Tarantino
Soft focus on Determination, Grit, and Disappointment.
Wasn't really sure where to start on this challenge. Spent part of the weekend driving a portion of our local high school's cross country team to the Nike Cross National Southwest Region Championship race in the Queen Creek, Arizona, area. The race went well for some of the runners, not so well for other. My oldest son is the seventh man on the team, and unfortunately had one of the worst races of his high school career. Its a croweded start close to 75 meters wide that narrows down to about a 10 meter, then 5 meter wide raceway. With 253 runners starting the race it ends up a fairly chaotic crowd in the starting shoot. After a few close misses, my son held back to avoid tripping and to look for openings to move through the crowd, which were few and far between. He finds himself at the back of the pack. As the pack spread out along the course, he finds a new obstical - spectators running across the course to change viewing locations. He ended up dodging more than a dozen people who could not wait to be sure the runner was clear before crossing, and ended up actually running into five or six different individuals. Needless to say, this really knocked him off his game plan, especially having to slow and regain his balance after every contact. My photo is at the three mile mark with just about 150 meters to the end of the race. To his credit he is still running as hard as he can push himself. Ends up being the last runner to finish the race (at least one young man was apparently insured on the course), but still gutting it out. By far his worst performance of the year from a time standpoint, but a win from the standpoint of grit and determination. I used Picnik on Flickr to meet the requrements of the challenge.
Exif data
Camera Canon EOS REBEL T2i
Exposure 0.001 sec (1/2000)
Aperture f/8.0
Focal Length 109 mm
ISO Speed 400
Exposure Bias 0 EV
Software picnik.com
-John Hays
Hi Gizmodo!
Here are my details for the "Soft Focus" Entry.
Camera: Canon EOS Rebel S
Lense: Canon Zoom EF 35-80mm 1:4-5.6
Settings: 125 ISO, F-Stop 5.6
My name is Amber Harvey. I'm 21 from Bonner Springs, Kansas. I got up early one morning last week and the weather here has been kind of crazy, warm one day, cold the next. So we had fog one morning when I got up for work. I decided it was the perfect day to go and shoot, and for these type of pictures I like using film. The sun was already coming in through the fog beautifully and I got a ton of GREAT pictures using this camera and my Canon 20D. But this picture just stuck with me. The beautiful fog, the way the sun was right behind the tree, and the leading line of the trunk, just made me stop at this picture. I only had to use a little bit of Photoshop to enhance the "Soft Focus" aspect because of the natural fog. I used Classical Soft Focus filter in Color Efex Pro 3.0 Complete by Nikkor.
Thanks for taking my entry!
-Amber Harvey

My plan was to take some shots and alter them digitally, but I started to play around with a soft focus filter and liked the results. I took these shots of a flower with a nylon stocking stretched over the lens. I'm usually partial to really crisp, sharp photos, but I like the softness of this effect. This shot was taken with a Canon EOS Digital Rebel, EF 75-300mm telephoto zoom lens, 1/50 exposure, f5.6.
-Jamie Babbitt
I think I need a new prescription!
Canon T2i, 50mm lens, f/1.4. Photo adjusted using Adobe Photoshop CS5 (i.e., Gaussian Blur on selected area).
-Diego Jimenez.

Upon the recommendation of a close friend, I scouted various locations in Ballard(Seattle) looking for something with lights, for a nice diffused glow and after shooting various subjects for about an hour, this was the last subject on my list. It was so Christmasy and it just felt right.
Technique:
I didn't want to digitally blur the image in post production and none of the methods recommended online (petroleum jelly on a filter, topper ware cover, stockings etc) were appealing. As I was thinking of a work around, I remembered my wife complaining about problems focusing due to moisture on the lens while shooting near a waterfall. So I just did some test shots by breathing on the lens. It worked. Although, the stockings over the lens trick works well enough, if you don't mind looking goofy.
Equipment & Settings:
Canon 5D + Canon EF 24-105mm f/4 L
ISO 320, f/4, 1/10seconds, 40mm focal length
-Pejor Ngudup
So I wasn't very inspired with this week's shooting challenge but I thought I'd give it a go anyway. I hate editing photos and refuse to use photoshop. My submission has no filters or editing software. It was raining out, and maybe some rain got on the lens but the photo turned out with enough "softness" to leave it as is. Hope you like it.
Tech info:
Canon EOS REBEL T1i
Canon EF 50mm f/1.8 II
f/2
1/125
50mm
ISO 250
0 EV
Thanks,
-Matthew Johnson
I'd been meaning to try making home made marshmallows for the longest time. I took this photo while my daughter was sampling the first batch and by the look of her face, I took it that she loved the result. I took this with my Rebel T2i and then used the soft focus on Picasa. Melts your heart on a cold cold winter's day!
-Georgina Lawrence
was surrounded by huskies for dogsled day at the Blue Hills Reservation. It was difficult to get the dog's eyes in focus given all the excitement that the dogs were dealing with but this dog was a willing subject. I used Photoshop to add some blur and a soft light filter to help achieve the desired effect.
Canon 7d with EF24-105 f4.0 1/160 sec ISO 100
-Brian Jones
This is my first attempt at participating in the weekly shooting challenge. I have been following the challenges for sometime and now that I live in Paris, France I feel as if I have no excuse not to go out and shoot this amazing city to share with others. This photo was taken at Galleries Layfayette. Each year, around this time, the store sets up incredible window displays for the holidays. In front of these displays are throngs of families taking in the immaculately designed scenes. This year, the theme seems to rely heavily upon taxidermied animals in unusual positions interacting with the clothing and accessories belonging to the mannequins. I really loved this particular photo because of the deer's intense look of surprise stemming from the fact that it has $1000 belt in its mouth. No cropping here, just a slight gaussian blur, a little bit of added noise, and I set the photo to black and white and added a sepia tint.
Taken with my Nikon D90 with a AF-S DX VR Zoom-Nikkor 18-105mm lens, ISO 400, 58mm, f/5, 1/50 sec.
Thanks,
-Ben Robinson
50MM manual prime lens
2 second exposure.
Neweer ND2 filter
Neweer ND4 filter
Tiffen Soft Contrast 2 Filter
Tiffen Low Contrast 2 filter
Tiffen Black Diffusion Filter
Tiffen Soft FX filter
Since I didn't have any real wildlife, I used a stuffed animal we've had in our family since I was little. I went the old-school route with a couple neutral density filters, so the wind moving the leaves would help blur them a touch,a soft fx filter, a soft focus filter, a low contrast filter and a black diffusion filter. On top of that I used a cheap macro/wide angle lens set that massively overblurs the edges of anything I try to shoot at more that a foot away. With all the filter stacked up, including a circular polarizer that I almost always use at a matter of course, all attached to a old Minolta 50mm prime lens that's all manual, and cranking down the aperture, I ended up with a shot that took a 2 second shutter.
-Marvin Francois
Artcore
I recently picked up this hollow body electric guitar and decided to snap some photos of it in soft focus. The haze gives a vintage look to this already classic looking instrument. I used a brown nylon over my Nikon D40x. f/3.8 ISO 800.
-Ryan Moynihan
Camera: Olympus E-410 DSLR (manual settings)
Lens: Vivitar 49MM (modified, adapted to Four Thirds mount)
ISO: 100, 2.5sec exposure
F: 1.8
WB: Tungsten
Story:
When I saw this week's shooting challenge I got quite excited knowing I had the perfect lens for soft focus shots. Last year sometime I was trying to modify an old lens into a hacked together tilt shift. This didn't really work too well but the lens I pulled apart to get at the main element, ended up working perfect for soft focus and had fantastic effects at night or anywhere there are point sources of light. So when I spotted this week's challenge I grabbed my camera and hacked lens, running out the door to hit the Embarcadero and get a few shots of the bay bridge. I shot in raw format with the aperture set at various settings from 1.8 to 5.6, testing levels of blur, found what I wanted and cranked the ISO down to 100 to capture a less grainy image. Post processing was minimal, slight crop to straighten, minor exposure adjustments, convert from RAW to Jpeg and that's it. The lens made it dead simple. I also included a bonus image from my walk over to where I got the shot. Enjoy!
-Trevor Johnson
shooting summary: canon eos 550d, fujinon 55mm/f1.8 m42, iso 100, aperture f1.8
morning when i gets up, i read on gizmodo this article, i take my camera and go to the park whit my dog on morning walking and try take same shots on this theme
-Juraj Tokarcik
I got my first DSLR this week and was playing with it when I took the picture of my dog. I really liked the image to I put a Gaussian blur on it.
Canon T2i
Aperture: 5.6
Shutter Speed: 1/100
ISO: Auto(1250)
-Aaron Knipe
I was reading Gizmodo on a Wednesday after school when I saw the competition. I knew as soon as I read it I should enter as I have a new Sony A77 and it happened to have a soft focus preset built in. So I went out shooting in Williamson's Park, Lancaster, England. As I looked around I saw the fallen leaves of a tree and got snapping away. Among the leaves, I saw one stood up so I shot it with an f2.8 aperture and the soft focus preset. And the result is what you can see here. I used a Sony A77 with the f2.8 SSM 16-50mm lens. 1/320 shutter ISO100 at 50mm. No editing.
-Matty Phillips
Particularly Pretty in Pink
My wife & I were recently visiting some relatives in Paris and I thought she looked especially beautiful with her new pink Parisian scarf in this pink room so I asked her to let me take some photos while we waited for my cousins to come pick us up. The room is the lobby in our hotel, the Hotel du Pantheon. Shot with my Canon S95 at 6mm, f/2, 1/30 sec, ISO 320. Made "soft focus" using brush blur in Aperture.
-Anton Mogilevsky
Camera: Canon 60D
Lens: Canon 70-200mm f4 L series
ISO: 1600
Shutter: 1/32
Zoom: 200mm
There is this really neat looking abandoned truck out in a field close to where I live. I've always wanted to take some photos of it but being so busy I haven't had an excuse or time to. Not anymore. After work one day as the sun was setting I grabbed my camera and was able to get off a few shots before the lighting faded away. I used a mixture of gaussian blur and some texture to give it more of an older lens with an old expired film stock. Only a few angles of the truck work however, because of homes, and other modern structures ruin the effect. I've got some neat photos now of this unique war-era truck.
-Ben Thompson
I didn't think I would be able to do this weeks challenge because I had to much to accomplish before Thanksgiving. When I saw it was soft focus I knew I could kill two birds with one shot. I have been documenting our daughters pregnancy and had not tried any shots with soft focus. Studio and portrait work admittedly are my weak points. Being self taught via Internet. So blame the photographer and not the model.
I shot "Mother In Waiting" in the entry hall using the window in our front door for lighting. It was a stormy day and the wind was changing the light at about 30mph pushing the clouds past the sun. I used my Canon T1i Rebel with the 18-55mm lens at 18mm, Cokin spot-in color 1 a 060 filter, ISO 100, speed 1/25, f-3.5 with no flash. I centered the spot in the filter between mothers face and the baby trying to draw both into the focal point.
In Photo shop I agonized over blur, noise, color, or black and white. Decided on color because of the glow of the light. I added %12.5 noise to give the softness a contrasting texture. I finally decided to crop the photo elliptically with feathered edges. I took a chance on less photograph, but it sets the soft mood of the photograph in my opinion.
-Ron Barrett