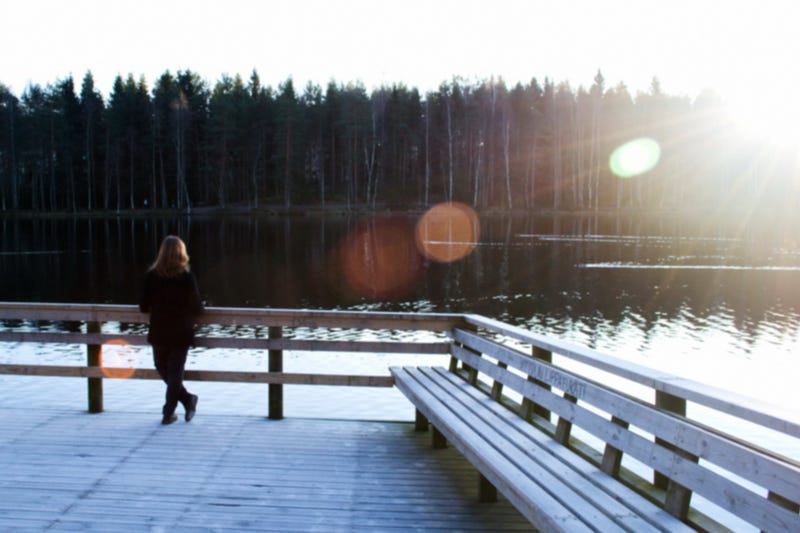 Name of the picture: Around the lake
Story of the picture: The subject of the shooting challenge was not very inspiring for me this week, but my girlfriend was pushing me to do something about it. Thanks to a nice Finnish weather, we went to a lake nearby and I tried to take different pictures. After a bit of editing on my laptop, I find out that this picture, which was really not taken for the purpose of this challenge, is still the best to fit the subject. I like the atmosphere brought by the slight gaussian blur added on it.
Equipment: Nikon D3100 with the basic 18-55 VR lens, 27mm, f/5.6 atnd 1/125s, 100 ISO.
-Pierre-Antoine Piter
Sea Cow
Shot with my traveling Canon EOS Kiss Digital X
Lens-EF-S 18-55@34mm
ISO-100
Aperture-f/4.5
Shutter Speed-1/50s
Decided to go to Ireland for the week after driving with our hair on fire to get home. Took this picture on the west coast of Ireland about 25 miles north of the Cliffs of Moher. This cute guy was a car width from the oceans edge. We stopped and he started coming closer and closer to us so I got a great head shot.
-Chris Riggleman
This picture was taken with a Nikon D90 and a pin hole camera lens from Skink Photo300. The "Aperture" is reportedly 300 micro meters, f/150. It was taken for 30 seconds with ISO 200. I brightened it about 1 stop in Photoshop but everything else is as shot.
The soft focus seemed like a good opportunity to play with the pinhole lens for my D90. Using a pinhole lens definitely takes patience. I can't just see through the lens or have the simple convenience of automatically having the exposure figured out for me. It really is going back to the basics. At least I get to see the results right after the picture was taken and adjust accordingly.
I traveled around different locations and took some cool pictures. Before heading back home I chose to stop by a great gas station in Alameda, CA. When crossing the Park Street bridge I decided to come back and take a few pictures from the side. Considering how much the camera was bouncing up and down in the center of the bridge from the traffic I was really surprised that the picture came out at all. It's a cool to see them raise the bridge (when you're not in a hurry).
-Robert Bejarano
shot with my iphone 4s and run through ColorFX for the soft focus effect.
my daughter had been riding in her car seat which is the best way to get a baby to go to sleep.
We had her bundled up to stay warm and I liked the way the purple blanket enveloped her.
Soft focus always reminds me of glamour shots so I wanted to do a portrait for this challenge.
-Brett Winston
I figured this shooting challenge was a great one for me to get some more use out of my Nikon 135mm f/2.0 DC (Defocus Control) lens. It's a special lens that has an additional ring on it to control the out of focus areas of the image. When set to a higher f stop than you are shooting at it creates a soft focus look. I went to a local park with my wife and photographed her as she was trying out our new Fujifilm X10. She was standing under a weeping willow tree and some of the leaves were also in front of the my lens which added to the soft focus look. Taken about 45 minutes before sunset so we had gorgeous warm sunlight, I chose to back light her with the sun to add to the nice glow.
-Ray Hennessy

Adore-a-Bull
I was pretty excited for this challenge because my fiancé bought me a light diffusion filter a while back and I had never had a real reason to use it until now. I was playing around with Lucy this morning and taking some snap shots of her in various rooms of the house, I really liked the way the light hit her in this shot.
Canon T3
EF-S 18-55mm f/3.5-5.6 IS II
ISO 250
55mm
f/5.6
1/80
Light Diffusion Filter
No Post Editing
-Brian Georger
I was at the local animal shop in my hometown, Uppsala, Sweden, and had my camera with me. After seeing this particular mouse I fell in love with it and so did my camera.
Canon 550d, sigma 30mm f/1.4 - 1/100 | iso-100 | f/1.4
-Andreas Vadian
Threw this together pretty quick on a Friday afternoon! I used the Vaseline technique, and while it was finicky, it turned out pretty well.
Nikon D3000, F/5.6, ISO400, and 1/160sec exposure.
-Louis Levine
Please consider the attached images for your Soft Focus photo contest!
I took this picture of my dog Ella using the new iPhone 4s, an 8 megapixel camera. Then using the free PhotoShop app, I added some color & the soft focus effect.
I live in Burlington, VT and travel up to Montreal quite often, this pic was taken from my hotel room earlier this week, it was a clear night and the sun had just gone down. Clearly, you can tell Ella is a high maintenance bitch (female dog to be pc). She's spoiled rotten and knows it. I rescued her a couple years ago from a nasty shelter in DC, and by the time we were driving away, she was sitting on heated leather seats with a new outlook on life. Needless to say... she's adjusted quite well. I hope the attached pic of my bitch wins the contest, I need her to start pulling some weight.
Thanks Guys!
-Chris Vessey

"A Soft Break"
I headed out to Montauk Point for my birthday (the day the contest was announced). So I figured I would use the scenery for this one. Mother Nature had made the trip a little less desirable then I had thought. Rain and wind made the scenery plain and cold looking. So in order to make things interesting I tonemapped this image and reduced clarity in Lightroom. After the picture taking, me and my girlfriend tried to coax the seals over to us. They were to busy enjoying the cold water.
Canon Rebel Xsi, ISO 200, 35mm, 1/2 sec, f/22, With a ND filter.
-Tim Drivas
Lonely Ax
Last week's challenge I participated as an observer to my brother Tyler's entry "Alone in the Woods." Inspired by his passion and creativity, I took up this week's challenge on my own to see what I could muster. The shot is of my Ibanez guitar, that doesn't get played nearly enough. To achieve a soft effect, I held saran wrap over the lens to act as a cheap filter. I was very surprised at how it turned out - not blurry, but not sharp either.. I think I captured soft.
Canon EOS Rebel T3i, Canon EF 50mm f/1.8 II lens, f2.5, 1 sec, ISO 100.
Cheers,
-Dan McCracken
I went to the beach this morning to shoot the sunrise and had a great
time trying a few different things out. The Fort Lauderdale weather
was perfect and I really enjoyed being out there to greet the new day.
I tried several long exposures and angles and lenses but settled on
this one for the shooting challenge. I hope it makes it in to the mix.
The camera is a Canon 7D with a 15mm fisheye lens and I set the
exposure to a half a second to get a bit of a blur in the waves. I
later applied more of a soft focus look in PS and lightroom.
Aperture f/14.0
Focal Length 5 mm
ISO Speed 100
Thank you,
-Jim Zielinski

Equipment: Canon T1i, Canon 18-55mm lens, cheap wide-angle converter.
Story: I've been keeping up with the Gizmodo shooting challenges and waiting for the right time to make a submission of my own. Just yesterday I got back from a little trip to Castle Valley, Utah. As with any road trip, I took hundreds of pictures, but this one was my favorite. I woke up bright and early as the sun was just about to rise. I let Lacey sleep in the tent with the dogs while I snooped around the area taking pictures. By the time I came back, the three of them were up and energized. I thought it would be nice to get a shot of my travel companions all together sitting on a rock that designated the outer edge of our campsite. I was trying to get the three of them to pose for me when Leeloo looked up and licked Lacey on the face. When she looked down, I took this picture. What really makes me like this picture is that it really captures everyone's personalities. Lacey is just dog crazy and would be perfectly content if all the humans in the world disappeared. Leeloo is an attention hog and will crawl up into literally anyone's lap and shower them with kisses. Linus is a really great, noble dog, but he often has to take a backseat to Leeloo since he tends to smell like a pile of dirty wet rags. When you are drinking whiskey by the fire at night, you will most certainly wake up dehydrated, sore, and smelling of that unmistakeable mildewy old campfire scent. Nothing makes that go away faster then the sight of the creatures who love you and want to go swimming with you in the Colorado River. As far as the technical aspects of this photo, I used my Canon T1i with the lens that it came with and a shoddy $5 wide-angle converter over that. I actually over exposed this image accidentally since I had just return from shooting HDR landscape shots and had forgotten to reset the bracketing. The image was pretty soft right out of the camera, but I added a little gaussian blur to the background to push the subjects further towards the front. I desaturated is a little bit to bring out that dreaminess of the image and that is it. I usually don't care for the wide-angle vignetting on portraits, but I think it works here. I think it looks like you are seeing into a crystal ball or something. Anyways, I hope you enjoy and thanks Gizmodo for providing inspiration for photographers all over the world.
-Ben Heston
Shot using a Canon Rebel T3 with the 18-55mm kit lens, shutter speed: 0.5 seconds, aperture value: f5.6, ISO: 200, focal length: 48.0mm
I started taking photos of these cheap toy ninjas one night when I was bored at my desk. When I saw this shooting challenge I actually started experimenting with different light sources. I thought the effect of a blue light bulb was pretty cool so the original shot had a blue background and blue lighting. But once I started experimenting in GIMP it seemed like using desaturation before I applied the soft focus effect just made the shot look way cooler.
-Selyce Bynes
This photo was taken in Atlanta Georgia with a Sony Alpha A230 at an ISO of 100. I used iPhoto, GIMP, PhotoWizard, and Snapseed to edit the photo. This picture was taken as my uncle and I were photographing the city on a lunch break on 11/16/2011 during mid-sunset.
-Matthew Carr
Making sure we take advantage & enjoy our random days of warm weather in Boulder, I took this shot at the dog park around 4pm, just before the sun dropped below the foothills. I was given a set of several old lens filters a few weeks ago, my always patient model, Ginger, was happy to let me test a few out.
Equipment: 1978 Canon AE-1 SLR, 50mm Prime Canon Lens w/Cokin Warming Spot Focus Filter, Kodak Ektar 100 Film, f/1.8, 1/30 sec. Developed at Mike's Camera in Boulder, CO.
Thanks,
-Teryn Wilkes
This picture kind of happened on accident. I was putting my camera away when I turned around and saw this buck just chilling in the forest behind me. I was lucky that my settings were pretty good, because I only got one shot in before the shutter click scared him away. Then I thought of the shooting challenge and what a good effect the soft focus have on the picture. I wish I could say I did it the real way and smeared petroleum jelly on my lens, but that would have involved planning, so yeah, I just did a little Gaussian blur (the lens isn't that sharp anyway).
Canon 7D
EFS 55-250, f/7.1, 1/1600 sec, ISO-500
-Nick Badger
Camera: iPhone 4
Lens: Default
ISO: 1000
Background: We have several cats. You can never tell when or where they will leave one of their toys behind. I saw this while checking the mail and loved the happenstance lighting of the scene. Later I softened a bit to adjust the atmosphere. The next morning I discovered that soft focus was this week's challenge and this photo happened to be taken after the contest was opened. I figure to keep rolling with the coincidences.
-Steven McDole
I shot this image with my Panasonic DMC-GH2, 1/125 ISO400 in "Shoot Without Lens" mode.
My parents wanted to buy a new TV so it was up to me to trash the old one. The old TV was a Sony rear projection TV so I dismantled it. I "rescued" the three DELTA 78 projection lenses it had and used one of them to shoot this image. No photoshop filters used, only color corrected in Light Room, so that's the way It came out of the camera. The focus was achieved by moving the camera further or closer to the lens. The subject is my 3,5 month old daughter, Emma. In a way, photography is the first hobby we share. :)
-Tommi Hares
Title: Green In-Between
I asked my sister to volunteer for this one, she hesitated dearly and finally said yes, only after I asked her numerous times to be in the shot. I created my own soft filter for this shot. I used a combination of plastic-wrap and tape to create a filter that was almost impossible to obtain perfect focus through. I then had my sister hold a light with her right hand, pointing it directly into her eyes, this was done to give her eyes the proper glow I was looking for. As reluctant as she was to be involved and have her picture posted on Gizmodo, I thought she did very well!
Camera: Canon 40D
Lens: 50mm Prime
Shutter: 800
Aperture: 1.8
ISO: 250
-George Westlake
I shot this photo using Cunégonde and Nigel...My Nikon D5000 and AF DX Fisheye-NIKKOR 10.5mm f/2.8G ED lens, ISO 200. Basically I use my camera to get into local shows for free and help out struggling bands with free photos. This band, The Wholetones, has to be one of the most interesting bands Naples, Fl has to offer, considering every other band coming out of Naples is Pop/rock trying to be punk/aggressive, and The Wholetones have a banjo, cello, an upright bass (as you can see), and a rockin' drummer by the name of Mayo Coats; are considered Folkcore. Well during the concert I was battling a rival photographer for the best shots and since I know the singer's girlfriend and I being her exclusive photographer; I actually got on the stage to take a few photos. So I ended the night with an SD card full of sweet pics, free beer, and some free Steak n' Shake! Hope you all enjoy!
-Colin Lantelme
Device used: Samsung Droid Charge
Settings: Stock Camera App; Indoor/Party Scene Mode
Edited to get the "Soft Focus" feel and also resized, dimmed, cropped, etc., using GIMP. I decided to take a picture of something with an "Old Time" touch to it and shot a picture of my clock because it has a Good ol' Days feeling to it; doesn't hurt that it was the only thing in my room that I could think of to enter into this contest. I am a beginner photographer looking to learn more, and yes, I do have an actual camera. I just wanted to see how it would turn out from my phone and I'd have some fun doing it too. :)
-Reilly Dearth
Camera: Canon 5D Mark II
Lens: Canon 50 mm. F/1.8 (The Plastic Fantastic)
Aperture: F/1.8
Speed: 1/500
ISO: 1000
The cheap and awfully fragile feeling 50 mm. from Canon can actually deliver quite sharp results. But sometimes I really enjoy to make it look cheap!
This shoot is from the underground in Copenhagen. Noerreport Station is the busiest station in Denmark, always crowded and congested. But I wanted to show how it looks inhabited and desolate.
Even the trains looks unmanned :)
Regards
-Bo Andersen
"Innocent"
I was playing around with Instagram (I know) taking candid photos of my 13-month old son, Conner, during dinner when I happened to catch him staring innocently off into the distance.
Shot with an iPhone 4S, flash off, AF lock, cropped to 3:2
-Adam Thornton
This photo was taken on my iPhone 4S.
When my friend and I were in my local pool I saw the light on the other side of the pool made a shadow. That's how I got the idea for this picture. It took several pictures and several poses before I actually shoot one that cast my friends the way I wanted it to.
-Kevin Tapia
Hi
My entry to the soft focus competition
Thank you
-Mark Ross