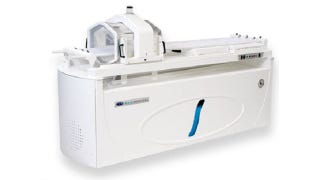 Cervical cancer is the fifth most common for women—afflicting an estimated 12,200 people in the US alone in 2010 and killing more than 4,200. But now, a revolutionary treatment has been approved by the FDA and offers an alternative to chemotherapy.
Hyperthermia treatment is the process of heating up a specific, small area of sub-dermal tissue—a solid tumor, for example—using microwave energy. The localized area is headed to high temperatures, up to 113 degree F, which destroys the tumor while minimizing damage to surrounding tissue. Hyperthermia therapies are almost always used in conjunction with other treatments, such as radiation, to increase their combined effectiveness. While the technology is still undergoing clinical trials, it has been shown to increase some cancers' sensitivity to radiation by destroying both the cells and their signaling proteins. It's also been shown to enhance the effects of certain anticancer drugs.
The BSD-2000 is built by BSD Medical Corporation. It electronically focuses 100MHz beams of microwave energy to specifically target tumors based on their size, shape and depth. It does so by adjusting the frequency, phase, and amplitude of the beam. It is designed specifically for use by patients who are eligible for radiation therapy but cannot undergo chemo.
"The BSD-2000 overcomes such limitations by heating the tumor from inside out, employing a series of patented annular phased array radio frequency antennae that produce energy waves, which pass harmlessly through the body," Frost & Sullivan research analyst A.N. Aditya told Medgadget. "BSD's technology focuses the energy waves to target the specific site of the tumor."
Just today, the FDA issued Humanitarian Device Exemption (HDE) marketing approval for the BSD-2000. An HDE is issued to companies who prove the safe operation and patient benefit of devices that treat any disease affecting fewer than 4,000 Americans yearly. This HDE approval allows for the device's sale here in the US and provides physicians another viable tool in the US's annual $1.4 billion effort against cervical cancer.
It should also be noted that the HDE only applies to the BSD-2000, not the more advanced BSD-2000/3D or BSD-2000/3D/MR systems. [CDC - National Cancer Institute - Medgadget - BSD Medical 1, 2]
Monster Machines is all about the most exceptional machines in the world, from massive gadgets of destruction to tiny machines of precision, and everything in between.
---
You can keep up with Andrew Tarantola, the author of this post, on Twitter or Google+.