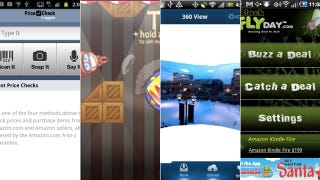 The turkey has been decimated, the door-buster deals have been acquired, and your family is already arguing about who's going to host Christmas dinner. Just because the Back Friday deals have come and gone doesn't mean you shouldn't continue your moving-saving ways. Panorama 360 will help you capture the three-circus that is your family. Plus, I bet you could use a game to distract you. I know I need one. And a stiff drink.
If you want to see all the apps on one page click here.
---
BlackFly Day: Just because Black Friday has come and gone, doesn't mean you can't enjoy a some social-media gathered deals. The oddly named BlackFly Day app will gather deals posted by your friends or other BlackFly Day app users and has the capability to share whatever deals you come across. Two-for-one toothbrushes?!? Oh yeah, I'm gonna share that. Free
---
360 Panorama: Take a photo while spinning like a top. If you don't throw up or fall over, you'll have yourself a pretty nifty photo thanks to the 360 Panorama app. Instead of using your device's internal gyroscope like its iPhone counterpart, the Android version uses fancy motion tracking technology to figure out your orientation. $1
---
Price Check by Amazon: Just because an item is marked on sale, doesn't actually mean you're getting a good deal. Why not pit the price up against Internet-megastore Amazon with their Price Check app. Yeah, now we'll see if those socks are really a good buy. Free
---
Rick O'Shea: Nothing says Irish like shooting someone out of a cannon. Okay, that has nothing to do with the Irish as far as I can tell. But a physics platformer with a pun-tacular name should be a fun way to pass the time while you eat turkey sandwiches and argue with your brother-in-law about politics. Free
---
You can keep up with Roberto Baldwin, on Twitter, Facebook, and Google+.