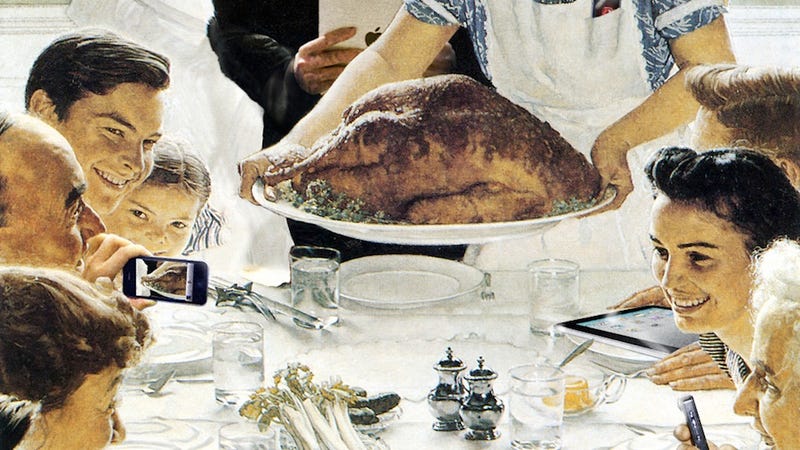 By now you're probably either done or in the process of stuffing your stomach to the point of a hospital visit. Us too. This Thanksgiving, we're more thankful than ever to have you along with us. You, and this stuff:
Note: some of our staff was unable to provide thanks due to incapacitation from pie, "Thanksgiving Punch," Spanish hams, and other favorite Gizmodo vices—but they love you all the same.
Joe: I am thankful for the high carbon steel in my sharp knives and Ziploc bags. And magnetism. And tea. I am thankful for my DVR, and that it has Young Guns and Enter the Dragon on it.
Kyle: I'm grateful for my existence, and internet dating, my very tiny hands, and craigslist semi-dating-but-this-is-really-just-for-sex-dating, and, like, whatever a good Catholic boy might also be grateful for.
Sam: I'm thankful for animated GIFs, internet delivery food, skinny computers, the stupendously talented people I work with daily, Rebecca Black memes, sexting, and sweaters that match my phones.
Kristen: Pandas.
Brent: I'm thankful that I work with a group of people that constantly make me laugh. Seriously. I'm also thankful for my grandma, who taught me how to make the world's best pumpkin pie (pumpkin chiffon, suckas! like eating a pumpkin cloud).
Roberto: I'm thankful I live in a time where I can research anything with a phone that fits in my pocket. I'm also thankful for my wife, clean water, Jaffa Cakes, and El Farolito burritos.
Chris Mascari: I'm thankful for family, friends, Los Angeles weather and adventures. Also, commercial planes which enables all the things I'm thankful for.
Mario: I am thankful for a distinction between reply and replay all—because of that I only told Sam that I was thankful for Natty Boh. I'm also thankful for (in alphabetical order) bikes cast iron football girls guitars hyperbole maps mountains pizza slippers slumber parties thumbs turntables zucchini sticks.
Chris Beidelman: I am thankful for the medical technology that allows my 86 year old grandmother to have breast cancer surgery on Tuesday and enjoy Thanksgiving dinner with us two days later. And Linux.
Mat: I'm thankful for the video chat software that lets my daughter see and talk to her grandparents on Thanksgiving day, even though they are thousands of miles away. And for the discovery of the distillation process. Beer is delicious. Wine is delightful. But where would we be without Thanksgiving spirits?
Adrian: Thankful for Spotify and AirPlay, allowing me to stream Waka Flocka and Ricky Rawse at ungodly volumes as I fry up chicken.
...because seriously, fuck turkey.
So, once again, from all of us, happy Thanksgiving to you. Even if you're one of the trolls who send us awful, hate-filled emails. We're even grateful for you.