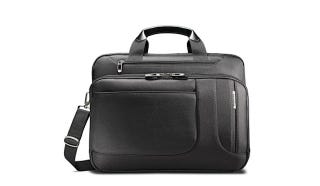 At first it started gradually: a conference call here, an office memo there. Before long you were booking client meetings after the 18th hole, and catching the red-eye back to the East Coast. When did you become so professional? And a better question, why haven't you gotten a beautifully designed bag to match that snazzy suit yet?
The Leverage laptop bag from Samsonite is the perfect accessory for your new grownup look. With features like the Perfect Fit™ Adjustable Laptop System, which securely holds a range of laptop sizes, and the Checkpoint Friendly style, which makes passing through airport security a breeze, the Leverage bag has everything one needs for making that special transition into the big kid business world.
So as you prepare for the journey that is life (and the 5:40 to Chicago O'Hare), outfit yourself with a bag that will keep you protected, organized and effective. Head here to check out the Leverage, and Samsonite's entire line of legendarily durable bags and accessories.