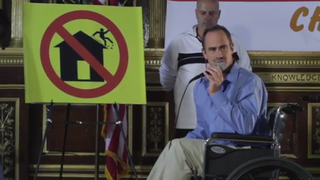 A few beers, a summer day, and a Slip 'n Slide? Sounds like heaven. But then you add just a simple little roof to the mix, and suddenly everything goes wrong.
Law & Order: SVU detective and new True Blood team member Chris Meloni guest stars in the kind of scared straight assembly you wish your school had put on every week. Full video below:
The rest of this week's top comedy videos, including a fake Oscars trailer, a scrappy up-and-comer, and the continued adventures of Mary-Kate can be found at Splitsider.
Other highlights from the week in comedy:
- We presented ten of the funniest unaired SNL sketches.
- We interviewed Carrie Brownstein (and then looked up the words "auspices" and "stentorian").
- We stocked our cabinets for a winter full of great movies and TV shows.
- We stepped back to examine this season of SNL at its midway point.
- We wondered if single-episode sitcom stars can ever recover.
- We liked "we hated hipster jokes before it was cool" jokes before they were cool.
- We cheered on SNL's one-season wonders.
- We conducted a statistical analysis of the introduction to WTF with Marc Maron.
- We looked into the future of the Facebook Timeline.
- We gave a girlish smile to Sarah Silverman's SNL contributions.
- We weighed the pros and cons of watching Showtime's House of Lies.
- We fell asleep with the TV on thinking about the lost late night hosts.
- We checked the Late Night with David Letterman book out of the library.
- We revisited the Arrested Development Paley Center panel.
Splitsider is a website about comedy and the people who create it. It covers movies, TV shows, web videos, books and any other format that exists to make you laugh.