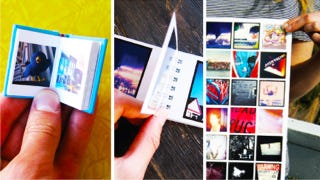 Part of the fun of photos is tacking them to your wall as a reminder of a trip you took or a wild party you went to. But what good are they if they're trapped in the photo library of your phone or computer?
Prinstagr.am connects with your Instagram account to print your pics on a whole slew of products. For $25, you can make a 20-inch by 40-inch poster composed of 50-400 of your snapshots arranged in a neat grid. A set of 48 miniprints will run you $12, turning your hipsterrific Instagrams into equally hipster-fied Polaroids.
Prinstagram also sets you up to slap your filtered photos anywhere you please with stickers. A booklet of 252 costs $10. And little books with adorable names! A Minibook is bound and contains 50 pictures. A set of 2 is $12. The Tinybook comes in a set of three with 24 images in each one, for just ten bucks.
For the avid Instagrammer who loves to cover her fridge with pictures, Prinstagram is a wonderful solution. Though it's great to posing to Facebook or Twitter, physical photos can never be replaced, and Prinstagram makes sure of it. [Printstagram]