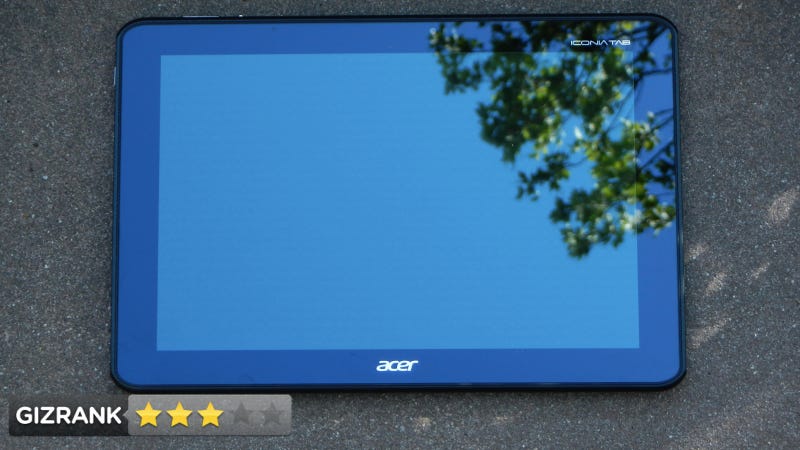 Acer isn't exactly the first name that pops into your head when it comes to top-tier tablets, but the company's trying to change that with the Iconia A510. But does it hit the sweet spot between performance and price?
What Is It?
A 10.1-inch tablet featuring a lightly skinned version of Android 4.0 (Ice Cream Sandwich) and Nvidia's 1.3GHz quad-core Tegra 3 processor.
Who's it For?
People who want a high-performance Android tablet for less money.
Design
From the front it looks like every other Android tablet: 16x9, we get it. From the side, though, you can see that it's thicker than the Transformer Prime or the iPad. It has a micro HDMI out, micro USB out, and nice pair of Dolby speakers. The back is rubberized and emblazoned with the Olympic logo.
Using It
In general it's very fast, but there are some bugs here and there that you don't see in top-tire tablets. The audio sounds solid. Its guts are built for gaming, but the bulkier frame does get heavy after a little while.
The Best Part
The 9800 mAh Li-polymer battery gives the A510 tons of life. I was able to watch two full-length movies, do a good amount of gaming, and lots of internet meandering all on a single charge—with juice to spare.
Tragic Flaw
The screen is very much ho-hum. It's the same screen that's been on most Android tablets for over a year now: Not as bright as the Transformer Prime, and not as high-res as the new iPad.
This Is Weird...
Acer put a little bit of its own twist on Ice Cream Sandwich by adding the Acer Ring (pictured). It's basically a customizable shortcut launcher that you can pop up from anywhere in the UI. It's pretty, but you'll almost certainly never use it.
Test Notes
Battery life is the bee's knees. Got over 10 hours with medium usage.
Most apps worked flawlessly, and then there would suddenly be a buggy one (like in Shadowgun THD). Maybe that was Shadowgun's fault, but it happened too often for the Iconia not to share some of the blame.
The optional protective case is actually very nice. It won't automatically turn the screen off like the iPad's does, but it's thin and grippy.
At 1.54 pounds, this thing is ain't light. The Tranformer Prime is 1.29 pounds and the new iPad is 1.44. What makes it feel heavier, though, is the thickness—it's .43 inches. It just makes it feel blockier and it's less fun to hold on the subway.
It comes with a little micro USB-to-USB female adaptor so you can plug in a jump drive or even a USB keyboard or mouse. Maybe handy?
The sound it produces is pretty good. Definitely better than the Transformer Prime. At least the speakers are on different sides.
Olympics logo will be super relevant this summer but could seem weird after the games are over.


Should You Buy It?

Eh, it's a pretty good tablet, but at $450, it's not good enough. Acer put a great processor in here, but the screen is extremely underwhelming. And the bulk just makes it feel older than it is. Bring it down to $300 or $350, and yeah, it'd be a pretty good buy, but you can get the Transformer Prime for just $50 more. It's worth the difference.

Acer Iconia A510 Specs

• Network: Wi-Fi only
• OS: Android 4.0
• CPU: 1.3-GHz quad-core Tegra 3 processor
• Screen: 10.1-inch 1280 x 800 pixel TFT LCD
• RAM: 1GB
• Storage: 32GB + up to 32GB microSD
• Price: $450
• Giz Rank: 3 stars