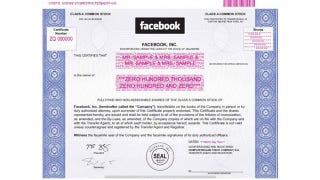 There are 955 million people in this world with Facebook accounts, and they collectively poured $1.18 billion into Zuck & Co.'s coffers these last three months. Which, hey, not a bad welcome to Wall Street!
Of those 955 million total users, Facebook sees 552 million accessing the site daily, and a total of 543 million users signing on from mobile devices. And the revenues, of $1.085 billion, are a 45% increase over last year's number and some modest comfort to people who pegged their pensions to the company's much-maligned IPO.
To celebrate his company's first earnings report as a real grown-up public company, Mark Zuckerberg issued the following blandishment:
"Our goal is to help every person stay connected and every product they use be a great social experience," said Mark Zuckerberg, Facebook founder and CEO. "That's why we're so focused on investing in our priorities of mobile, platform and social ads to help people have these experiences with their friends."
To be honest, there's not much to see here. It's an ad-driven company doing about as well as you'd think for what it is, growing at a healthy rate, slowly tilting its lance ever more forcefully at the windmill of total world domination. You know, the usual. [Facebook]