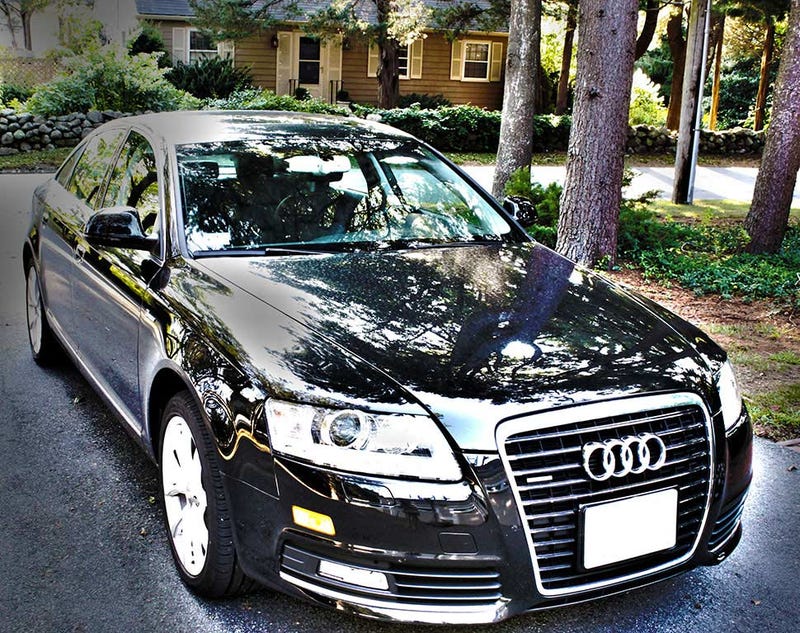 I took this photo with my Canon T1i using a 55-250 mm lens. I noticed the reflections on the car and thought it would make a really nice picture. I set up my tripod and took 3 pictures, one at high exposure, normal exposure, and low exposure. I then stitched them together in Photoshop using the HDR feature. I played around with the settings until I found something that really stood out. I also edited out the license plate number. I think the combination of lighting, surrounding objects, and the curves of the car made for a really cool picture. The car in the photo is an Audi A6.
-Thomas Levine
Equipment: iPhone 4S
Technique: Hey my rental car is stuck in the middle of the desert. Let me take a picture of it.
Post Production: I played around with a few apps and ended up liking the tilt-shift effect in the Snapseed app the best. It seemed to bring the vehicle into the spot light and made the rest of the picture a blur. Which was exactly how I was feeling at the time.
Story: As I was driving to Phoenix Arizona to catch my flight back home to Michigan I saw a sign for the Kofa National Wildlife Reserve. I had some extra time to kill so I decided to take a quick detour. A few miles down the road there was an information area. I got out, took a few pictures, and checked out the information board. There was a map. It looked like I could take a few of these roads and end up 20 miles down the highway that I had just been on. I would have to take a few trails that said "four wheel drive recommended" but my rental car had four wheel drive so I was good to go. It headed down the road and went on the trail. It was beautiful and I was having a great time. The trail got a little rougher but it wasn't anything I couldn't handle. Then I got stuck. I tried giving it more gas but I was just smoking the tires. I was afraid of blowing a tire so I got out, assessed the situation, and took this picture. I let a little air out of the tires to get more traction. Crap! That didn't work. I could let some more out but then I would loose ground clearance. I haven't had cell reception in a while so I can't call for help. What am I going to do? I have a bottle of water and a granola bar. My running shoes are in my suitcase. Maybe I should go run for help. But it's 100 degrees and I could get dehydrated fast. I have to get unstuck. I finally grabbed some rocks and jammed them under the wheels. It worked! I was moving again! After a few more stressful hours of off-roading I finally made it back to the highway and I was on my way to Phoenix again.
-David Hullinger
Camera: Sony SLT-A65V
Lens: Tamron SP 17-50mm F/2.8
F:16 for 1/30, ISO 100 at 35mm
I took this over the weekend at the PCA Potomac club race at Summit Point. I was wandering through the paddock when I came upon this 1970's 911S partially hidden by a car carrier. The car is perfect in every way in my eyes. The owner was in the trailer working on their race car, and they were gracious enough to let me spend 15 minutes drooling over their "spare" car.
I took the photo using the Sony built in HDR mode, which brought out the light playing on the rear quarter's shoulder line. I then brought the photo into Photoshop and sharpened it, just a little, trying not to go too far and lose some of the detail in the paint or wheels. The background is a little busy for my taste, but the detail in the car was lost when I tried some defocus techniques. There just wasn't enough room in the area around this car for me to get the photo with my 75-300 at f:4, so I had to take this with my 17-50 at f:16 which allowed the background to stay more in focus than I would have preferred.
The one big mistake I made was with the CPL filter, it brought out the pattern in the window tint, and my photoshop skills are just not good enough to get rid of it without destroying the photo. I really wish I could go back and take the filter off!
-Ethan Fermanis
These photos came from one of my most recent photos shoots with this gorgeous Matte Black wrapped Mustang. The car was originally the blue you see in the pin stripes but the wrap was put on around it and the blue was kept as accents and it flows perfectly! Its the details that count!
Chris Petruccio Photography
http://Facebook.com/ChrisPetruccioPhotography
Settings:
ISO 100
50mm
f/ 2.8
1/20 sec
Tripod mounted
-Chris Petruccio
Mirror-height, back off a car length and zoom in, corner exterior angles (side views always look flat), and WYSIWYG. No post-production. Canon S3 IS (for the viewfinder and swivel screen) set to extra-fine and 1600X1200 and automatic. Simple. I didn't even like twiddling the pixels to provide these two shots. I shoot so shoppers will see the first shot and click, then look at the rest of my photos, then come in drooling and not buy elsewhere. So its not artsy; I shoot to sell, which is different. And that's the one that pays off for regular people like me.
-David R. Clark
The camera setup used for this picture was a Nikon D3100 with an 18-55mm NIKKOR VR lens, at ISO 100. The F-stop was f/11, and the exposure time was 1/40 sec.
I am a huge car enthusiast and Subaru fanatic. As a result, this fairly rare Subaru Impreza 2.5RS caught my eye. As evidenced by the dirt, this Impreza is being enjoyed and loved to the fullest, as a Subaru should be. One has to wonder looking while looking at it; What all interesting places has it seen, and what interesting stories must accompany that dirt?
-Jonathan Riska
Canon T3i, F/2 4 second Exposure, ISO 100, Manual Exposure.
Photo taken of my brother in laws 07 350z taken in Everett Washington. There was a full moon out and thought it would be cool to include it in my shot.
-Chris Nelson
Camera - Canon XSi
Lens - 50MM f/1.8 II
ISO - 100
This was taken downtown Houston in the lot across from Minute Maid park. Unfortunately the weather was terrible, and I wasn't able to get really any great shots. The car is my own personal Challenger SRT8 in Hemi Orange with black vinyl wrap on the hood, roof, and trunk.
-James Collier
I participated over the weekend in the Texas All British Car Days events in Round Rock, TX with my buddy TJ and his classic Mini. One of the events was a standard parking lot in the middle of nowhere car show. It occurred to me that your shooting challenge this week was "Cars," a subject in which I am particularly interested, I happened to be surrounded by beautiful machines, and I had a camera in my hand. I've never entered a challenge but have been wanting to for some time, so I figured now was a pretty good opportunity. After reviewing the shots that I brought home, my girlfriend and I decided on this gorgeous Rolls Royce hood ornament. She was captured with a Cannon S95 on full auto, but the framing was all me. No retouching at all, this is how it came off the card. Interestingly, the runner-up was a shot of a Jaguar E-Type caught with my iPhone4. That stupid little camera still surprises me...
-Jeff Baysinger
I didn't get a chance to get out and take any photos of any interesting cars so I decided to try something a little different. I shot one of my son's toy cars with my macro extension tubes. I'm pleased with the effect that the light had on the plastic car.
Canon EOS REBEL T1i, 1/200, f/4.5, 55mm, ISO 200
-Matthew Johnson
My buddy was going to his last track event of the year. It wasn't an actual race, but he was driving his 2011 Porsche Cayman S, and I tagged along to take some shots of his car, and some of the others. There were plenty of Corvettes. I counted 6 Z06s, 4 Porsche 911 GT3s, and 4 Lotus Exiges to name a few.
The one that really caught my eye from the beginning was the Porsche 904 - 1964. It just screamed "take my picture" with those smooth headlights and sharp curves. I took a few in color and a few in high contrast B&W. My buddy had a rough day losing it into the grass on his 3rd lap of the day (no damage to the car - just his ego), but it was a lot of fun seeing these beauties tearing around the track. I got a lot more pictures from the day that I really enjoy, but this was framed so well, I had to use it. The color of the car was a blueish gray. It was mostly a cloudy day, but the car really popped when using B&W.
There was no post-editing of this photo. I was using a Sony a55 with a Sony 18-70mm lens - ISO 400. I took 3 shots each zoomed successively closer than the next - this was the closest - and in my opinion the best. I hope you enjoy looking as much as I did taking it!
-Doug Villella
The camera that was used was a Canon 60D, lens was a normal 18-135mm f/4.5-5.6. ISO was 800 and shutter speed was 1/100.
The lot where this happened is actually part of a soon to be decommissioned airport, right now all they have it is for training flights. Eventually this parking lot will get demolished and so will the runway thats a dozen meters away. I wanted to get in a few more shoots while I still could and I love using this ramp for anything and everyone. Cars or bikes heck even people, the entire building lends itself to such great shots.
-Anitesh Jaswal
I took this picture with a Canon T3I. I used my 50mm prime lens at
f/1.4. This is an HDR photo, my first attempt actually.
My co-workers are always talking about the older cars they have
sitting around their property. I thought it would be neat to go out
and see what they have and if there was anything interesting. This
Beetle is sitting by itself next to an old satellite dish. The black
and white with rust highlights looks cool. It feels like the car was
on it's way somewhere and just didn't have enough to get there.
-Joshua Reed
Canon T2i 36mm F/6.3 with a little boost in iPhoto.
So I go to Calero Resevoir to take a shot of my jeep in an open space. I found a good spot, parked and started shooting. Not two minutes pass when the Park Ranger pulled up right beside me asking if everything's ok. I told him what I was doing...and then sheepishly said that taking a photo of HIS car would be awesome. I thought he would just send me off on my merry way, but instead he asked me if I'd prefer the car with the lights on or off :)) Ha ha...here's one of the shots.
-Georgina Lawrence
I know that part of what makes a good shot is an interesting setting that fits the type of car. After cruising through industrial areas near West Seattle I found this location. I took about 200 shots with my car in various positions in relation to the train, flag, cranes, and city in the background. What you see is the best picture of the bunch with no post production.
Camera: iPhone 5
Aperature:2.53
F Number: f/2.4
ISO:50
Shutter: 1/861
-Peter Monroe
I used my Canon 7D and 17-40L lens at 100ISO to photograph my personal 2008 Acura TL Type-S.
I rarely work with natural light since I work fulltime indoors until it gets dark. For the challenge I wanted to try something new. The background was shot at 1/160th and f/9 but the car itself is actually an isolated HDR image. My plan with the image was to suggest movement so I left it on the road, my favorite thing to do with my TL-S after all is to drive on mountain roads. The only edits I've done is make the road black instead of grey and changed the color balance to suggest sunset into the lighting environment.
-Philip Tieu
One of my buddies at work is really into cars, and by really I mean he practically washes his car every two days. Being an amateur photographer I'm always on the look out for new ways to take pictures and after seeing this photo challenge I suggested going out for a photoshoot and attempting something called light painting. For those unfamiliar with light painting it's the process of using a light source such as a flashlight and a long exposure to "paint" your image. To capture the image we used a LED flash light and ran around the car like chickens with their heads cut off painting the surface of the car during the duration of the shutter speed. After waiting around for people and cars to come and go and before getting yelled at by a police officer that we were illegally parked we were able to get a this shot.
Canon 5d mkii
Canon EF 16-35mm at 16mm
f4.5
30 sec
ISO-100
-Brad Sasaki
Canon 7D Camera, 50mm 1.8 @ 2.8, ISO 200, Shutter 1/1250
I took this photo while on holiday down on the South Island of New Zealand. We drove through Central Otago and spotted this parked up on the verge. It's a pretty rare sight in NZ, and rarer still in 'Candy Red.'
This is something a little different from my normal subject, so it was a nice surprise it came out so well.
-Shannon Doyle
This week's contest came with perfect timing as the Honest Charley's Garage Fall Cruise-In was scheduled for Saturday Sep. 29th. I had already planned on attending camera in hand so I figured why not play around with Black & White a bit to come up with a shot for submission. I felt this striking `33 Coupe fit the bill nicely.
Canon EOS Rebel XTi
21mm
ISO-200
f/3.5
1/1000 sec
-Geff Adams