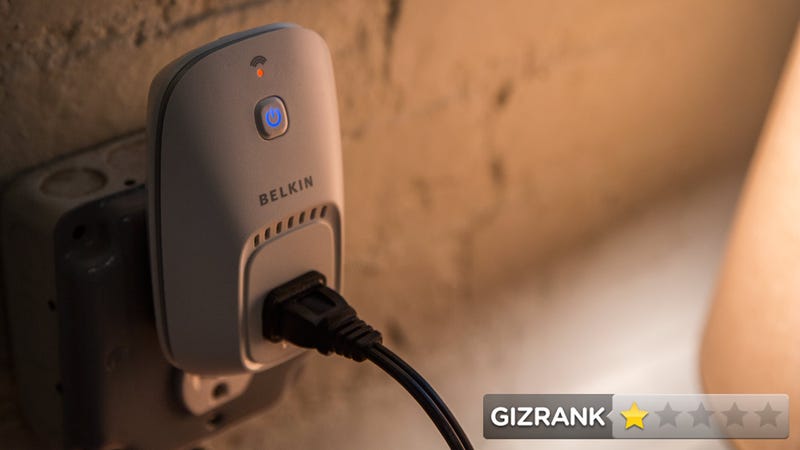 Home automation is stylish, but hard to set up. So the Belkin WeMo system, which simplifies the whole thing with a smartphone app, should be great, right? Wrong. So wrong. Very wrong.
What Is It?
A modular home automation system that lets you turn things on or off using motion detection or remotely via a smartphone.
Who's it For?
Someone who likes the idea of switching on the A/C whild standing outside, then having a lamp turn on upon entering a room.
Design
The WeMo plugs are pretty dull—they look like common electrical outlet timers.
Using It
Each node has standard three-pronged AC receptacle, so you can hook in your toaster, power strip, or anything else that uses electricity.
The Best Part
TIt succeeded in turning off a fan. But that was the one time it worked.
Tragic Flaw
It's almost completely broken. The app wouldn't detect the machines' switches. Or the Belkin couldn't find the phone. Who knows. It is crap.
This Is Weird...
Setup started simply—you add each node to your home Wi-Fi network, then register it with the master smartphone app. Then, you're supposed to be able to switch each power node on or off. Except it kept asking me to register the nodes over, and over, and over again.
Test Notes
Tested on 3 different residential 120-volt electrical outlets over the course of a week.
Connected via an iPhone 4S and an iPhone 5, and an iPad.
Tried to operate a lamp, fan, and an air-conditioner within the room and from other parts of the house. Total failure up until the one fan deactivation as noted above. Then back to failure.

Should You Buy It?

No. Unless Belkin releases updates that make it work, these things are just taking up outlets in your home, preventing you from using them as you normally would. This is like adding an extra doorknob to a door. Except it usually won't turn. Stick with the standard doorknob.
• App OS: iOS 5 or higher
• Voltage: Compatible with any 120v wall outlet
• On/off scheduling: Yes
• Price: $100
• Giz Rank: 1.0 stars