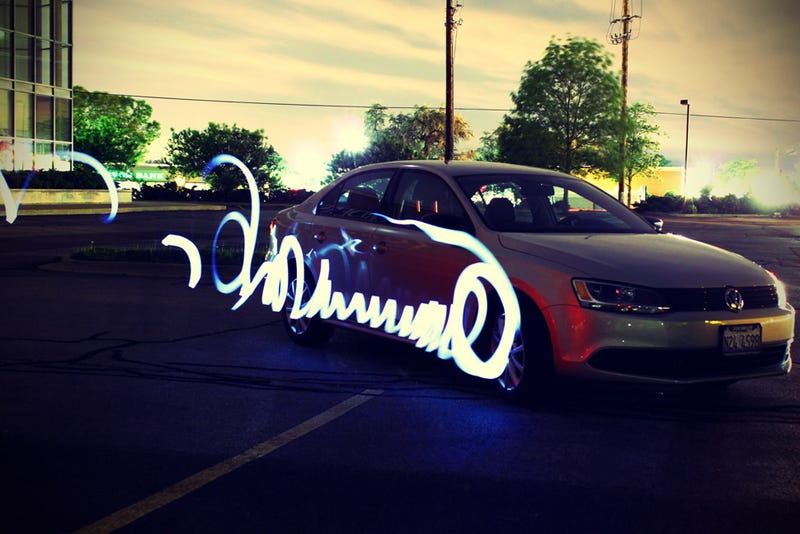 My name is Assael Ramirez and I live in Chicago. I love everything that has to do with documenting feelings like photography, videos, drawing and painting. On my way to work there was a Borders but it closed, I wanted to take a picture showing the outside with the Borders sign but I broke my tripod because I decided it didn't work anymore. I ended up placing the camera on the base of the lamp post. I wanted to give the effect that the car was moving. I have a youtube channel where I document Abandoned Cars around the Chicago.
www.youtube.com/assssael
www.twitter.com/assssael
assssael.tumblr.com/
Camera Canon EOS REBEL T1i
Lens EF-S 18-55mm
Exposure Time 20 Seconds
- Assael Ramirez
Here is my submission for the Car Shooting Challenge:
Title: Minimalism - Cadillac Style
Photographer: Babak Tizkar
Location: UK
Description: Ran into an old beauty at an car boot sale.
Camera: Mamiya 645 Pro TL
Lens: 80 mm F/2,8
Film: Kodak Portra 160VC
ISO: 160
-Babak Tizkar
On a particularly dismal day in the bay area, I happened along this. Something about it looked menacing even though it's almost 60 years old.
After a little bit of digging, I found that this particular car has a bit of history to it. 1954 Kurtis 500KK Roadster, Chasis #51.
http://blog.hemmings.com/index.php/2012/03/28/hemmings-find-of-the-day-1954-kurtis-500kk/
Camera Settings: D7000; F/8; 1/250
-Ben Rubio Kurtis
This is a photo of my friend's Ford pickup. He was doing some work on it one day, and I came out with my camera just to bother him. The hood ornament really caught my eye, because it was obviously worn enough to be original to the 1970 something truck. I didn't realize until after I took the photo that I left an extra filter on my lens, giving the photo a nice ring around the edge. Oops!
Camera: Nikon D3000
Lens: AF-S DX VR Zoom-Nikkor 18-55mm f/3.5/5.6G
ISO: 200
f/5.6
Shutter 1/125s
-Camden Griggs
I shot with a Pentax K-X with the stock 18-55 kit lens. f6.3, ISO 200
and 1/400 shutter speed.
I just wanted to get a shot of my baby in her full glory after a full
detail. Although she was born in 1995, she is still looking good for
her age!
-Cameron Swiggett
Camera: Nikon D3100
Lense: Sigma 18-200mm with Circular Polarizer
ISO: 500
The story behind the shot is basically i was going to pick my mother up from work and after i park the car i look up and there is this little Fiat 500 sitting in the corner of the parking lot. Now i just love looking at the 500 it has all the little curves in it to make it something attractive to look at for me. So i noticed the lighting and the sunsetting right behind and decided to go take a few shots. With a my knowledge of photoshop and a bit of time in lightroom i came up with this.
-Casey Boyle
Shot with a Canon 7D + 70-200mm f/2.8L IS II USM @ ISO 100 @ 70mm. Processed with Lightroom 4.1.
I take photos at most of the local bicycle road races here in Northern California, and at a race in Oakland sponsored by Volkswagen, they had a brand new red Golf R - essentially a GTI, but all wheel drive and more power. I really love these hot hatchbacks, and spent some time in between the races to take photos of the car itself. I especially like the R badging combined with the rear tail lights. It is easily recognizeable by the tail lights, but the R means it's something special. I framed the shot head-on (or tail-on?), but made sure to show some of the sidewalk and side mirror to add depth to it.
-Alex Chiu
Here is my submission. This was taken around 3AM last winter after a bout of boredom. The light source was from the headlights alone and nothing more. Camera- Nikon D5000 and I used an 18-55 "kit" lens as well. It was blistering cold outside, but the pictures still came out great!
Nikon D5000
18-55mm
ISO 200
F3.6
S10s
-Chris Garton
I visited Gothenburg City Arena this weekend, trying to capture the action going on there. After one race a few drivers showed off by burning some rubber and one driver had the kindness to line up his Porsche just in front of me. I got this shot just when the smoke starts building up. Not the most flattering angle of a 911 GT3 but I really like the captured moment and the sharpness of the image!
Shot with Nikon D5000 and a Sigma 70-200 2.8 DG APO II Lens. Settings f5, 1/800sec and ISO200.
-Daniel Philipson
Shot with a Canon Rebel XT and Sigma 70-300mm telephoto at the Evergreen Speedway, Monroe, WA.
Handheld capture of drift racers burning rubber. After about 100 tries, this is the one i was happiest about, you can see the car just about to start drifting around the first corner...
-Dayanand Choundappan
I took my 6 year old Canon Rebel to the track and tried shooting in RAW for the first time. As usual I took ~ 350 photos during the grand Am and supporting races with a slightly damaged 75-300mm lens. I loved the way that the Mazdas spit flames out of the exhaust under deceleration,and I thought that this would make a nice entry.
Shot with a Canon Rebel XT, Shutter speed 1/1000, F11, ISO 800
-Dennis Ames
I went out on a Sunday cruise after church along with my Canon 7D sitting snug tight in the back seat with my remote taking a picture every second for a second with a ISO of 100. The lens I was using is my Canon 17-55mm f/2.8. The car is my 2000 Subaru Legacy GT station wagon that I have proudly owned for a little over three years. You can't stop this thing in the winter time when all of the other cars at my school are either stuck or the drivers are too scared to take their car out. They rarely close campus because of snow, but when they do…that means it is time to take "Red Dragon" out for a spin. I nicknamed the car Red Dragon for two reasons: 1. Even though it is a black car, it starts to turn red in direct sunlight because of the metallic flakes and 2. Because my brother is obsessed with dragons and I wanted him to be a part of it. I took this picture up here in Dunbar, Wisconsin. Out in the middle of nowhere, literally. Don't believe me? Look up Northland International University on Google Maps ;)
-Derek Twigg
Shot with Nikon D300, 18-55mm kit lens at 35mm, ISO 200, 2 SB800 off camera.
I drive into this parking lot every day and pass this beautiful car that is owned by one of my customers. It was just detailed this week so it was a perfect opportunity to shoot it. It is in a stall protected by walls on all 4 sides. I have tried car photography before and know that you need a very large light source to cover an entire vehicle, so I used the right (grey) wall as a huge soft box by aiming my 2 flashes against the wall. I was able to darken the rest of the background with the 1/250 sec speed, but I finished blacking out the background in photo shop. This was processed with Nik Raw pre sharpener, Lightroom, Nik Dfine, Photoshop, and finally Nik Output sharpener. I ended up making a large print and giving it to my customer who was very thankful.
-Erik Schneider
The equipment used was a sony alpha a65 with a sony alpha 75-300/f4.5-5.6 lens, the settings used were ISO: 100, focal length: 150mm, aperture: f/9.0 and shutter speed: 1/250 sec.
This was shot while I took a break to Subic Bay, Philippines. There is a part of the town where there is an old abandoned car track and just outside several abandoned cool looking cars. This was shot from the window of my car so it was basically a lucky shot.
-Federico Benavides
Camera - T4i
Aperature - 5.0
Shutter - 1/20
ISO - 6400
Focal Length - 39MM
Lense - Kit lense 18-55mm
Car - Toyota Supra with Large single turbo swap running on E85.
My buddy told me about this contest since it is right up my alley (I shoot automotive and motor sports photography). So I grabbed my friend Chris and headed out for a shoot, we spent the better part of 3 hours shooting at various locations before he said, "Hey do you think you can get a shot of my two step spitting flames?" My response "Why didn't you tell me sooner!?" So I set the camera at my desired location and focused on the automobile. Being it was in such a low light situation I had to set the ISO a bit higher than I liked to get the shutter speed where I wanted it. Got this shot on the second attempt. I immediately fell in love with it, and I hope you do too!
You can find more of my work at www.facebook.com/faztheory
-Frank Zotto
"Roses are red, violets are blue...my car is red, too!"..and i love the Italian Dolomites. Shot at Val di Funes, Italy.
Tech Specs: Nikon D300, Nikkor AFS 24-120 VR F4 at F11,ISO 200, 36mm and 1/30s.
-Ghetu Daniel
This is my 1970 Dodge Dart Swinger. I have owned several other Darts and Dusters, but this one is my favorite. My brother and I rebuilt it together, put in a new 318 small block, and replaced most of the interior. She isn't perfect, but she's got it where it counts. It's a very fun car to drive, and it's the only one in town. I shot a set of pictures this evening by the bay in Hoquiam, WA, and chose this as my favorite. Shot with an iPhone 4, no editing. Simple, effective, just how I like things.
-Jamie Attwood
Took a picture of my 2011 VW GTI.
Shot with a Sony a33, no flash, 18-55mm kit lens @ ISO 400, 20mm, f3.5, 10", light painting with a white LED light.
Very minor post processing in Adobe Lightroom, with major HDR toning/selective coloring in Adobe Photoshop.
-Jason Hilton
Nikon D4
Nikon 28-300 lenses with circular polarizer filter
ISO:500
f-stop: f/11
Focal length: 250 mm
Shutter speed 1/160
Taken on the Spirit Lake Highway coming back from Mt St Helens crossing the bridge. Four friends driving across.
-Jason Tang
Used a Canon EOS Rebel T2i with EF-S 18-55mm f/3.5-5.6 IS in Tv Mode at 1/20, f/5.6, ISO 3200.
Standing, foolishly, in traffic, I was very nearly killed trying to capturing this speeding cab lit up by the bright lights of Times Square.
-Jeremy Brigden
I was on a walk with my sister when I came across my car in a quintessential fall scene; took a shot, edited into a more stunning black and white version. Hope you enjoy.
Shot with Canon EOS 5D Mark III, 24-105mm L at f/4, 1/250 sec., ISO-250
Touched up with Lightroom 4.1
-Jeremy Cai
Canon EOS 400D
Canon EF 50mm
ISO 200
f/1.8
Earlier this year I got a 2012 Subaru Impreza and wanted to get a good picture of it. One of our offices sits right on the edge of beautiful Lake Erie, so one clear summer day I grabbed this shot. I'm new to photography and actually picked up my Canon from a friend a few months after the car. This is one of the earlier pictures I took with it that turned out somewhat good, at least I think. I did a little post production color adjustment with Lightroom.
-Jerad Cook
The 1987 Buick Grand National has been my favorite car since I was a kid. Now that I'm an adult - I've got one.
I always wanted to get some dramatic shots of it in a particular old beat up parking garage, but never got the chance - they tore down that garage about a month ago. When the car challenge came up, i drove around trying to find another garage that had the same look. Once i found it the hardest part was getting both flashes right, and at the same time positioning them both so they were line of sight from the camera so they would trigger with the nikon IR triggering
Nikon D600, 50mm f1.8 AF-D, ISO 800, F/2.8, 1/250
I used an SU-800 to trigger an SB800 in the right with an orange gel, and an SB-710 on the left with a blue gel, both pointed towards the wall behind the car.
The reflection on the car is the grass outside the garage coming in thru the walls.
-Joey D'Anna
Canon T2i
Sigma 10-20mm F/4-5.6
Shot at 10mm, 1/80, F/8.0, ISO100
I was doing a little photo walk around Chicago with my friend teaching him how his camera worked, and at that intersection, I was teaching him how to create motion blur and how to "pan" a car. I told him that "the only thing we need now is a nice car to pass". Luckily, this Ferrari 575M Marilello came to a stop. I just managed to take this photo and it turned out surprisingly well.
If you do happen to use this photo, do you mind putting a link in it to my Flickr? Thanks!
http://www.flickr.com/photos/picsfromjos/
-Joseph Stevenson
This is a shot of my Toyota pickup truck while it was being prepped to be shipped overseas. I decided to take a few artsy shots of the truck, along with a few of the usual shots for insurance purposes. Originally, the tailgate was green with white letters, but recently was repainted white with orange graphics to match the truck. I thought the afternoon light brought out the contrast between the white and the orange particularly well.
Taken on a gloomy day with a Canon 50D and a Sigma 50mm f/1.4 EX DG HSM, natural light.
-Karl Muth
Was out around 7 am this morning walking the dog through the forest and sun was just rising as we were returning to car. Was taken with CHDK on a Canon G12.... Ten shots taken at different EV levels merged with Photomatix..lightroom..Photoshop Etc. Settings : ISO 100 ....Exposure 1/10 at f /8....
-Keith Martinson
This is my first entry into Giz's Shooting challenge and I'm excited to finally give it a go. I was just looking for a good location and I thought I could get a cool shot with the Texas State Fair ferris wheel in the background and discovered the fair grounds were actually open as a lot of people were preparing it for this weekend. I parked next to Big Tex, put my camera on a little table I found, and snapped this picture of my truck before anyone noticed. Canon T2i w/ Tamron 17-50mm f2.8. ISO 100 0.6s f/4 @ 23mm.
-Kevin Parker
This shot was something I'd been planning since I got the bumper and fog lights replaced a few weeks ago, so this contest really was perfectly timed. I had a hard time finding a place here with the ambient lighting that I wanted, but the graveyard was perfect and kind of creepy. This shot is 8 shots assembled in PS. My best friend Terrill assisted me by running the Alien Bee 400 with softbox around the car as I barked him orders.
-Kyle Ford
These were taken literally 10 minutes ago (9-26-2012) 1Pm PST at a car show in a mechanic's garage for a local charity for autism for kids. I took this shot with an iPhone with no special settings on at all, just a hi-res version. The weather is a bit overcast and I think it lends for some decent lighting.
-Lane Jasper