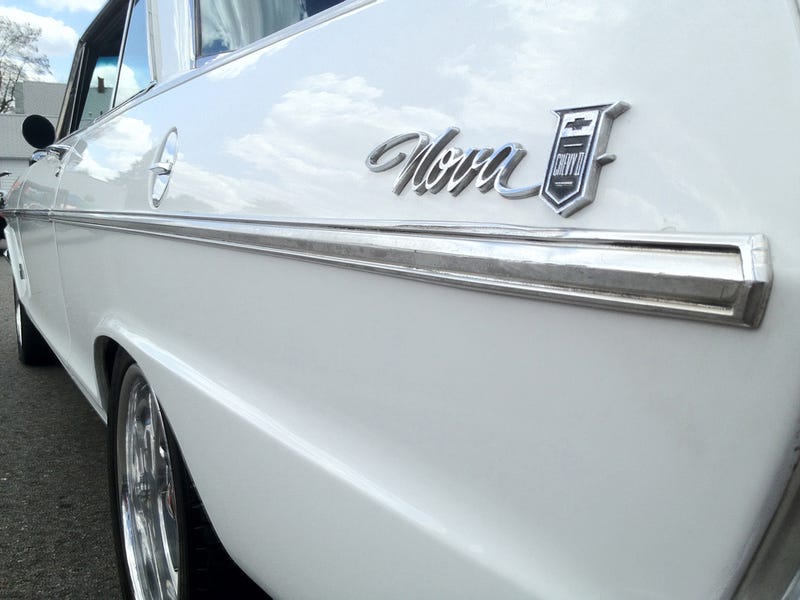 Nothing too spectacular here, just taken with iPhone. A bit overcast at 1:10pm in Spokane, WA at a mechanic's garage local car show to raise donations to help fight autism in children.
-Lane Jasper
I photographed this car very recently at a gathering called "Harleys to Hotrods" in Rahway, NJ. I used a Nikon d7000 with a standard zoom lens. I shot 3 exposures handheld at +2.0, 0, and –2.0 e.v. The 3 images were then combined and tonemapped using Photomatrix Pro software.
-Mark De Hanes
This was shot with my iphone 4S on September 27, 2010 8:00am on the roof of the parking structure at my work. No settings.
I have had alot of cars and have always taken pictures of them. The car is my 2010 Ford Mustang GT. I love the retro color "Grabber Blue" on it. When its clean it really pops. I don't really have any other camera that is better than my iphone, but I'm always looking for a good pic. I'm do some amateur graphic art in my spare time, and use Adobe CS my ipad 2 to retouch. I used the car tutorial you recommended for my photo. I took the building I work in out of the photo and put in a different shot of the sky. I was standing in a down stair well when I took the shot.
-Matt Hansen
Shoot with Canon EOS Mark 2 with a 18-55mm lens. The photo was shot at 1000 ISO at 1/8000 of a second and a F-Stop of 4.0. The story behind this photo is my buddy is a amateur/professional race car driver and these are both the cars he races, the NASA Super Unlimited and Porsche 944 Cup Challenge. This was the one and only time that he was running both of the cars at the same track, the same weekend. So we set up a few good angles of both cars together and shot away until I came up with this photo as my favorite one.
-Max DeLucia
This photo of my car (06 Chrysler 300) was taken with a Canon T3i SLR Camera with a 75-300mm lens. I used Nik Software for the image editing software.
The story of this car is a sad one, this car was customized from the ground up with rims, lambo doors(not in picture), interior, etc. As a car enthusiast this was my project car in Miami, FL where this picture was taken. Recently I had a baby girl and I just did not have the space for all her stuff in my car. So I sold my car a few days ago and I decided to take one last picture of it to hang it on my wall in my office. It was a tough decision but I had to get rid of one baby to replace my love which is my new baby(girl). I still miss the car, still miss the attention, but I would not trade if for the looks and attention I get from my daughter. The picture is in front of the American Airlines Arena where the Miami Heat play.
-Michael Rodriguez
Camera on tripod in back seat, two legs on seat, third leg on floorboard, center post dropped far enough to press back against the seat cushion. It's all I had with me...I would have liked to have strapped it in and gotten a sharper shot, but I was pressed for time (again, see: sick wife and baby at home), and hey, this is a "Challenge", right? Let's do this thing! I didn't have my remote shutter release with me, so I used the two second timer.
Camera: Canon 5D mk III
Lens: EF 17-40
EXIF:
Fstop - 4.5
Exposure - 1.5 seconds
Focal length - 17mm
ISO - 400
-Mike Newcomb
I picked up a Panasonic G3 recently, and this challenge was the perfect excuse I needed to go out and learn how to use it. I was so excited to get started that I went straight home from work and washed my truck inside and out. Unfortunately, I got so caught up washing that the sun was going down by the time I got to my favorite photo spot. I came back the next day and spent a while shooting from all sorts of angles to get an idea of how some of the settings worked, and to see what looked best. Eventually everything lined up and I got a few shots I liked. This one was my favorite.
Panasonic G3, Panasonic 14-42mm kit lens, f/4, 1/125, ISO 160, 52mm circular polarizer.
-Nicholas Reeder
For this challenge, being my first, I had a great idea. I wanted to go into the middle of desert with my Mom's H3 and shoot. The picture would have been dedicated to her because they're her two favorite things. Unfortunately, she didn't want to go just for creativity so I had to deal with the car in our driveway. I used my Nikon D3100 and modified it in Adobe Photoshop Elements 10.
-Nicole Dulowski
I wanted to showcase both my car and my engine in an interesting way, so I blended a shot of my car with the open hood and another one with it closed in order to get the "transparent" hood effect. This little four cylinder is pushing 318whp, which makes it a pretty quick grocery getter. 2009 MazdaSpeed 3.
-Pablo Piedra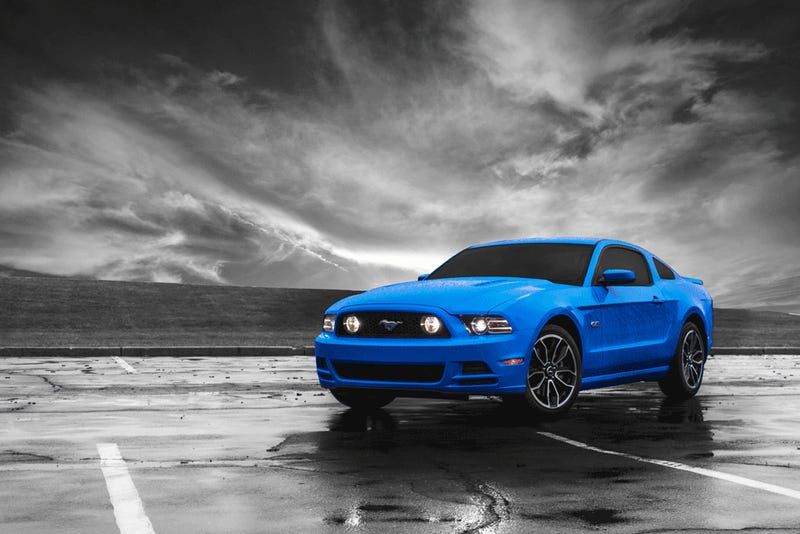 I work for a Ford Dealer so I picked my favorite car off the lot on a rainy day, and drove over to an industrial park near the dealer. I took a couple of shots and this one stuck out to me. I used a Canon T2i (ISO 200, f5.0, @1/60 of a second), toned and refined in Lightroom, and then had some fun in Photoshop cleaning up the car, shading, editing color and lighting, and importing a new sky from a shoot the day before to replace the office building in the background. I was pleased with the outcome, and would have never attempted this had it not been for your shooting challenge.
-Paul Valerio
It was a dark and stormy morning… on the way to dropping the kiddos off to school. We stopped for gas and my daughter squealed with delight when she saw ole Doc Hudson (in da flesh) parked near us at the station. She jumped out and started taking pictures with her iPod Touch. Her enthusiasm was infectious as she got me to pull out my iPhone and take a few shots too as I notice the contrast of the old solid designs against the new. A gentlemen getting gas next to me began to talking about how "they don't make like that anymore" and "if this car got into a fight with any of the new cars, the new cars would be destroyed".
-Peter Taliancich
This is a picture of my 2012 Lexus Is250 F-Sport.
Her name is Perla, I named her after the Pearl in her paint, I've proudly owned her since August 21st.
The photo I took was about 2 weeks after I purchased her, I had just finished washing the car. Iwanted to take a few photos to add to my portfolio. I found the perfect spot at Matheson Hammock Park which is located in Miami, FL. I love the way the background came out, almost looks like something you'd see in a commercial and definitely does not look like a setting that you'd find in sunny Miami of all places, and thats what I think I love about It the most.
Camera: Nikon D3100
Lens;Nikon Nikor 35MM 1.8G AF-S
Post Processing: 5 Step HDR (-2,-1,0,1,2) all shot at F/8 ISO 100
Edited in Aperture for Mac.
-Raymond Hernandez
I was driving around in my Audi TT with my fiance trying to find a nice setup for an external shot, when I just decided to take a handheld shot of the dashboard instead. It turned out better than any of the other shots I took. The only alterations were the contrast and I brought it close to Black&White to achieve the cool "blueish" color. I know it is a bit different than a picture of the whole car, but it is part of a car. This is one of my favorite pictures just because it goes to show that the inside of a car can be just as amazing and beautiful as the outside.
Sony A33, 18-55mm lens at 55mm, ISO 100, f5.6, 1/13exp
-Scott Kraus
'71 Nova in 'Bitchin' Orange' at the Evergreen Speedway, Monroe, WA. Shot with a Canon Rebel XT using a canon USM 10-22mm wide angle lens on full auto. Some post processing to make that orange pop!
-Tasnim Morbiwala
They are the biggest trees in the world: the giant redwoods of Northern California. Unlike your own local oaks, these wizened sentinels — many living when Columbus found the New World — are big enough to drive through. That is, if a car-sized hole has been bored in the center of them first. I always find roadside Americana fascinating - especially things like this, where you pay someone six bucks to drive 6 feet through something that you could have driven around for free.
Shot on Fuji Velvia 50
-Tony
Nikon D3100, Tamron 17-50mm f/2.8
3-shot HDR (EV -1,0,+1)
This old Ford was seen on a side road in Beacon Hill Boston. I found the rusted nature of the car to be interesting and the old bike/bike rack on the side added to the feel. I processed the photo using HDR to continue to add to the "old" feel of the picture's subject.
-Vincent Chao