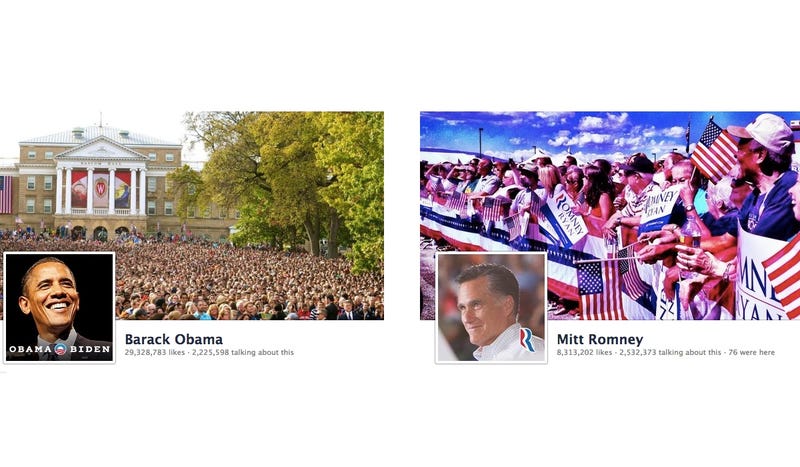 Barack Bin Laden Obama is a socialist who wants to tax this country into oblivion and pay lazy people not to work. Mittens Mormon Romney is a stale snake who only cares about rich white people. The election is near, and we're going to want to talk about these things online. But there's a way to not be completely awful about it.
Twitter and Facebook make it easier than ever to broadcast your inane partisan thoughts to hundreds (thousands!) of people simultaneously and impulsively. There's nothing wrong whatsoever about easily sharing your thoughts—in fact, it's a great thing. But with great convenience comes great potential to be a giant asshole without really thinking about it. So let's follow some easy steps to help your social life survive past November.
No gloating
Obama blew the last debate. Romney did a great job. But Romney will likely have his share of ugly and embarrassing moments before this whole thing is done. When any of these things happen, avoid political analysis that boils down to "HAHA SUCK IT __________!" This won't do anything but make everyone on the other side of the Facebook aisle hate you—and, yeah, you've got plenty of friends who don't hold the same political views as you. Commentary is fine—even jubilation—but rubbing the latest news in anyone's face just doesn't belong on Facebook.
Make a secret political sympathizer list
If you really must spill your political guts, typing vicious polemics with no diplomatic restraint, make a Facebook list for friends who you know will agree. You already sort people into Acquaintances on Facebook. Using the exact same process, you can make your own "Liberal Pussies Like Me" or "Fellow GOP Bloodsuckers" friend list, and your politically-oriented updates will be visible only to them.
Deleting is OK
If things get too heated, don't be afraid to get anti-democratic. Your wall shouldn't have to sustain the rage of others. Did that last article you shared trigger some unexpected backlash? Did it start a fight between two friends who don't even know each other? Get in there and start deleting, or shut the whole thing down if you want. It's your Timeline. Unwelcome debates shouldn't be your headache.
Discourse is lovely, if you're civil
This isn't to say we can't argue on Facebook. It's a lot better than what Facebook is usually used for. Post that interesting statistic or damning video. Enjoy it. Defend it. But be smart about it. If you stray away from thoughtful, meaningful commentary, things will degenerate quickly. The Internet dramatically accelerates the pace at which conversations decay into worthlessness.
You might lose (real) friends
Political heat is a very real way to lose a real friend. If you piss off your ex-girlfriend's roommate on Facebook, that's probably not a very big deal. But some people, who you actually do care for, will be quickly offended if you're a political jackass. It's easy to convince yourself what happens on Facebook stays there. It won't. People are reading what you write IRL.
So be smart. Be daring. Be controversial, even. But as easy as it is, with the tap of keys and swipe of a screen, don't be an effortless jerk on the Internet. Post a GIF instead.
User Manual is Gizmodo's guide to etiquette. It appears as if by magic every Friday.