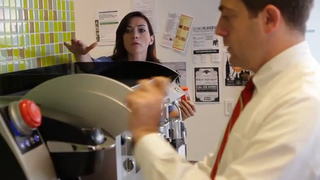 Regardless of your politics, you can't help but notice that Mitt Romney has had more than his share of missteps throughout his campaign. But why, exactly, does he keep saying so many things he shouldn't? It's not his fault, guys. It's the self-destruct button.
Full video below:
The rest of this week's top web comedy videos, including a rejected pitch for The Birds, cooking with Christopher Walken, and—yes—more Romney, can be found over at Splitsider.
Other highlights from the week in comedy:
- NBC is back at #1 in network ratings.
- Seth MacFarlane is hosting the Oscars. Bruno Mars is hosting SNL. What?
- Lena Dunham is writing an advice book. Everyone throws money at her.
- We dug up the lost roles of Dana Carvey.
- We collected everything there is to know about Arrested Development's new season. Everything.
- We explored our love for David Foster Wallace.
- We talked to Bill Burr about his new special, his alt-room statements, false outrage, and more.
- We looked at the low-key career path of John Candy.
- We visualized Billy Merritt's six types of improv students.
- We asked which of the lovable weirdos of The Office is your favorite.
- We found Lenny Bruce's imprint on the comedy world.
- We remembered when Gilbert Gottfried was on SNL.
- We discovered the unlikely lyrical comedy of a Pennsylvania Supreme Court Justice.
- We felt the lasting influence of radio's great teller of tales, Jean Shepherd.
- We watched Steven Martin guest host The Tonight Show in the archives.
Splitsider is a website about comedy and the people who create it. It covers movies, TV shows, web videos, books and any other format that exists to make you laugh.