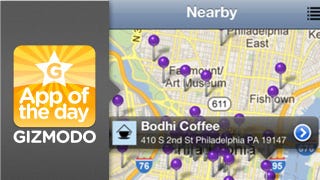 Dammit, I just want a cup of freaking coffee. But when I'm in the middle of New York—or any other city—and I search for coffee on my phone, all I get is Dunkin' Donuts and Starbucks. Stupid phone. I said coffee, not swill.
What does it do?
CoffeeGuru helps you find over 4000 independent coffee houses across the country using your geo-location. In addition, the app will help you find coffee houses that are using Direct Trade beans for people interested in spending their coffee dollar on shops that source their beans from roasters who buy directly from growers. You can also check in at coffee shops and earn badges.
Why Do We Like It?
Because everyone should drink coffee from independent houses. It's not just better tasting coffee, it's also likely to be sourced from environmentally sustainable growers. Direct Trade relationships are also frequently Fair Trade, which means the grower gets a fair price for their crop. Still, we wish we didn't have to pay two bucks for an app to help us spend our money more wisely.


CoffeeGuru
Download this app for:
The Best:
Yummy coffee
The Worst:
Expensive