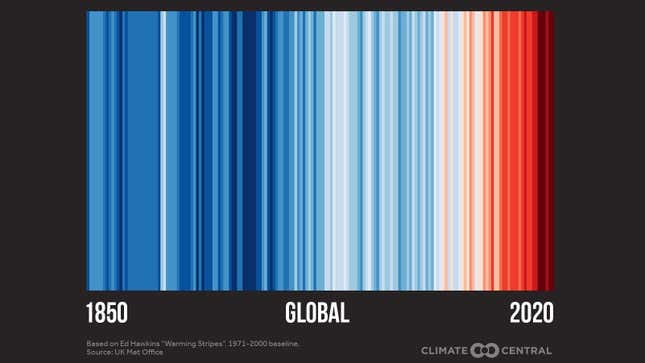 Happy #ShowYourStripes Day! For the past few years, meteorologists and climatologists have taken a day in June to show dramatic graphics on TV green screens, ties, masks, blankets, sweaters, and even a Tesla that illustrate how quickly the climate is changing.
First developed by climate scientist Ed Hawkins, these graphics—dubbed warming stripes—put the temperature changes wrought by the climate crisis in a stark light. In the original image, each stripe represented a year in the life of the global average temperature. Since then, warming stripes graphics have proliferated to show how much countries, states, and even local cities have heated up.
In honor of this auspicious day, we thought we'd share a few alarming stripe graphics from U.S. states with some totally unrelated quotes from deniers politicians in Congress to give them the opportunity to show their stripes, in a manner of speaking.