Will Michael "General Zod" Shannon be back as a whole different villain in Batman v Superman? The Star Wars spin-off may feature a surprising pairing. Margot Robbie talks about playing Harley Quinn. And how many tissues will you need to endure upcoming events on The Walking Dead? Here come the spoilers!
Top image: Avengers: Age of Ultron
Batman v Superman: Dawn of Justice
Rumors are flying that Michael Shannon, aka Man of Steel's General Zod, will appear in some form in Batman v Superman ... perhaps as the villainous Doomsday? The rumor claims that Lex Luthor, seeking a weapon against Superman, steals Zod's body and experiments on it — accidentally activating a "Doomsday gene" that turns Zod into a rampaging monster. As with all rumors, keep the grains of salt handy. [ComicBook]
---
Star Wars Spin-Off
Building off some new intel that "bounty hunters are important" to the upcoming Star Wars spin-off, there's now speculation that the film will contain both young Han Solo and Boba Fett. And maybe some Hutts, too. [Latino Review]
G/O Media may get a commission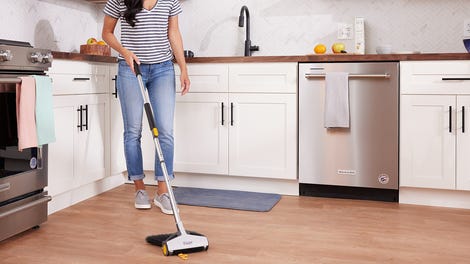 BOGO 50% Off
Flippr - BOGO 50% Off
---
Brilliance
His latest directorial effort, Mortdecai, just opened in theaters, but David Koepp is probably best-known as a screenwriter, having worked on blockbusters like Jurassic Park and Spider-Man, among others. In a recent interview, he shed some light on an upcoming project: an adaptation of Marcus Sakey's novel Brilliance:
You're working on the adaptation of Marcus Sakey's novel Brilliance, which on paper sounds like it could be a bit like X-Men. Is that how it's turning out?

I'd say a bit more thriller-y. I've always thought of Brilliance as social fiction, that kind of 'Imagine if the world was like this…' It's not a superhero movie, it's not a big effects-y movie the way X-Men is.
---
Suicide Squad
Harley Quinn herself, Margot Robbie, offered some thoughts on Suicide Squad while promoting other projects at Sundance.
"Yeah, I guess it's intimidating because there's obviously a lot of people I want to please, and a character I have to do justice ... We haven't gotten too far into it, we're still pretty far off."
She also called Jared Leto a "great, great co-star." See the video at the link. [MTV]
---
Aquaman
Word is the Jason Momoa-starring Justice League flick might have another director vying for the gig: Noam Murro, who helmed the Zack Snyder-produced 300: Rise of an Empire. [Latino Review]
---
Guardians of the Galaxy 2
Sorry, Lee Pace fans. James Gunn confirmed on Twitter that Pace won't be back as Ronan in the sequel.
---
Avengers: Age of Ultron
J.A.R.V.I.S.-turned-The Vision Marvel vet Paul Bettany had this to say about the scale of his latest project:
"This is the biggest thing Marvel have ever done. It was enormous. I remember, we were at Comic-con, and they showed a portion of the footage, and I was just gobsmacked. And I looked down the row and every one of the Avengers was the same … including Samuel Jackson. And his whole modus operandi is 'I've seen everything before, I'm the most chilled out, relaxed man and I've seen everything…'and he was as knocked out as anyone. It's huge."
Meanwhile, Joss Whedon caused a stir a while back by suggesting there are four prominent female characters in Age of Ultron, and we only know about three thus far. Now there's a rumor that the fourth, previously unidentified, female character is actually Mantis, a character from the comics — who seems plausible at least, since she's got ties to Vision, Scarlet Witch and Quicksilver... plus the Guardians of the Galaxy. She could be the linchpin that connects the Avengers and the Guardians at some point down the road. As with all rumors, many grains of salt should be consumed. [Schmoes Know]
---
12 Monkeys
Star Aaron Stanford did an extensive interview discussing the show, including this hint about the physical effects of time travel:
As time goes on, the time travel most definitely has a physical effect on [my character]. I don't want to say too much because it's an important part of the story.
[Buddy TV]
---
The Walking Dead
Star Josh McDermitt adds his voice to those promising a lot more heartache and weirdness in the second half of the season:
I think when it picks back up, we're gonna see the group kind of dealing with the aftermath of that horrible situation that we ended off with. It's certainly sad to see Beth go, and not just Beth, but to lose Emily Kinney, who is an incredible person and a great member of our cast. So we're gonna kind of see them dealing with that moving forward. And I think, you know, the second half of the season is gonna change a bit. We've seen the characters that are in a place they've never been before, and it's just gonna get a little darker and a little crazier, and to quote Scott Gimple, 'It's just gonna get weird.' ... You gotta get your tissues ready because there are some pretty intense moments.
But he says that Morgan isn't as close to our heroes as you might have thought:
Morgan kind of showed up to the church in the last episode, and he saw the map and everything, the greenery had grown up over some of the vines to show that several months have past. I don't think that Morgan is around the corner.
And here's the title and synopsis of season five's episode nine:
What Happened and What's Going On

After all the recent trials the group has faced, a slight detour might prove to be the solution they've been looking for.
---
Agent Carter
Peggy and Howard Stark have a mild disagreement in this clip from episode four: "You don't get to climb the American ladder without picking up some bad habits along the way!"
---
Westworld
Husband-and-wife producing duo Jonathan Nolan and Lisa Joy discuss the upcoming HBO adaptation of Michael Crichton's 1973 film, explaining:
Nolan: Crichton wrote this as an original screenplay and then directed it. There's no book. What you feel in the film is there's this larger world that he barely has time to explore. It leaves you breathless. Westworld goes from one f–king massive idea to the next. At one point in there, he references why the robots are misbehaving. He describes the concept of the computer virus. When they were shooting the film it was the same year, or the year before, the appearance of the first actual computer virus. This is why Crichton was so brilliant. He knew so much about the technologies that were about to emerge, spent so much time thinking about how they would actually work. Consider the fact that the original film was written prior to the existence of even the first video game. Think about massive multiplayer role-playing games, and the complexity and richness of video game storytelling. When he wrote Westworld, none of that existed! So it's a film that anticipated so many advances in technology. The film has a structure that barrels forward—there's this unstoppable android hellbent on vengeance—and it preceded The Terminator by 10 years.

Joy: The glory of doing it as a series is that you get to kind of dance in the little spaces that were left unexplored. In a film, you only have a finite amount of time, and you're so concerned with saying what happened and making it a gripping short story with a satisfying ending. But in a TV series, you can really take a novelistic approach and explore characters that you wouldn't ordinarily see, in a level of complexity that you wouldn't ordinarily get to explore just out of the sheer time constraints in a feature. I think we're very much looking forward to taking all those possibilities and exploding out.
And Joy adds that they'll take full advantage of the science fiction/Western mashup:
I will say the other part of this project that is incredibly unique and really thrilling is that you have the sci-fi in a mash-up with a Western—which is such an iconic and timeless genre for an examination of human beings and story. We're able to look backward and forward. I think the clash of those two worlds together is what is especially exciting, especially right now when I feel like we're at a similar precipice where we're on the razor's edge between time, between eras, and you feel like something new is coming. You don't know exactly what it will be, but you feel it kind of looming.
Tons more info at the link, including stuff about working with Anthony Hopkins. Plus below is a brand new still. [Entertainment Weekly]
---
Arrow
Here's the official description of episode 3x13, "Canaries," which sees the return of Caity Lotz as Sara Lance (sort of):
VERTIGO (GUEST STAR PETER STORMARE) RETURNS AND PITS CANARY AGAINST BLACK CANARY — Oliver (Stephen Amell) is thrown by the changes within Team Arrow. He's used to calling the shots but sees that the team has evolved in his absence and tensions quickly escalate in the lair. Oliver is furious that Laurel (Katie Cassidy) has been going out as the Black Canary and tells her to stop risking her life, but when Vertigo (guest star Peter Stormare) hits the streets again, Laurel goes against Oliver's wishes and tracks down Vertigo who hits her with a full dose of the drug. Laurel's biggest fears revolve around her sister Sara (guest star Caity Lotz) so the Vertigo causes her to hallucinate an epic fight between Canary and Black Canary. Meanwhile, Chase (guest star Austin Butler) surprises Thea (Willa Holland), and Roy (Colton Haynes) warns Thea to stay away from Malcolm (John Barrowman).
Meanwhile, we'll see the return of Sin, Sara's old friend, when Brick tries to take over the Glades. Explains Colton Haynes:
"We have to go back to the Glades to check things out and check on some people and survey the area. I finally get to see Sin again and might recruit her to come help us along the way."
Also, Haynes says that Ra's al Ghul will turn up in Starling City, and Nyssa may be an ally to Team Arrow... until Nyssa finds out who really murdered Sara. [Entertainment Weekly]
Here's a clip from the next episode. [Coming Soon]
---
The Originals
Sink your teeth into this rather detailed description of the Feb. 9 episode:
FAMILY IS POWER — More dangerous than ever, Vincent (guest star Yusuf Gatewood) remains one step ahead after joining forces with a powerful figure from his past. As the threat to Hope's life grows stronger, Klaus (Joseph Morgan) realizes he has no choice but to place his trust in his siblings to ensure she remains protected. Meanwhile, after being presented with an enticing proposition, Kaleb (guest star Daniel Sharman) is forced to make a difficult life or death decision, and Elijah (Daniel Gillies) finds himself in the fight of his life after an unexpected visitor arrives at the safe house. At the bayou, Hayley (Phoebe Tonkin) and Jackson (guest star Nathan Parsons) continue to prepare for the unification ritual, but things quickly go awry when they become pawns in Vincent's dangerous plan.
[KSite TV]
Here are three clips from tonight's episode. [Spoiler TV]
---
Gotham
First up, we've got breakout star Robin Lord Taylor chatting about what awaits his character, Oswald Cobblepot:
We know that he's working for Maroni, but also, ultimately, working for Falcone. He's a mole, so you see that tension between those two. And he makes mistakes — like he almost lets it slip to Maroni that he's working for Falcone. So you see that tension where he has to like cover all of his bases. And eventually, you're going to see him torn between the two, and yet also trying to maintain his own integrity.Ultimately, he's just in it for himself. It's really just about self-preservation for himself and becoming a big player on the scene, is what he wants. So, yeah — you're going to see more of that. It's not easy with him. Like, it's not an easy rise to power. It's two steps forward, one step back.
And, a preview of this week's ep, tellingly titled "Welcome Back, Jim Gordon." Among other things, it features more Bruce Wayne and more Edward Nygma:
Down though she may be, Fish is still gasping for air. Jada Pinkett Smith is kinda a riot as Fish laughs off the torture she's subjected to. Once free (oh c'mon, you knew they weren't killing her off this early on!), though Victor Zsasz is soon on her tail, her focus shifts away from Falcone in favor of getting revenge on Oswald. It's interestingly full circle as she's now where he started the series and it ensures Fish stories (heh) will have to following a new formula going forward. Plus, for the curious, we find out Fish's real name!

In subplot news, Bruce Wayne is back (it seems Alfred whisked him to Switzerland after the events of the fall finale) and trying to track down Selina, both because she's still the only one who can identity his parents' murderer and because he's sweet on her. After bumping into Ivy, she comes to see him, but the conversation takes a sour turn. Also, Edward Nygma continues his creepy pursuit of Kristen Kringle.
More at the link. [Spoiler TV]
---
Person of Interest
The next episode will be entitled "SKIP." That's all we got, so make of that what you will, POI faithful. [Spoiler TV]
---
Sleepy Hollow
Here's the official description of the Feb. 9 ep, "What Lies Beneath":
A team of surveyors hired to map the tunnels beneath Sleepy Hollow discover a long abandoned trapdoor which has been hiding... something... that quickly overpowers them. Following the men's disappearance, Crane and Mills are called in to investigate. Ichabod and Abbie follow the men's trail to the rune-marked trapdoor, and discover a huge underground vault – the "Fenestella" – which appears to have been designed by Founding Father and Masonic architect Thomas Jefferson. After consulting Grace Dixon's journal, the Two Witnesses learn that the vault – which was clearly designed to conceal something of high value to the revolutionary cause – is now also occupied by something (or things) originally meant to protect the unknown treasure kept inside, but on whom the centuries of mystical concealment has taken a decidedly evil toll. As Crane and Mills descend deeper below ground to try and rescue the missing men before it's too late, they make another startling discovery as they come face-to-face with an ally they could never have anticipated, who has information vital to the Two Witnesses' overarching mission. But securing that information, rescuing their quarry and destroying their foes may prove to be an impossible task. Meanwhile, Frank Irving approaches Jenny with a seemingly innocent favor, but the former captain's motives and objectives may not be as clear cut as he's lead her to believe; and more is revealed about Irving's return to the world of the living.

Check out a bunch of behind-the-scenes interviews at the link. [TV Guide]
And here are a quartet of clips from tonight's ep. [Spoiler TV]
---
The Returned
Here's a pic of Sophie Lowe, lookin' mighty serious as a cast member of supernatural drama The Returned. Check out more cast photos here. [Spoiler TV]
Additional reporting by Abhimanyu Das and Charlie Jane Anders.