And here we'd almost forgotten just how many of Shakespeare's plays end with stabbings.
Cartoonist Mya Gosling, a lifelong Shakespeare-fanatic and creator of the delightful webcomic "Good Tickle Brain," has condensed each of Shakespeare's plays into 38 three-panel webcomics. Well, thirty–six three-panel webcomics to be exact; for Henry VI, Part 3, Gosling affords a whopping five panels:
That being said, she manages to distill the bloodbath that is Titus Andronicus down to a single frame, so the three-panel-per-play average is preserved:
G/O Media may get a commission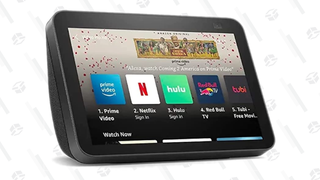 We've included a few of our favorites below, but the entire series (not to mention the rest of Gosling's comics, many of which hinge on more extensive explorations of Shakespearian scenes) is excellent. Go check it out!
All comics featured by kind permission of Mya Gosling.