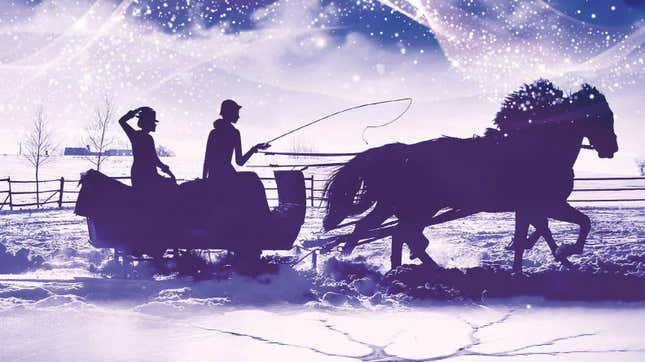 February may be the shortest month, even in a leap year, but we still have a jumbo-sized list of new sci-fi, fantasy, and horror books for your reading consideration. Dig in for tales of magical assassins, space shenanigans, witches and warlords, scheming royals, doomed planets (including Earth), and more.

Boogeyman's Director Talks Working on Bigger Budget Horror
---
All the Stars and Teeth by Adalyn Grace
When she fails an essential magic test, the princess of an island kingdom must figure out how to redeem herself and reclaim her throne. Help comes in the unexpected form of a pirate who's experiencing his own magic troubles, but the would-be ruler soon realizes there are far stronger powers conspiring against her than she ever realized. (February 4)
A Blight of Blackwings by Kevin Hearne
This sequel to A Plague of Giants explores the characters who're leading the resistance against the giant invaders who've devastated their land—including a grieving warrior and his men, the captain of an all-female sailing crew, and a woman whose ability to talk with fantastic beasts will be a valuable weapon in the war to come. (February 4)
Bone Silence by Alastair Reynolds
The space opera Revenger Trilogy—set across worlds that revolve around a mysterious, ancient currency—concludes with the Ness sisters on the run and using all their pirate tricks to avoid being punished for crimes they didn't commit. (February 4)
A Conjuring of Assassins by Cate Glass
The Chimera team—spies who secretly use illegal magic to keep tabs on their kingdom's enemies—return for a new adventure that sees them taking on highly dangerous new undercover assignment. (February 4)
Deathless Divide by Justina Ireland
The sequel to Dread Nation finds zombie hunter Jane McKeene heading West across a supernaturally restless version of 1880s America—and though the journey is perilous, she finds an unexpected and much-needed ally along the way. (February 4)
Ember Queen by Laura Sebastian
The Ash Princess fantasy trilogy concludes as Princess Theodosia, finally free, gathers her strength to liberate her people and face the magical enemy that threatens everything that's precious to her. (February 4)
The Firmament of Flame by Drew Williams
The third book in the Universe After series reveals a new enemy in a world where only gifted children can keep the universe safe: Alien beings who seek the children for their own nefarious purposes. (February 4)
The King of Crows by Libba Bray
The Diviners series comes to an end with this fourth volume about young adults drawn together by their supernatural talents who find themselves fighting the forces of evil in 1920s America. Their final stand takes them to Nebraska, where an epic battle with an army of the dead awaits. (February 4)
The Last Day by Andrew Hunter Murray
In 2049, the Earth's rotation has slowed so much that half the planet is frozen darkness, and the other is bathed in unending sunlight. A scientist who's chosen to isolate herself on an ocean rig is reluctantly summoned back to civilization, where she makes a devastating discovery about the future. (February 4)
The Lost Book of Adana Moreau by Michael Zapata
When a man finds a mysterious, decades-old sci-fi manuscript among his late grandfather's possessions, he becomes determined to track down the author in a journey that takes him to New Orleans in the wake of Hurricane Katrina. (February 4)
Mazes of Power by Juliette Wade
In a highly stratified society nestled in a thousand-year-old city, noble families vie for power in a clash that comes down to two teenage brothers, one of whom will stop at nothing to succeed. (February 4)
The Puzzler's War by Eyal Kless
This follow-up to sci-fi adventure The Lost Puzzler finds a variety of characters—including an assassin, a warlord, and a mercenary—tracking down a teenage boy who may the only person able to save the world by solving the ultimate puzzle. (February 4)
The Queen's Assassin by Melissa de la Cruz
The kingdom's top assassin, bound by magic to the queen, is forced to take on a young apprentice when war looms. Things get even more complicated when they start falling for each other. (February 4)
Upright Women Wanted by Sarah Gailey

In this pulpy Western with a queer twist, a woman hides in a librarian's wagon to escape an arranged marriage—and to seek justice for the man's previous fianceé, her true love, who was executed for being an anti-fascist activist. (February 4)
The Last Smile in Sunder City by Luke Arnold
In the wake of a war that wiped magic out of the world, ne'er-do-well Fetch Phillips scrapes by doing odd jobs—like tracking down a 400-year-old vampire who shouldn't still exist. (February 6)
The Chill by Scott Carson
A supernatural terror rises after 100 years underwater, when the spirits of villagers who lost their homes in the name of New York City's urban expansion start making good on a dark prophecy to reclaim what they lost. (February 11)
Daughter From the Dark by Sergey and Marina Dyachenko
In this standalone novel, a shallow man waffles on whether to help the eerie 10-year-old girl who suddenly appears in his life—until he realizes he may have no choice but to discover who she really is. (February 11)
Heart of Flames by Nicki Pau Preto

This sequel to Crown of Feathers finds the Phoenix Riders—Veronyka, who's still in training but would much rather be on the front lines; Tristan, a Master Rider whose methods clash with his commander, who also happens to be his father; and Sev, a spy—finding their place as they face certain war with the empire. (February 11)
Honor Lost by Rachel Caine and Ann Aguirre
The Honors trilogy concludes as hotshot space pilot Zara Cole faces her most fearsome adversary yet: a monstrous creature capable of consuming entire planets. (February 11)
The Light Years by R.W.W. Greene

An arranged marriage between a physicist and a maintenance engineer gets off to a rocky start, but they soon grow to appreciate each other and their shared goal of achieving faster-than-light space travel. (February 11)
Storm From the East by Joanna Hathaway
The Glass Alliance epic fantasy series continues as forbidden lovers Athan and Aurelia finally reunite, only to realize they've both been changed by war and the burden of their own family secrets. (February 11)
Stormsong by C.L. Polk
The sequel to the author's World Fantasy Award-winning Witchmark focuses on Miles' sister, Grace, who's trying to put their lives back together while their nation teeters on the brink of either revolution or disaster amid a series of fierce winter storms. (February 11)
The Unspoken Name by A.K. Larkwood
The day she's fated to die, an orc priestess' life takes a sharp turn—and she decides she'd rather postpone her final end, joining up with a wizard and learning the ways of being an assassin instead. (February 11)
A Witch in Time by Constance Sayers

A seemingly average young woman learns she's actually a witch who's lived many times before, bound by a curse to repeat the same fatal mistakes over and over. Can she harness her ever-growing powers to save herself from certain doom? (February 11)
The Golden Key by Marian Womack
Amid the spiritualism craze in Victorian England, a London medium is summoned to the seashore to help search for three girls who've been missing for 20 years. (February 18)
Gravity of a Distant Sun by R.E. Stearns
The Shieldrunner Pirates trilogy concludes as fugitives Adda and Iridian—who've already survived a murderous AI and an evil mega-corporation—hide out on a lonely station in deep space, plotting the ultimate escape to freedom in a nearby galaxy. (February 18)
Light of Impossible Stars by Gareth L. Powell
The Embers of War trilogy ends with human civilization on the verge of collapse, though sentient warship Trouble Dog and alien artifact scavenger Cordelia Pa may find a way to use ancient tech to turn things around. (February 18)
The Life Below by Alexandra Monir
The sequel to The Final Six sees the teen astronauts heading to Jupiter's moon, Europa—a possible Earth colony site that may or may not already be home to some very unfriendly aliens. (February 18)
The Queen of Raiders by Sarah Kozloff
The sequel to A Queen in Hiding catches up with would-be queen Cerulia, who's guided by elemental spirits to join a gang of guerrilla fighters as they infiltrate the heart of enemy territory.  (February 18)
The Seventh Sun by Lani Forbes
In this tale inspired by Aztec and Mayan myths, a young prince who's capable of controlling the sun marries a young noblewoman who can control water—but they'll need more than just their powers to protect their world from its restless gods. (February 18)
Sword of Fire by Katharine Kerr
In a kingdom overrun with corruption, a young scholar and a nobleman's daughter secretly plot to overthrow a legal system that's rigged against all commoners. (February 18)
The Wolf of Oren-Yaro by K.S. Villoso
Determined to mend her fractured kingdom, a despised ruler who everyone calls "the Bitch Queen" strikes out to find her long-lost husband, a dangerous journey that ends up stranding her in a land even more hostile than her own home. (February 18)
Bent Heavens by Daniel Kraus
The co-author (with Guillermo del Toro) of The Shape of Water novel returns with this thriller about a young woman who's accepted that her long-missing father is dead—until she finds a mysterious creature caught in one of the "alien traps" he left behind. (February 25)
Black Leviathan by Bernd Perplies
This revenge epic—translated from its original publication language, German—is described as "Moby Dick in a world of dragon hunters." (February 25)
Carved from Stone and Dream by T. Frohock
Set during the Spanish Civil War and a concurrent supernatural war, this sequel to Where Oblivion Lives finds half-angel, half-demon Diago on the run, torn between saving his family or remaining loyal to the supernatural spies of Los Nefilim. (February 25)
Finna by Nino Cipri
When a customer at a big-box store falls through a dimensional portal, two low-level workers dive in to try and track her down. Plunging through the multiverse is tough enough, but imagine doing it at the behest of your corporate employer...with your very-recent ex as your traveling companion. (February 25)
Cosmos: Possible Worlds by Ann Druyan
The author continues the work of her late husband, Carl Sagan, with this photo- and illustration-filled sequel to his groundbreaking study of consciousness and the universe. (February 25)
False Value by Ben Aaronovitch
Detective-slash-wizard Peter Grant returns in the latest Rivers of London story, though his desire for more stability in his life leads him to take a job at a new tech start-up. Little does he know the company is hiding a potentially dangerous secret that blends both futuristic AI and old-fashioned magic. (February 25)
The Hidden Girl and Other Stories by Ken Liu
The celebrated author (The Paper Menagerie, The Grace of Kings) presents his second short-story collection, which compiles 16 sci-fi and fantasy stories written over the past five years, plus a new novelette and an excerpt from his upcoming Dandelion Dynasty tale The Veiled Throne. (February 25)
The Fenmere Job by Marshall Ryan Maresca
There's never a dull moment in the seaside city of Maradine, as the tensions between neighborhoods over the growing mystical drug trade threaten to erupt into an all-out magical war. (February 25)
Imaginary Numbers by Seanan McGuire
The prolific author's InCryptid urban fantasy series continues as Sarah Zellaby—an adopted member of the Price family of cryptozoologists, who safeguard the magic beasts living among us—grapples with her strange reality: she's actually part magic beast herself, and her wild side is threatening to get the upper hand. (February 25)
Oona Out of Order by Margarita Montimore

As the clock strikes midnight every New Year's Eve, a woman leaps not into a new year, but into a new time period of her own adult life. Since this book is described as an "uplifting joyride," not a white-knuckle ride through sheer terror, her life must be pretty decent throughout...just very, very unpredictable. (February 25)
Rebelwing by Andrea Tang
A young woman's life takes a very strange turn when a cybernetic dragon swoops in to save her from a smuggling deal gone wrong—and then becomes an important ally as her country teeters on the brink of war. (February 25)
---
For more, make sure you're following us on our Instagram @io9dotcom.