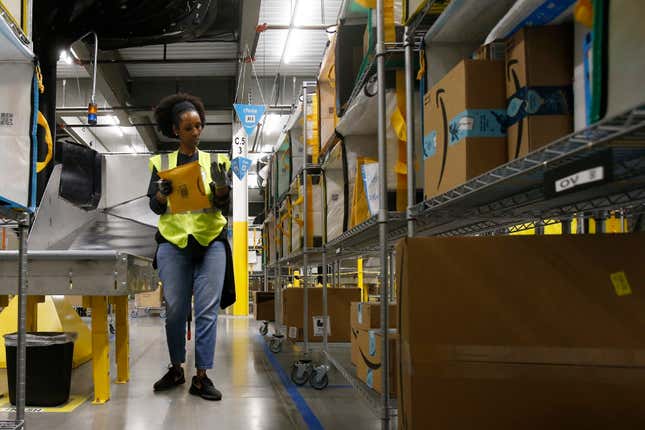 Amazon, the company notorious for its awful labor practices, is grinding through its potential workforce too fast, according to an internal company research memo leaked to and first reported on by Vox. "If we continue business as usual, Amazon will deplete the available labor supply in the US network by 2024," said the document, according to Vox.

Top 5 Shopping Tips for Amazon Prime Day
The memo indicated that things were looking particularly grim for Amazon's labor pool in a few specific locations. Amazon reportedly based their calculations on factors like local income demographics and household proximity to a present or future warehouse location. They concluded that Phoenix, Arizona and the Inland Empire area of California (which covers San Bernardino and Riverside Counties) were slated to run out of workers by the end of 2021 and sometime this year respectively. The internal research also identified Memphis, Tennessee, and Wilmington, Delaware as other places where workforce resources were especially thin.
To which Gizmodo says: you reap what you sow.
Amazon warehouses have extremely high turnover. Pre-pandemic, Amazon hemorrhaged workers at a rate of about 3% per week and had 150% turnover every year, according to reporting from the New York Times. It's no mystery why: They're dangerous, unpleasant places to work where you're monitored at every turn.
Amazon warehouses consistently have the highest rate of workplace injury among all similar U.S. facilities. A watchdog report from April listed Amazon as one of twelve most unsafe employers in the country, citing six worker deaths at the company's Bessemer, Alabama warehouse. In 2021, an Amazon warehouse in Edwardsville, Illinois collapsed amid tornados and killed dozens of people trapped inside. And it took that tragedy for the company to allow workers to keep their cell phones on them.
Quotas are so grueling for workers in Amazon warehouses and delivery trucks that people don't even have time to use the bathroom. If a worker fails to meet a quota, takes their pre-approved leave, or engages in, say, basic human needs, they can be fired by an algorithm with no notice, according to the Times.
In one example, the Vox report described an incident where a warehouse worker on the cusp of a promotion, Jose Pagan, was automatically terminated when he took two days off to get an infected tooth examined and removed.
From Vox:
Pagan said he also had a doctor's note but was told the company did not need to accept it as an excuse, even though he had been excused from work with a doctor's note previously. He said he worked for another full week without issue, until he showed up one night for his overnight shift and his badge no longer worked. He was eventually told he had been terminated.

An HR manager told Pagan that there was nothing he could do about the termination but that Pagan should reapply for a job at the company in three months, per Amazon policy.

Amazon's public attempts to address its well-earned image as a bad place to work have fallen woefully flat. Meanwhile, the company has continued to employ union busting activities and policies as its workers try to organize.
On top of the fact that Amazon has been treating and tossing out employees like garbage, the company's looming labor shortage is likely also the result of increasing competition from other pack and ship warehouses. Lots of companies have expanded their online ordering services over the past year, accelerated by the rise in pandemic-era at-home shopping.
To stay competitive, Amazon upped their minimum starting pay to $18 per hour in 2021. But other companies, like Walmart, pay as much as $25 per hour to workers with previous warehouse experience, according to Vox.
The internal research freaked out the company enough that in Phoenix, where the company was set to hit worker "Day Zero" by the end of 2021, they allegedly suspended all of their standard employee policies.

From Vox:

"They were so concerned about attrition and losing people that they rolled back all the policies that us as managers had to enforce," Michael Garrigan, a former entry-level manager at Amazon warehouses in Phoenix from 2020 to early 2022, told Recode. "There was a joke among the … managers that it didn't matter what [workers] got written up for because we knew HR was gonna exempt it. It was almost impossible to get fired as a worker."
Among other ideas, the leaked document suggested that Amazon could address its dwindling supply of willing bodies by raising pay, changing firing policies, and hiring back former employees and those who fail drug screenings more quickly. In 2021, Amazon stopped testing some applicants and workers for marijuana. The memo further offered that labor projections could play a big role in future warehouse site selections, according to Vox.
Yet, despite the reality check, Amazon hasn't yet publicly announced any company-wide changes to most of their labor practices.
In fact, in some locations, pandemic fluctuations have meant certain warehouses are overstaffed. To solve the problem, Amazon is simply banking on more employees quitting, according to a Thursday report from the Wall Street Journal. An Amazon executive, Dave Clark, told the Journal that the company plans to thin out employee redundancies their standard way: through attrition.
Stated corporate values aside, somehow Amazon still seems a far-cry from "Earth's Best Employer."