Game of Thrones is ending in two years, but George R.R. Martin isn't done with television yet. In fact, he says an even bigger world is on the way. Martin posted on his LiveJournal Saturday that Universal Cable Productions (part of NBC Universal) has acquired the rights to adapt his long-running anthology series Wild Cards.

For those who don't know, Wild Cards is a series of shared universe anthologies, mosaic novels, books, and graphic novels written by a group of 30 authors (called the Wild Cards Trust) and edited by Martin and Melinda M. Snodgrass. The first novel, Wild Cards, came out in 1987. Since then, there have been 22 installments in the franchise. The next one comes out later this month, and three others are on the way.
Wild Cards is all about an alternate post-WWII universe where an alien virus killed 90 percent of the people it infected. Most of the survivors were twisted and deformed into so-called jokers, cursed with bizarre mental or physical disabilities. The remaining few, as Martin put it, "became blessed with extraordinary and unpredictable powers and became aces."

Martin called the news "exciting" for Wild Cards fans, but those aren't the only people he's reaching out to. Much like Game of Thrones was for fantasy, Martin thinks Wild Cards could be that sort of more-mature series for comic book fans.
G/O Media may get a commission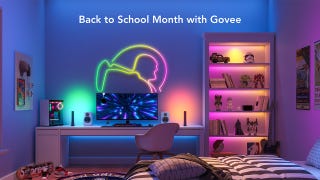 Back to School
Back to School Month with Govee Sale
"It is a universe, as large and diverse and exciting as the comic book universes of Marvel and DC (though somewhat grittier, and considerably more realistic and more consistent)," Martin wrote. "There are thousands of stories to be told in the world of the Wild Cards."
While Martin was vague as to what stories could actually be told, he did (almost) promise one. "You will be seeing Croyd Crenson, no matter shape the eventual show or shows ends up taking. It wouldn't be Wild Cards without the Sleeper."
No word when the series would start being developed for a network, though Martin hopes it's in "the next year or two." Martin said he won't be personally involved with the production of the series, given his ties to HBO and commitment to finishing that damned The Winds of Winter book. However, he said co-editor Snodgrass is signing on as executive producer.
Clarification: The article originally said the virus killed 90 percent of the population.
[LiveJournal via The Verge]