The iPhone 4's first pre-ordering day has been a total disaster. AT&T's online system has collapsed, there are account security breaches, Apple's online upgrades are down, and stores are now using pen and paper to process sales.
Major update: Exclusive: iPhone 4 order security breach exposes private information.
The photo of the line above was taken in NYC, but it has been happening all over the country. It is not even to pick up the phone itself, but to pre-order it. People are giving their credit card information to be put on a list to have a place in another line on June 24, when the iPhone 4 actually goes on sale.
G/O Media may get a commission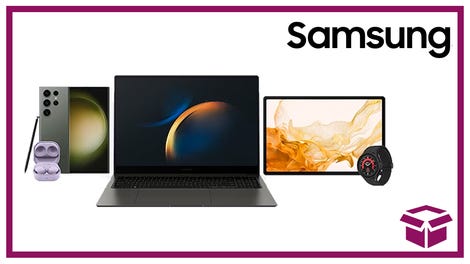 24 hour deals
Discover Samsung - Daily Deal
The reason for the long lines, however, is AT&T's ordering system. Readers in the comments are reporting that the systems are collapsed everywhere. Here's what our own Kyle VanHemert had to endure this morning:
They're just using some web interface, not the exact same customers are using online, but not much better. It's probably the same servers. Basically, they were getting one pre-order thru every 20 minutes. They said the problem was system wide. Here's how it worked: They just kept mashing on the 'submit' button and getting error after error. On the umpteenth try, it'd go through and then the next step, whatever that was, would get error after error. After a long time, it would finally go through. What's worse is that the first step of the process reups your 2 year contract, so you can't walk away if you get fed up. I had to stick around until it went through, or i'd have a new contract but no subsidized phone.
Update 1: Apple's processing system seems to be collapsed too. The reason: The iPhone upgrades depend on AT&T account server.
Update 2: Some readers are reporting security breaches while trying to access their accounts online. At least two people have ended inside other people's accounts:
From: Eric Paul Mertens
Date: Tue, Jun 15, 2010 at 11:19 AM
Subject: AT&T iphone pre-order wrong account


This morning while trying to pre-order the iPhone 4 through AT&T website, my login brought me to a 'website unavailable' screen. After a refresh it brought me to the phone upgrade page logged in under a different account, some dude from Lakewood OH!
From: Michael
Date: Tue, Jun 15, 2010 at 11:09 AM
Subject: AT&T security breach

Hello,

I am not sure if this e-mail is going to the correct place but this morning when trying to log in to my at&t account I entered my information and ended up in someone else's account with access to all their information. I feel as though someone could now be logged in to my account. To me, this seems like a huge security breach and at&t is shrugging me off as if it is no big deal and I feel that it is. I just thought with the recent i-pad breach that this one is an even bigger one and I wanted to bring it to your attention.

Thanks,
Michael Staropoli
Update 3: Reader Bryan Tipton says that AT&T has taken down its system completely, presumably to avoid the security errors and the frustrating experience.
Update 4: Just when you thought things couldn't get any worse, reader Jonathan Alvarez reports that AT&T stores are not processing orders right now, just taking credit cards and phone numbers.
From: Jonathan Alvarez
Subject: iPhone 4 Order System Collapsed, Suffering Security Breaches
Date: June 15, 2010 12:22:31 PM EDT
To: Jesus Diaz

I just left the AT&T store in Oakbrook, IL and they're not even processing orders now. They are imprinting credit cards and calling customers back over the phone when their systems get back up.

What a mess.
Update 5: Apple's online store is also collapsing. This morning a reader reported that the whole shop—not only for iPhone—was "crapping out." Numerous readers are reporting that the iPhone pre-order process is still collapsed:
From: Raun, Corban
Subject: http://gizmodo.com/5563909/iphone-4-pre+orders-are-one-big-clusterfck
Date: June 15, 2010 12:33:48 PM EDT
To: Jesus Diaz

I'm going through Apple's processes. It showed my eligibility then crapped out.

Corban Raun
Update 6: People are reporting success at Best Buy stores. Apparently, they are not using AT&T live servers, but their own ordering system even if you are upgrading an existing account. Most probably they will use a batch process later in the day, to run all order through AT&T servers. Not a bad idea when you need to deal with massive transactions.


Update 7: Horror tales keep coming in. A reader reports a purchase process that took almost three hours, and how the AT&T store started to imprint credit card slips and processing orders "on pen and paper."
From: Anthony Guselnikov
Subject: Re: iPhone 4 Order System Collapsed, Suffering Security Breaches
Date: June 15, 2010 12:36:58 PM EDT
To: Jesus Diaz

Came to Wall St AT&T store this morning around 7:30 AM. Stood in line for about 15-20 minutes, everything seemed to have been proceeding smoothly. Then literally right before our eyes the systems started disintegrating. We started my upgrade order process around 7:50, finished it around 10:20AM, and I felt lucky. Multiple credit card denies, weird address verification messages - wanted to ship IPhones to work - fugetaboutit. One consistent error kept coming up "Too many something something in the queue, max number is 256". I think this is related to the antiquated ordering system they use (the same Web-browser based one that we do just via a slightly different backend).

By the time I left they pulled out the credit card imprinting slips - I believe that they were going to start processing orders on pen and paper when I left.
Update 8: The Apple pick-up reservation seems to be screwed for some readers too, like Mateen Alinaghi:
Update 9: Other readers are reporting entire AT&T stores closing down because of this:
From: Anay Katyal
Subject: http://gizmodo.com/5563909/iphone-4-pre+orders-are-one-big-clusterfck
Date: June 15, 2010 1:03:19 PM EDT
To: Jesus Diaz

Um, I tried to to pre-order my iPhone 4 from my local Plainfield, IL ATT store because I couldn't do it online, and they're just closing down the store now. No one can come in, and they are not accepting an pre orders right now. I'm pretty pissed right now.
Update 10: A reader is reporting that, after the system said the order was successful, he received an email from AT&T saying the order was cancelled because of an error:


From: Jason Kirkpatrick
Subject: Fwd: Your att.com order 6805923333 has been canceled
Date: June 15, 2010 1:05:52 PM EDT
To: Jesus Diaz

Here's a good one for you to print. Thought my order was all taken care of from earlier in the day (around 10:40 AM EST), turns out I was wrong...

————— Forwarded message —————
From: AT&T Order Updates
Date: Tue, Jun 15, 2010 at 1:01 PM
Subject: Your att.com order 6805923333 has been canceled
To: jasonku80@gmail.com

Dear JASON KIRKPATRICK,

Thank you for choosing AT&T.

Unfortunately, we were either unable to verify the information you provided or you have exceeded the number of lines of service that we allow customers to purchase online. As a result, your order has been canceled.

If you would like to purchase additional lines of service, please visit one of our AT&T retail locations and present your identification to our representatives. They will be happy to help you purchase new wireless devices, accessories, and service.

Go to att.com/storelocator to find a store near you.

We apologize for the inconvenience and look forward to serving you.

Thank you.

AT&T
Update 11: It keeps getting worserer. Because of the system errors, now a reader is reporting that he has been charged $300 three times, got a new 2-year contract, and he's getting no new iPhone 4, according to an AT&T automated error mail:
From: Matthew Kletti
Subject: iphone charged 3x, no phone and new 2 year contract....wtf
Date: June 15, 2010 1:08:29 PM EDT
To: Jesus Diaz

Jesus,

I tried pre-ordering from the att site this morning about 5:50 am cst. I ordered 3 times because the connection timed-out when submitted the payment. Assuming payment was not accepted. Now my CC was billed $300 3 TIMES and According to the ATT site I cannot upgrade to an iphone or any phone till Feb 2nd of 2012.... wtf?
Update 12: Some readers are reporting success through the new iPhone Apple Store app, but the confirmation show that they are pre-ordering the $699 iPhone, not the upgrade-priced one. This problem seems to be caused by the lack of connection to the AT&T servers.
From: John Reikes
Subject: UPDATE to last email: reservation through app don't reflect upgrade status
Date: June 15, 2010 1:17:55 PM EDT
To: Jesus Diaz

I think they're bypassing the upgrade check altogether if you reserve your phone through the iPhone Apple Store app. I never had to check for upgrade status and the confirmation email shows that I'm reserved for a $699 iPhone. I imagine this will be easy enough to sort out when I get there, so I'm fine with that.

—
John Reikes
Update 13: Reader Adam Coleman is reporting that he had no problems ordering, but AT&T says his iPhone 4 is no backordered 2 to 3 weeks:
From: Adam Coleman
Subject: http://gizmodo.com/5563909/iphone-4-pre+orders-are-one-big-clusterfck
Date: June 15, 2010 1:42:30 PM EDT
To: Jesus Diaz

Jesus,

Just an update for you from Memphis. TN. In less than 15 minutes, was able to walk into AT&T store, update my contract, order a 16GB Black iPhone, right at 12:00 p.m. CDT. Only problem is AT&T is now showing a 2-3 week backorder for my phone.
Update 14: Some readers are reporting success in ordering from Apple. At this time (3:33PM EDT) nobody in Gizmodo can access the AT&T eligibility page.


Update 15: Major update: Exclusive: iPhone 4 order security breach exposes private information.
Update 16: Some readers, like Ashley Conne, are reporting problems ordering the iPhone 4 with the new Apple Store App.
Update 17: Several readers are still sending emails detailing different horror stories and error messages on AT&T website.
From: Bart Hamilton
Subject: http://gizmodo.com/5563909/apple-iphone-4-pre+ordering-is-a-total-disaster
Date: June 15, 2010 5:08:48 PM EDT
To: Jesus Diaz

AT&T wouldn't let me complete the order on their site, so I had to go to my AT&T store. Big news, I was there for three hours before they began writing contracts and credit card receipts by hand. They said their systems across the US were down. They'll call me to confirm my pre-order once their systems are back up and they can put me in. What a f***ing mess. I got out of there about an hour ago. Lots of people still in line for hand-written contracts and orders.
Update 18: Readers are writing in to say that the iPhone is now backordered.
From: Henry Bernstein
Subject: http://gizmodo.com/5563909/apple-iphone-4-pre+ordering-is-a-total-disaster
Date: June 15, 2010 5:03:58 PM EDT
To: Jesus Diaz

Dear Gizmodo,

Placed my pre-order for my 32gb iPhone this morning through AT&T's Website. I checked the order status after i found out about all the problems and it is listed as backordered. Not sure if it is listed this on purpose because it is a pre-order or if it will actually be on backorder on the 24th.

Thanks,
Henry Bernstein
Update 19: The problems are not only AT&T and Apple's. Some readers are reporting horror stories at Radio Shack. Apparently, orders are not going through, so you better check twice if you have used them to order your iPhone 4.
From: Jason Sewell
Subject: http://gizmodo.com/5563909/apple-iphone-4-pre+ordering-is-a-total-disaster
Date: June 15, 2010 3:54:28 PM EDT
To: Jesus Diaz

Jesus,

Went to the local Radio Shack in Springfield, Virginia to try to take
advantage of their $200 trade-in credit on existing iPhone 3GS's. I
was about fifth in line, and as the clerk was completing the
transaction, she suddenly realized that not only did my order fail to
go through, it had failed on all of the other customers in front on
my, who where now long gone, but who where under the impression that
they had successfully pre-ordered.

Chaos ensued, with phone calls to corporate, reports of "sold out"
iPhones, and a bunch of angry customers. The clerk finally wrote down
all my information on a slip of paper and promised to enter it later
and call me to confirm. Still awaiting that phone call.

Jason Sewell
Update 20: Several readers are reporting that Apple is no longer giving a price on the reserve confirmation email. Now it just says the model number. This has probably been a change make the process independent from AT&T's troubled computers
Update 21: At this point, the whole pre-order process seems to be completely up in the air: Orders that have not been truly processed, reservations that actually don't reserve anything, and the last one: Reservations with no names. That's what reader Justin Ng tells us:
From: Justin Ng
Subject: Re: Finally pre-ordered iphone 4
Date: June 15, 2010 5:04:45 PM EDT
To: Jesus Diaz

Two friends successfully did it with the "add a new line" on the website, but he pointed out that it didn't ask for his name. Apparently you don't even need a name? How are they going to pick up their pre-ordered phones if Apple doesn't know who they are?
Click to viewKnowing the interest in every new Apple iPhone, and knowing that there are millions of people eligible for this—admittedly very attractive upgrade—how could this be? How could AT&T not expect this kind of massive load on their servers? Perhaps they used the same prediction software they use to plan their cellular network.
First image via Business Insider