Bicycles are an amazing form of transportation — they get you from A to B quickly, without harming the environment, and they're terrific exercise. But biking in a city or on a highway can also be dangerous. So for over 100 years, people have designed elevated highways just for bikes — and a couple of them have even been built. Here's a stunning gallery of elevated bicycle highway designs from 1900 to today.
The California Cycleway, intended to connect Pasadena and Los Angeles, but only a 1.3 mile (2 km) part of the bikeway made of pine was opened in 1900.
It had a 10 cents toll for one-way trips, or 15 cents for a round trip, but never made a profit. It was dismantled after a few years.
(via Wikimedia Commons)
Velo-City, a large-scale high-speed network of bike lanes in Toronto, Ontario, Canada, a proposed project by Chris Hardwicke, 2006
G/O Media may get a commission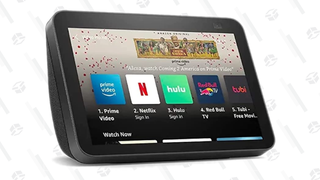 (via Velo-City)
A proposed 1.25 mi (2 km) long elevated path named Harbourlink, between the bridge to St. Leonards Park and Falcon Street along the Warringah Freeway in North Sydney, Australia, 2007
(via The Sydney Morning Herald)
The Hovenring, a suspended bicycle path roundabout (a circular suspension bridge, in fact) between Eindhoven and Veldhoven, Noord-Brabant, The Netherlands, designed by the ilv Delft design agency, opened in June 2012.
The steel bridge has a 236 ft (72 m) diameter and is suspended from a 230 ft (70 m) tall pylon.
(via Hovenring)
The Cykelslangen (The Bicycle Snake), a 770 ft (235 m) long cycle bridge in Copenhagen, Denmark, designed by DISSING+WEITLING Architecture between 2010 and 2012
(via DAC&LIFE)
The planned B1 Veloway across Melbourne, Australia, estimated to cost $18 million, designed in 2012 by a consortium of architects
(via Yarra River)
SkyCycle of London, a 136-mile network of ten elevated cycle highways in London, designed by Lord Norman Foster in 2013
Each highway could accomodate 12,000 cyclists per hour and there would be 200 entrances in heavy traffic areas.
(via Foster and Partners)
Bonus: Underground Cycling Tubes in London, an idea from 1996, compiled by Henry Turner
(via Gardenvisit)