Arrow has gotten pretty dark and insane the past couple years, with Oliver's world being torn down again and again. But yesterday at Comic-Con, the cast and producers teased that Arrow season four will actually be brighter...and will feature magic.
Deadly Mississippi Tornado Kills More Than 2 Dozen | Extreme Earth
There was an "orgy of plot twists" in season three, and season four will not be that crazy, said Guggenheim. "It's a new beginning." The producers also promised much more focus on Diggle and Felicity, as almost co-leads with Oliver.
Oliver won't be looking back as much at his past mistakes, and instead will be moving forward, the producers added. They want to do much more "Oliver in a suit" stories—Oliver will go back to having a public persona, and will divide his time between being the Arrow and being Oliver much more this year. "We're going to have a lot of fun with that," said Producer Wendy Mericle. And we'll be spending more time in Starling City again.
"One of the things we lost in half of season two and season three was the public persona of Oliver Queen," said star Stephen Amell. "It's really important that I get out there, doing things." People who enjoy seeing Oliver's civilian world "are going to be really excited."
G/O Media may get a commission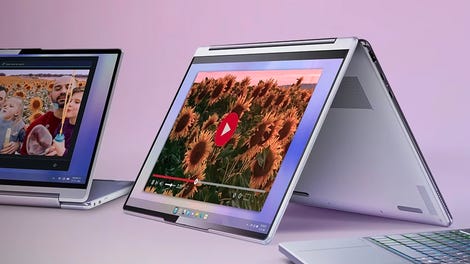 up to 70% off
Lenovo Spring Clearance
Added Amell, "Ever since Slade Wilson walked into the Queen mansion, Oliver has been up against it," with the possible exception of the start of the season three opener. "That guy has been in dire straits. I think it was important to get through that, to get where we are now—but I also don't think it would be interesting to go back there again, for the same reasons."
Arrow being Arrow, he'll still face dire circumstances, but "the way that Oliver deals with it is going to be different." And of course, Oliver can't be "The Arrow" any more, so he's going to be a different sort of crime fighter.
But meanwhile, a big theme in season four is the existence of magic. This will change everything—and John Barrowman, who plays Malcolm Merlyn, says he'll be at the center of that because he's "Merlyn the Magician."
"There's a nice new element of magic and mysticism this year," said Amell. And in typical Arrow fashion, this new element will also tie into Oliver's flashback story. "When it appears on the scene, it is something he is afamiliar with from his time away."
"I've read three episodes so far, and all of them seem bigger than our season finale last year. So we're in for some long long days and nights," said Amell.
One big question mark about Arrow season four is how they'll handle the flashbacks, now that Oliver's story is getting closer to his escape from the island. "We have a plan," said Guggenheim, "but what we do with the flashbacks this year will really surprise people." And he said they keep talking about their endgame with the flashbacks. He also said that we won't see any non-Oliver flashbacks until episode eight this year, because they interrupted the Hong Kong storyline too early last year and it killed some of the momentum of that story.
And the producers said that unlike in previous seasons, we won't wait until halfway through the year before really meeting this year's big bad, Damien Darhk. He'll be "right in center stage" as the season begins. They praised the casting of Neil McDonough as Damien, saying he can stand up there with Matt Nagle, John Barrowman and Manu Bennett. He's already eating, breathing and sleeping Damien.
In addition to magic, Mericle said the show will be delving into the theme of "family," including our main characters' actual families as well as the found family of Team Arrow. They'll ask, "What does it mean to be part of a family," and how are chosen families different from birth families, said Mericle.
But where will the team hang their capes this season, as their new Arrow-Cave? "They're working out of Big Belly Burger," Guggenheim joked.
Arrow originally started out as a more "procedural" show, but "we moved away from that very quickly," said Mericle. Instead, the rule is that "whatever Oliver's going through emotionally is reflected in the action. That's evolved, but stayed a constant."
Barrowman said that the "earthquakey trust" between Oliver and Malcolm will continue, and Malcolm may take Team Arrow under the wing of the League of Assassins a bit. But when "push comes to shove," Malcolm will sacrifice anybody to survive and get what he wants. Malcolm has a soft spot for Oliver, whom he's always thought of as a son, and the rest of his crew—but "he'll still kill them if he has to."
Barrowman hopes we'll see the dynamic between Malcolm and Nyssa develop, because it could be really interesting now that Malcolm is in charge of the League. Will she oppose him? Will she start to see him as a father figure? She's obliged to respect him because of his position, Barrowman said.
Oliver's relationships with Thea, Laurel and Felicity are all in really good places—but things with Diggle are "really bad," said Amell. "There are certain lines that you can't cross, and when you do, you can't go back." He really hopes the relationship between the two men can be repaired, but he likened it to a broken leg: You can mend a broken leg, but you'll always have broken your leg.
Meanwhile, we'll see the relationship between Oliver and Felicity develop, but not surprisingly, Oliver is still the more restless and angst-ridden of the two. At the same time, we'll see Oliver "at peace," in an emotional sense—and almost a physical sense. We'll be able to see "Oliver removing some of what has happened to him over the past eight years," in a very physical way, said Amell.
Emily Bett Rickards said Oliver and Felicity are give their relationship "a fair shot," although there are complications, of course. "We do get to see them as a couple. I don't know how long—maybe it lasts a year, maybe a couple of episodes."
And just as Arrow introduced Barry Allen, the show will be starting to introduce some of the characters from the new spin-off show, Legends of Tomorrow.
Both Katie Cassidy and Willa Holland seemed excited to be putting on costumes and fighting crime, and a common theme in both of their interviews was that their characters went through a lot of turmoil and insanity, but it was worth it to turn them into superheroes. "Nobody wakes up one day and throws on a costume and says, 'I'm going to fight crime,'" said Holland. "The characters have been done justice to and brought to the place where they are," and she called it a kind of origin story.
Now that Thea has put on the red costume, Holland said, they are "pushing [the name] Speedy as hard as they can, she wants to call herself Red Arrow." And Holland wants a cape.
And now, Thea has found a purpose, beyond just running a nightclub. She's getting "an amazing amount of self-esteem" out of being a hero, said Holland.
---
Contact the author at charliejane@io9.com.