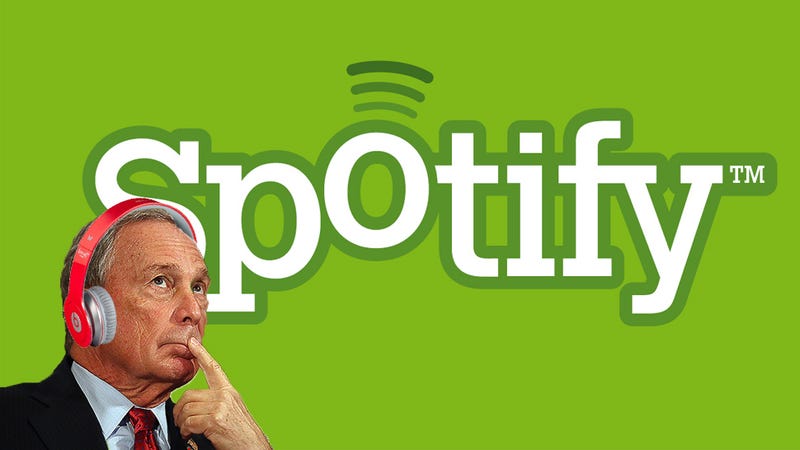 There are too many damn people crammed into Spotify's NYC offices because Mayor Mike is in the house! Or we're told he will be at some point, but we've been sitting here for two hours. Us tech bloggers are all aflutter because we're getting an audience with a real news maker that our moms have actually heard of. Wait, uh, what is Mike Bloomberg doing here?
Speakers put up by Bloomberg's people are busting songs about New York. Oh, of course, the Mayor is surely announcing his new Spotify profile. Actually, we learned that by snooping around and talking to "sources within the administration". For a few minutes more, this is supposed to be a secret. We were told, because there's no way we could find Bloomberg's profile before he takes the stage and tells everybody about it. Except that I did. It was so easy. So here I am, being a spoiler nerd.
Update: Mayor Bloomberg confirmed what we thought at about 2PM. We were right! For more on the day's proclamations see the bottom of this post. For more on how to stalk people on Spotify, just keep reading.
Here it is in all its glory. Meet NYCMayorsOffice on Spotify. How cute! Mr. Mayor assembled a playlist of NYC songs. You'll see that the profile is private on the web-based version of Spotify, but once you fire up the app, you'll see the whole thing.
I'm pretty sure we're right about this one. Let me walk you through it. Even if you're Facebook friends with somebody, it's actually really tough to deliberately find a user and follow them on Spotify. But if you have a username (or a possible username), there's a built-in loophole. Simply enter the following query into the Spotify search bar, inserting your best guess as to your target's handle:
spotify:user:[username]
Now, Mayor Mike uses a few different IDs across the Internet. We tried a few before even thinking of NewYorkMayorsOffice. Surely, Bloomberg didn't use the handle given to the official Twitter account for his job. OF COURSE HE DID.
The Playlist:
---
Update: New York I Love You So I'm Hiring Nerds
In addition to launching Mayor Bloomberg's Spotify account, today's technology and politics extravaganza had some "real news", although unfortunately they're the forward-looking variety. No eminent shiny-pretty features to show.
Spotify is adding 130 jobs in the Big Apple, making NYC the company's second largest office after its Stockholm HQ. Traditionally, New York has been the home of the company's content teams.
What will these new Spotinerds (Spotites? Spotifurs?) do? At today's celebration of tech and government Spotify execs claimed that overall product development has been slowly moving to the company's Chelsea office. We're told the new jobs will be mostly engineers working on all facets of the Spotify product. We're looking forward to the goodness!