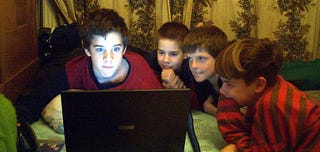 "MOM?!"—Azdak
The latest City Wi-Fi initiative looks to be a daunting one. Mayor Antonio Villaraigosa today called for Los Angeles to be blanketed with Wi-Fi by 2009. That's going to be a speedy turnaround if they can pull it off.
Two Dell employees are suing their employer due to an error in their clocking in system, which has resulted in wrongful pay. The interesting part is that they want to make it into a class action law suit, which could apply to over a 1,000 people.
Well it looks like you can't even trust the Better Business Bureau, thanks to a new phishing scam. Emails coming from
operations@bbb.org are actually trying to get you to download your typical malware code.
Cisco announced today that they have discovered that some of their routers are susceptible to two new vulnerabilities. Basically a hacker could bypass the IPS, which is supposed to keep out unauthorized users as well as prevent malicious code from being activated.
The WSJ has a story today about how love affects your brain, similarly to a mental illness like OCD. Complete with changes in serotonin & dopamine levels, which can have very strong effects on the brain. Happy Valentines Day.