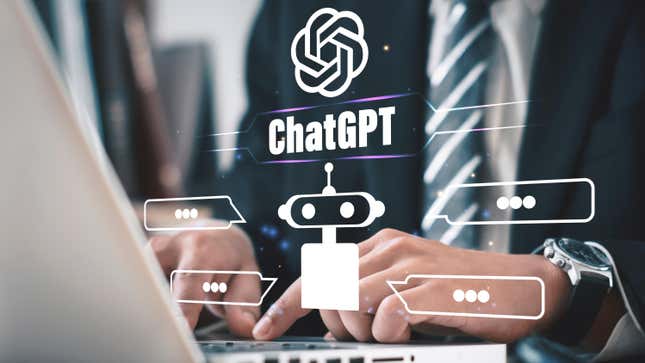 It's no secret that ChatGPT, the large language model-powered artificial intelligence from OpenAI, has taken the internet by storm. Everyone is talking about it, everywhere online—Gizmodo included. The AI chatbot can almost instantly generate paragraphs of human-like, fluid text in answer to basically any prompt you can come up with (just don't rely on it to do your math homework correctly, or provide an accurate substitute for researched writing).
And the scope of ChatGPT's ascent is probably even more astounding than you think. The chatbot has become the fastest growing consumer-facing application in history, according to a new analysis from Swiss investment bank, UBS, as reported by multiple financial outlets. In January, just two months after the program's public launch, ChatGPT reached 100 million monthly active users (MAUs), UBS noted, based on data amassed from Similarweb. By the end of last month, the bot was being visited by around 13 million unique visitors daily.
Those numbers are about double what they were just a month prior in December, when the app had about 57 million MAU and about six million daily views, according to UBS, per Markets Insider. For comparison, it took TikTok about nine months from its worldwide launch to net 100 million users, per a report from Reuters. Instagram didn't reach that benchmark for two and a half years, the outlet added.
Previously, it's been apparent that ChatGPT became popular fast. Often, accessing it is a game of constantly refreshing the page and waiting in line, as the site often declares it is at capacity. And an influx of one million users in five days once fully crashed the app in early December 2022.
But these new stats from UBS are beyond emblematic of simple popularity, they're potentially record-setting. "We cannot remember an app scaling at this pace," the UBS analysis said according to Markets Insider. "In 20 years following the Internet space, we cannot recall a faster ramp in a consumer internet app," the UBS authors added.
Gizmodo reached out to OpenAI with questions, including how it is managing the number of users on its platform, but the company did not immediately respond. UBS also didn't reply to an email from Gizmodo requesting the bank's original analysis.
OpenAI hasn't just attracted individual users to ChatGPT—it's also attracted billions in fresh investment from Microsoft. Plus, the startup has prompted an unprecedented competitive push from established tech giants like Google.
Though there are lots of things worth critiquing about the app—including its tendency towards inaccuracy, potential for plagiarism, and ethical concerns—it would be foolish to pretend ChatGPT isn't incredibly impressive. The program has experienced a meteoric rise to the top of the internet for a reason. That said, it's not quite impressive enough to justify shelling out $20/month on priority access and the other minimal improvements offered in the new paid, premium subscription version. But probably, it's only a matter of time before OpenAI manages to monetize all its millions of users.